This terrific cake was made by Darshika Awate.
Terracotta Cake Collaboration  –  is hosted by Dr.RB Sudha. Many artists from many countries created  wonderful cake and cookie works of art to celebrate Terracotta works of art.
This is the 2nd of 4 posts to feature some of these wonderful cakes. Please take a look at the Terracotta Cake Collaboration  to see all of these splendid pieces.
Baker's Bio – Darshika Awate
This is Darshika Awate from Hyderabad,India.I am a professional home baker and also an artist.

I have been baking since eight years and work under the brand name 'Whipping Delights'.

I have participated in the Homebakers Virtual Competition 2020 and have also been recognised among the top 25 homebakers from Hyderabad for the year 2020.
Baker's Description of Piece:
My work for this collaboration "Terracotta Art" is inspired from the oldest terracotta temple named Lalji Temple of Kalna located in West Bengal,India.It was built in the year 1739.The temple is dedicated to Lord Krishna and his consort Radha.It is built of bricks and the walls are covered with terracotta figures depicting scenes from the Puranas.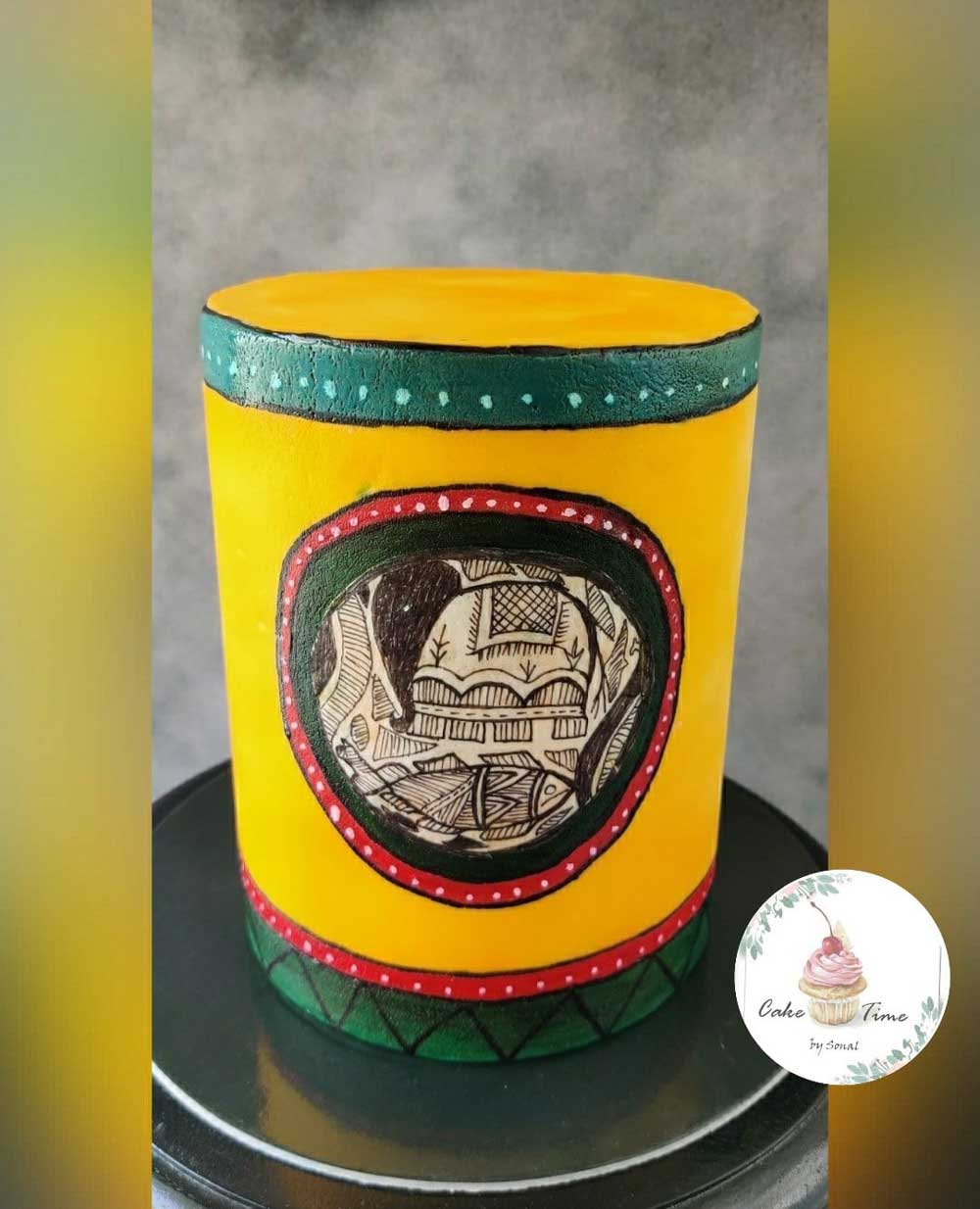 Baker's Bio – Sonal Nandini
I am an investment advisor turned cake artist! Started as a hobby turned into my passion! I love working on customized theme cakes with various edible media. Thrilled to explore and learn more to enhance my artistic skills in cakes decorating industry.
Links
FB Link –
Instagram link –
Baker's Description of Piece:
I have selected Terracotta decorative pot as my inspiration. Here I have showcased the Terracotta art work on a piece of wafer paper with edible marker on fondant draped cake.
Baker's Bio – Ruching Chandak
I am Ruchi Chandak, pastry chef from Kolkata, India. A home-maker turned home-baker and now a certified pastry chef. Nurturing my brand Mavin, the cake boutique keeps me motivated to learn more.
Baker's Description of Piece:
About the creation " BLOSSOM"

It's my pleasure to be part of Terracotta Art Collaboration hosted by Dr. RB Sudha among eminent artists around the world.
This creation, BLOSSOM defines the very existence of a woman. She is the reason of the blooming mankind around. Terracota is literally, any kind of fired clay turned into a structural form—made from fairly coarse, porous clay that when fired assumes a colour ranging from dull ochre to red and usually is left unglazed. Tried to merge this beautiful clay art and inspired with the fecund selfless love that a woman spreads and created BLOSSOM .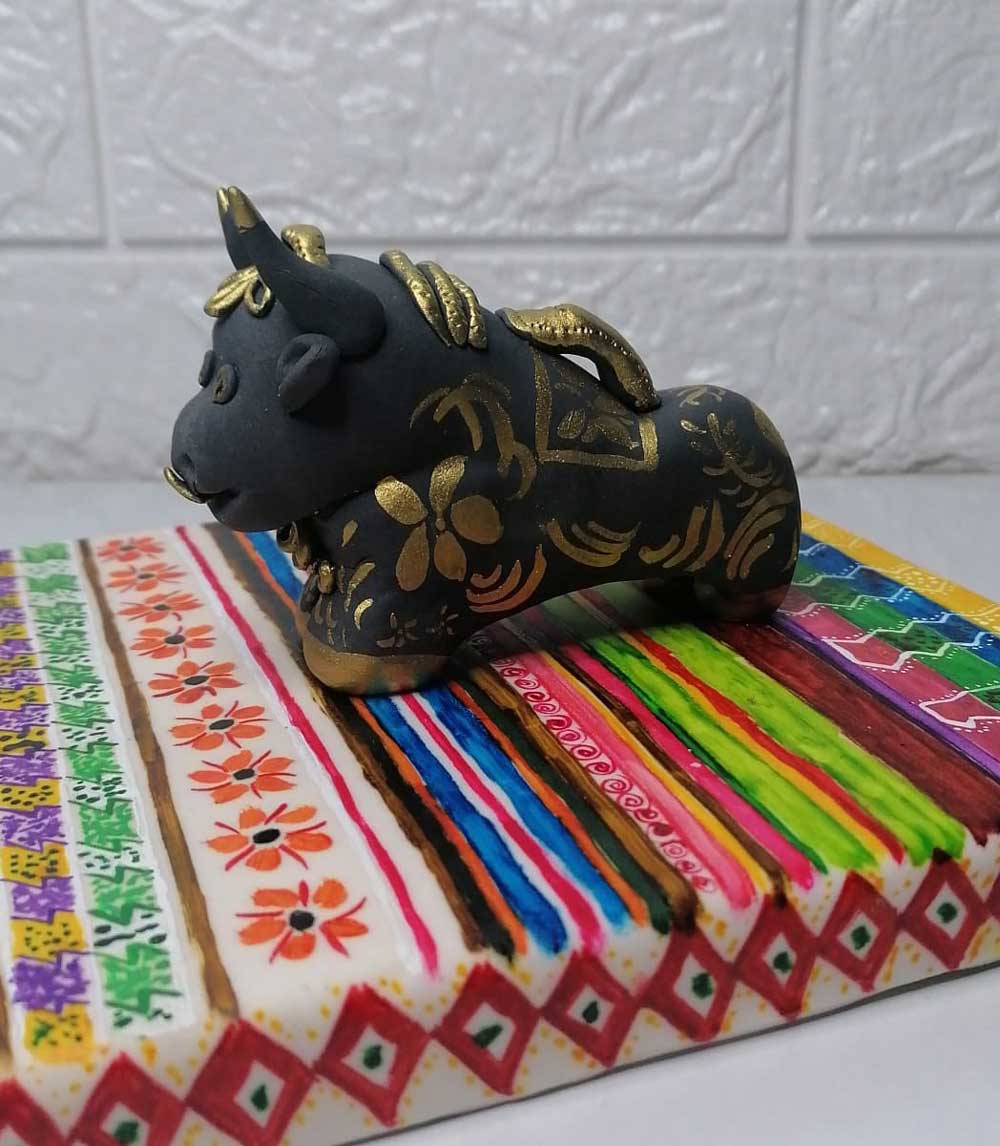 Baker's Bio – Noelia Romero
My name is Noelia Romero, I am from the city Lima – Peru, I have dedicated myself to the art of sugar for 5 years, two years ago I began to study and specialize in the school of Professor Rosa viacava design innovations, and in turn to learn a lot more about this beautiful art, it also helped me meet various artists in this beautiful profession.
Links
Instagram: Noelia_san_tortas
Baker's Description of Piece:
My piece of collaboration is, the TORITO DE PUCARA is a piece of ceramic characteristic of the District of Pucara department of Puno Country Peru, it is a symbol of protection, happiness and fertility, it is a character full of mysticism and clay-based art.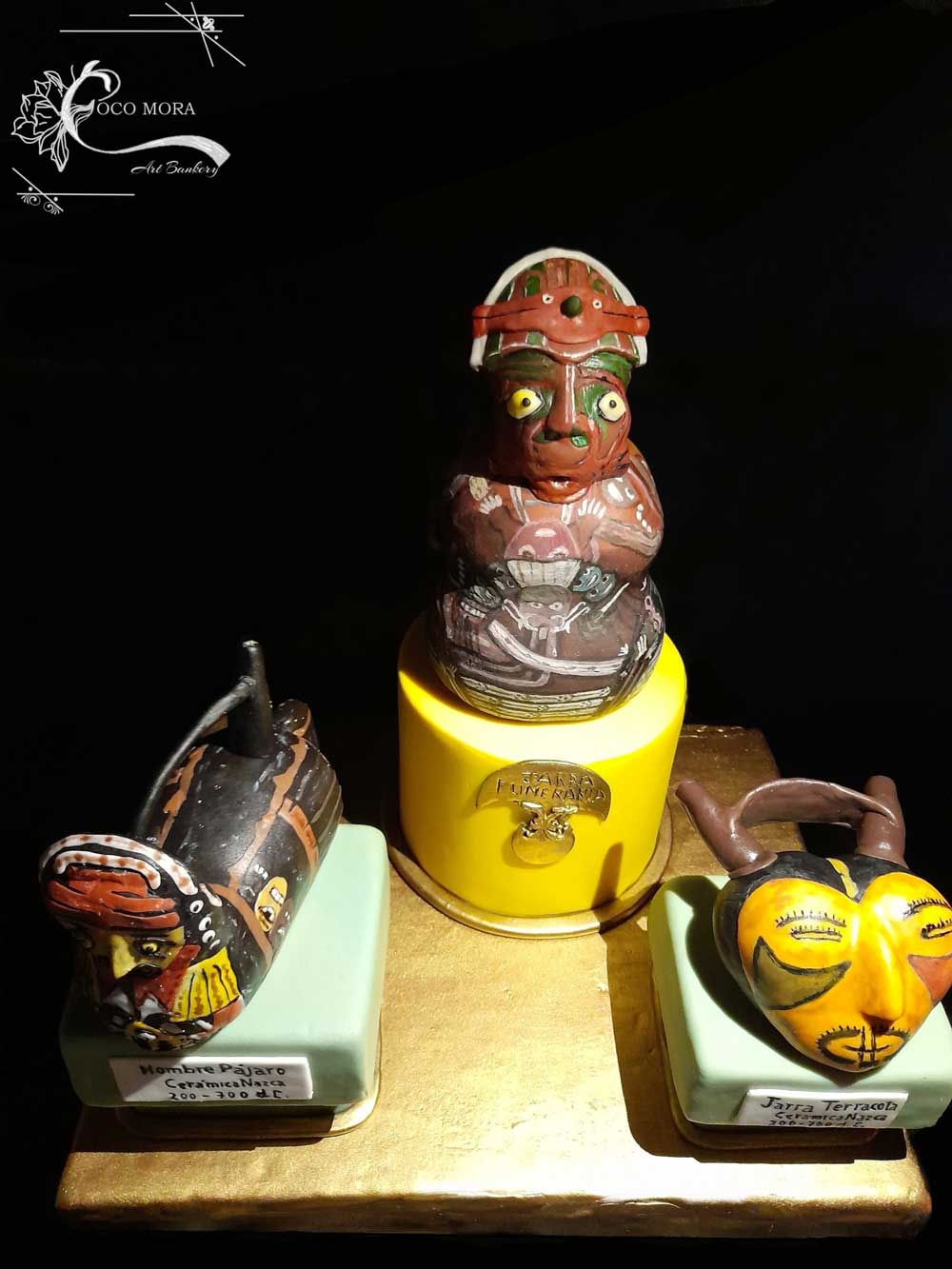 Baker's Bio – Carolna Lopz
I graduated in pastry and bakery three years ago, with that I began my adventure in the world of cake and design, which led me to continue my studies in cake design and art, I am finally in the final stretch of my studies in design of cake.
which was a great fascinating experience in the journey of flavor and art in a single cake, which led me to meet great artists in this field who I admire and try to follow the steps, so I keep learning and making my own designs.
Baker's Description of Piece:
My inspiration is on the ceramics of the Nazca-Peru culture, which are made of polychrome terracotta, with figures of heads placed upside down, bird men, felines. they are approximately between the years 200 to 700 AD.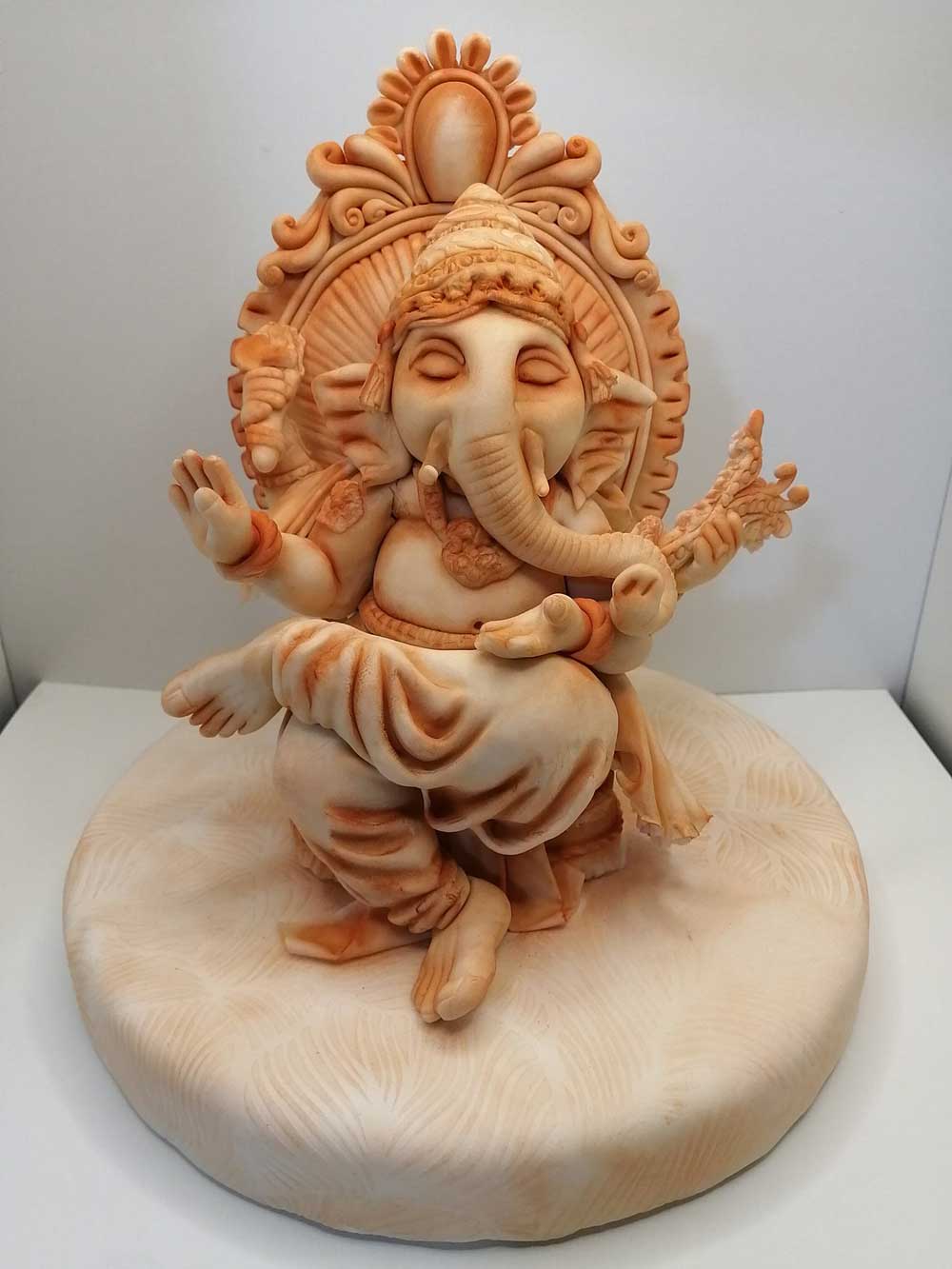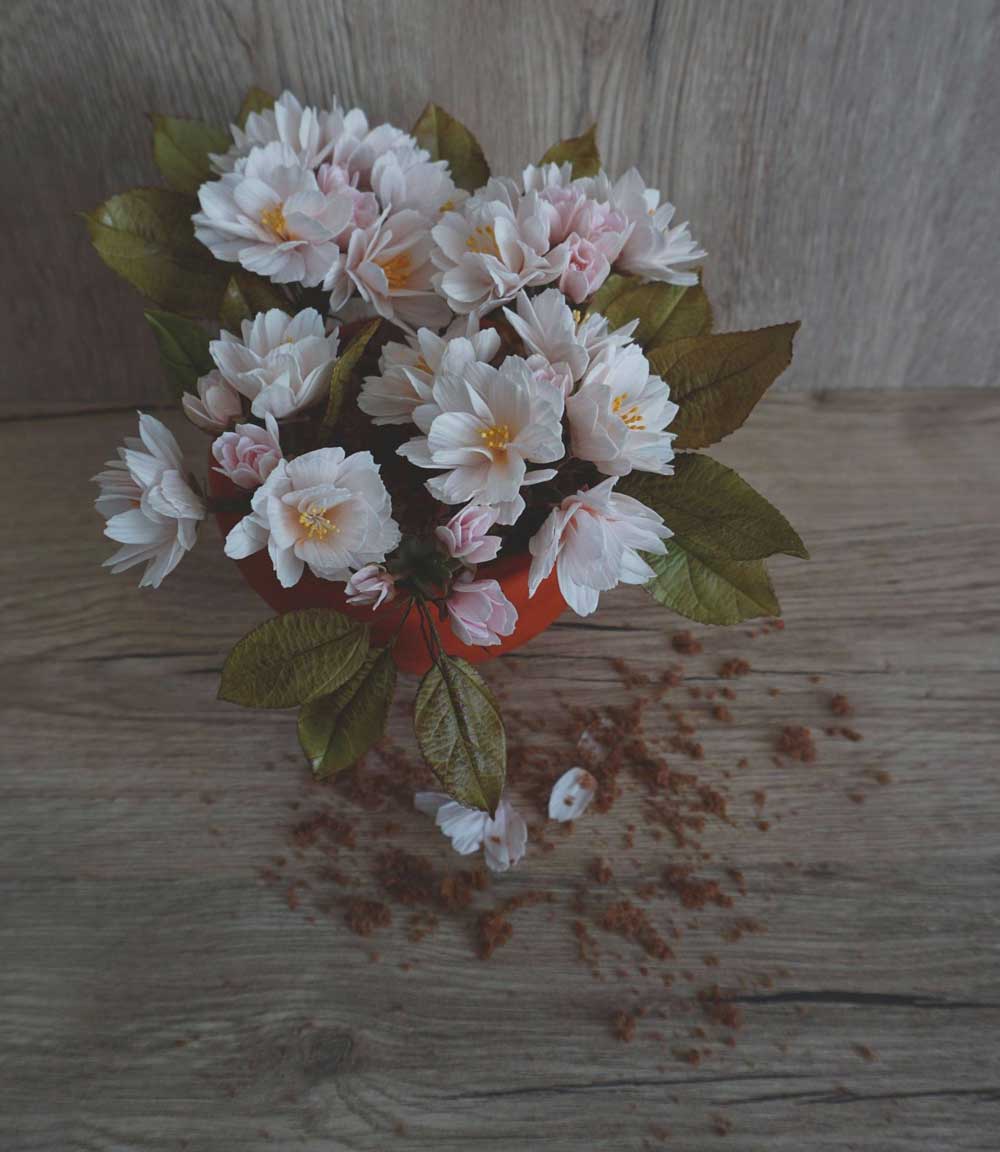 Baker's Bio – Erika Amelia Ersek
My name is Erika Amelia Ersek.

I'm from Romania, Gherla. I started making sugar flowers a year ago and became my passion

I win the sugar plant category at Shaki Cake Intenational competition, a silver award at Cake International and also two bronze awards on Cake International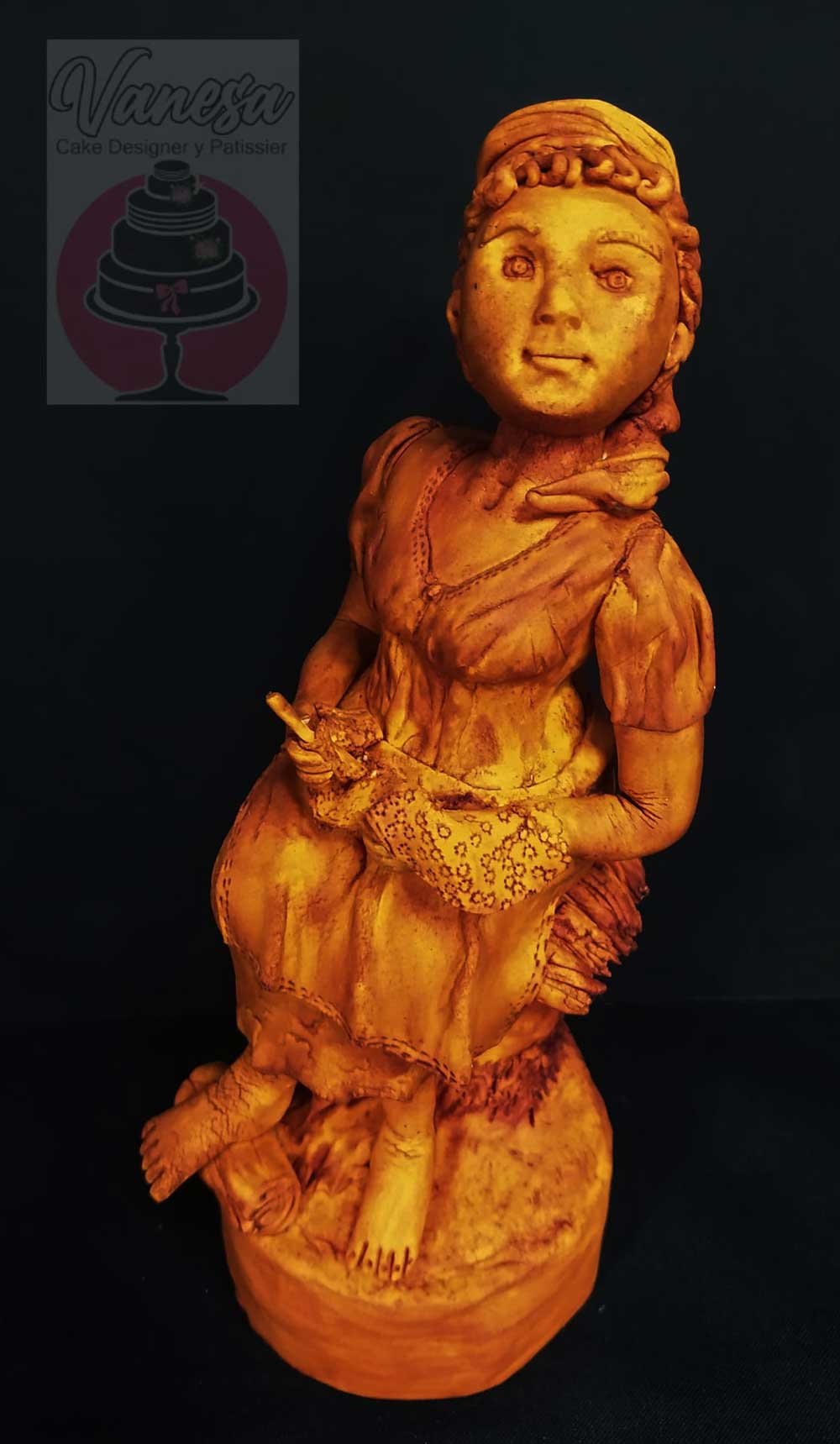 Baker's Bio – Vanesa Graneros
My name is Vanesa Graneros I am from Buenos Aires Argentina, I am 35 years old.

I am a Chef-Pastry Chef and Cake Designer.

I have been in cake decorating for 16 years and professionally for 10 years.

I have my studio where I teach Pastry and Cake Decoration classes.
Links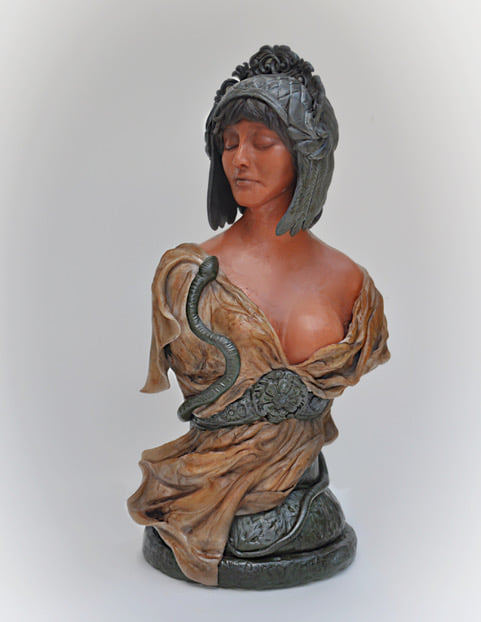 Baker's Bio – Sandra Smiley
This will be the seventh year that I've enjoyed my retirement hobby of cake decorating and sugar art. I really enjoy most aspects of cake decorating, but my favorites are making gum paste flowers, sculpting with modeling chocolate, and painting on fondant. It is so much fun to participate in collaborations and share my passion with many friends around the world, Everyday I learn something new and hope that I am able to help and encourage others.
Links
Baker's Description of Piece:
Inspiration: 19th Century, Art Nouveau, Terracotta Cleopatra Bust by Austrian Friedrich Goldscheider