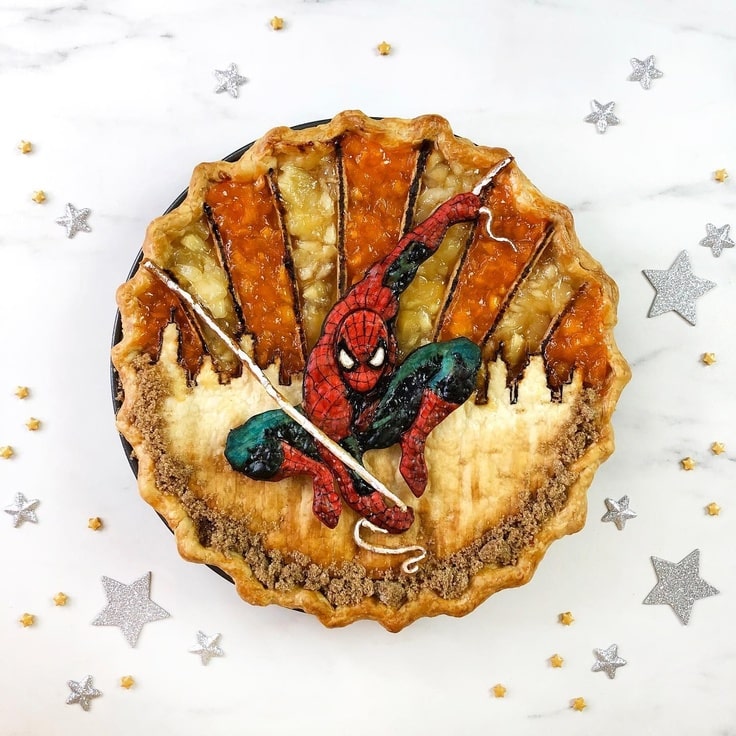 Wow! This amazing Spider-Man Pie was made by Jessica Leigh Clark-Bojin from Pies Are Awesome. It features Spider-Man swinging towards you. Behind him is a cityscape.
I'm a fan of Jessica's work and have made two Star Trek: The Next Generation Pies after studying her videos. My designs were made by carving the top crusts before I baked them. While I was really happy with the results, they don't hold a candle to Jessica's work.
The reason I love Jessica's work is because she does so much more with her pie. Every part of the pie is a key piece in the finished artwork. The detail and color on Spider-Man is amazing. She framed the cityscape with sprinkled brown sugar and it looks great. The sun shinning down on the cityscape is made from individual rows of two different fruit filling. The way she mixes pie crust, filling and brown sugar to make a piece of art is simply stunning!
For more amazing pies, check out:
This Monster At The End Of The Book Pie is too cute!
This Waiting for Peter Pan Pie is one the of prettiest pieces of art I've posted on Between the Pages.
If you love Roger Rabbit, you'll enjoy this great Jessica Rabbit pie.