This wonderful Count Mickey Mouse Cake was made by Brulee Pastelería Creativa. This 1st birthday cake looks like a pumpkin carving with eyes, a nose and a toothy grin. The top of the pumpkin has been set to one side and has a little 1 candle on it. The cake board is covered with pumpkin vines. 
To Linus' chagrin, there is a figure rising above this peaceful pumpkin, but it isn't the Great Pumpkin. It is Count Mickey Mouse! There is nothing to fear here because this Dracula is way too cute to be menacing. Mickey has fangs and is wearing a purple cloak with a high color and an adorable green tie with an orange Jack-o'-lantern in the middle.
This cake is absolutely adorable!!!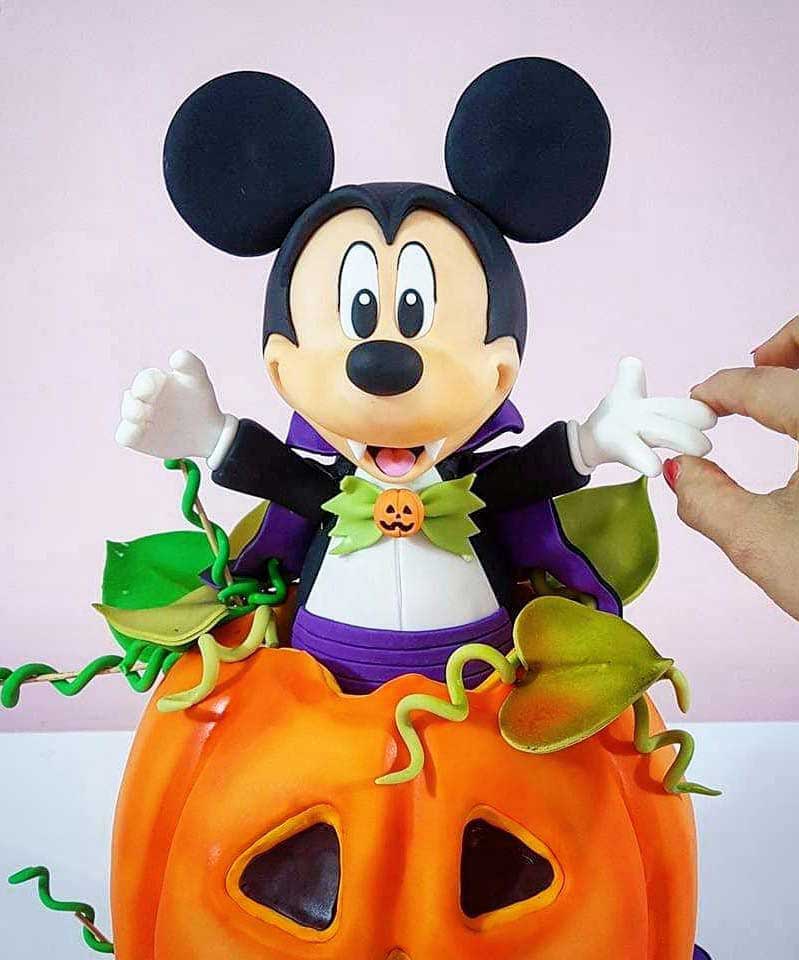 Here is a close-up of Count Mickey. Rubi did an amazing job with Mickey.
Looking for more spooktacular Count Mickey Mouse Treats?
Here is another spooky cake featuring Mickey Mouse as Dracula.
These great cookies feature a spooky house, a Mickey Mouse pumpkin, Count Mickey and Mickey bats.
This amazing cupcake tower features Mickey Mouse as Dracula, Minnie Mouse as a witch, Donald Duck as a red devil, Daisy Duck as a princess, Goofy as a mummy and Pluto as a skeleton.