India Cinema Collaboration features sugar art works from 22 Artists from all over the world. This collaboration spotlights Indian cinema which is a vast and big industry and famous all over the world and is being celebrated by international Cannes Film Festival this year. This collaboration was organized by Dr RB.Sudha.
This is the 2nd of 2 posts about this collaboration. These posts feature only a small sampling of this terrific collaboration. Please visit India Cinema Collaboration to see all of these terrific creations.
This wonderful cake was made by Raicu Madalina Gina
Sugar Artist's description of the piece:
"Jodhaa Akbar" is the movie chosen by me for this collaboration, a sixteenth century love story about a marriage of alliance that gave birth to true love between a great Mughal emperor, Akbar, and a Rajput princess, Jodha .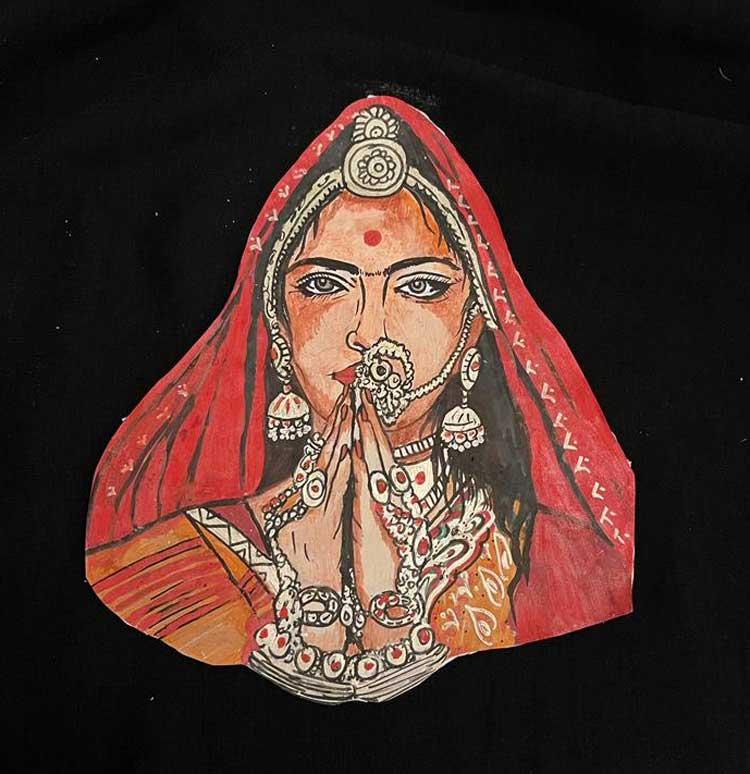 This wonderful sugar art piece was made by Sana Mohsin
About the artist:
My name is Sana, I live in Dubai.Im an event planner by profession and a cake artist by heart and I do Cake decorating as my hobby.I have been working since 2013. During these years I have created many cakes of different shape, size and themes.
I have won Bronze medal at International Cake show Istanbul. I have also participated in few online competition.Recently I have participated in "ByBora I'm the Cake Star" Competition I selected in top 10 finalists in 2020
Sugar Artist's description of the piece:
My inspiration based on the movie "Padmavati"I have choosen padmavati's character as my inspiration,why I have chosen this because I like the courage and bravery of that character. She was a strong and loyal women .

I made my art work on a piece of fondant and cut it in a sugar cookie style and made sketch first by edible marker then did painting with edible dust colors
This wonderful cake was made by Hilda Belinda Ccoiru Estrada
About the artist:
I am Hilda Belinda Ccoiru Estrada, Peruvian; resident in Chile. I am a very passionate self-taught artist, from a very young age I develop myself in everything related to artistic confectionery as an amateur, I work empirically. Due to personal circumstances I was not able to develop myself as a confectioner, however in my crazy quest to realize my dreams 15 years ago I went to a casting in Peru Masters Confectioners, obtaining second place nationally. An average year ago I am finally dedicating myself full time to what I love so much, for the moment I decided to improve myself in the modeling of 3D figures of all kinds. Fantasy and realistic.
Sugar Artist's description of the piece:
I present to you the bust that I made all in fondant, royal icing applications, beads and edible pearls. My figure is inspired by the 2006 Umrao Jaan movie, the character AishWaryia Rai. Thank you for allowing me to be part of this magnificent collaboration and express my art.
This wonderful sugar art was made by Cholys Guillen Requena
About the artist:
I am Cholys, born in 1960, Spain. Mother of two children and I live in Estepona, Málaga. Baking has been a great stage in my life, I have always liked making sweets and one day I discovered creative baking!
With 6 years of experience in the world of Cake Design. Totally self taught. My learning process was based on trying and experimenting with different materials and repeating the pieces a thousand times until I achieved my goal. I am a lover of modeling and plastic chocolate, especially in sculpting small dolls.

My first adventure was to introduce myself to "BCN&CAKE" Barcelona 2016. I won a bronze medal.

In 2019 I participated in "Cake International Birmingham" where I was awarded an Award of Merit.

Over the past year with restrictions related to COVID-19, I have been involved in all possible cake collaborations, creating edible artwork such as shoes, dolls, monsters, etc., and continue to research, create and participate in online collaborations, as the prestigious international contest "Cake Stard, BYBORA SUGARPASTE", in which my edible work was selected as a Finalist in the category of Sculpted Figure representing Spain. And finally being Star of the Country
In 2021, I recently participated in the "Italy International CAKESHOW", the most prestigious Italian event dedicated to the art of sugar, pastry and chocolate, where my artwork has been awarded a Gold Award and a Second Assoluto.
Sugar Artist's description of the piece:
Aśoka is a 2001 Indian film directed by Santosh Sivan that tells the story of Aśoka, an emperor who went from being a bloodthirsty warrior. conqueror and ruler to be a fervent believer in Buddhism and spread it throughout India. This story is based on legends, ..
I hope you have enjoyed these sugar art pieces. This posts features only a small sampling of this terrific collaboration. Please visit India Cinema Collaboration to see all of these terrific creations.