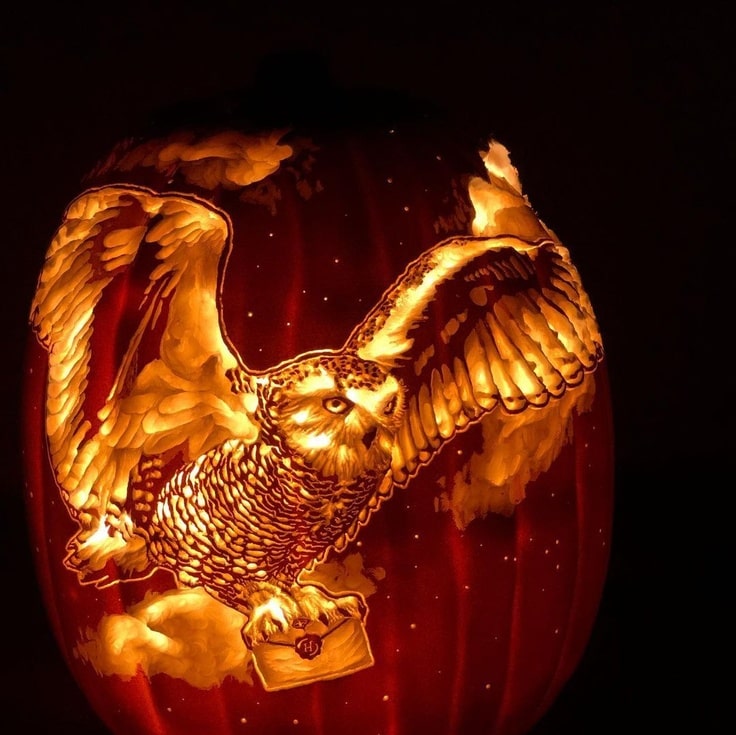 This magical Hedwig Pumpkin was carved by WunderKins Pumpkins. It features Hedwig flying through a starry sky carrying Harry's letter from Hogwarts. The detail on Hedwig is astonishing. You can see each and every feather that covers the edge of her wings. You can also see the feathers that cover her body, The texture on Hedwig is wonderful. Her wings, body and face each have a different type of feather and those three types of feathers each have a completely different texture. I can't image the number of little carves that had to be made to make all these these detail and textures.
Looking for more magical Harry Potter themed pumpkins?
Five separate pumpkin carvings were used to make this amazing Harry Potter vs. Lord Voldemort battle.
I can't decide which I like more this great Dobby Pumpkin or the elaborate setting of books, scrolls and a stuffed animal of Hedwig used as props in the photograph.
This stunning pumpkin features the boats floating toward Hogwarts which towers overhead on a mountain.