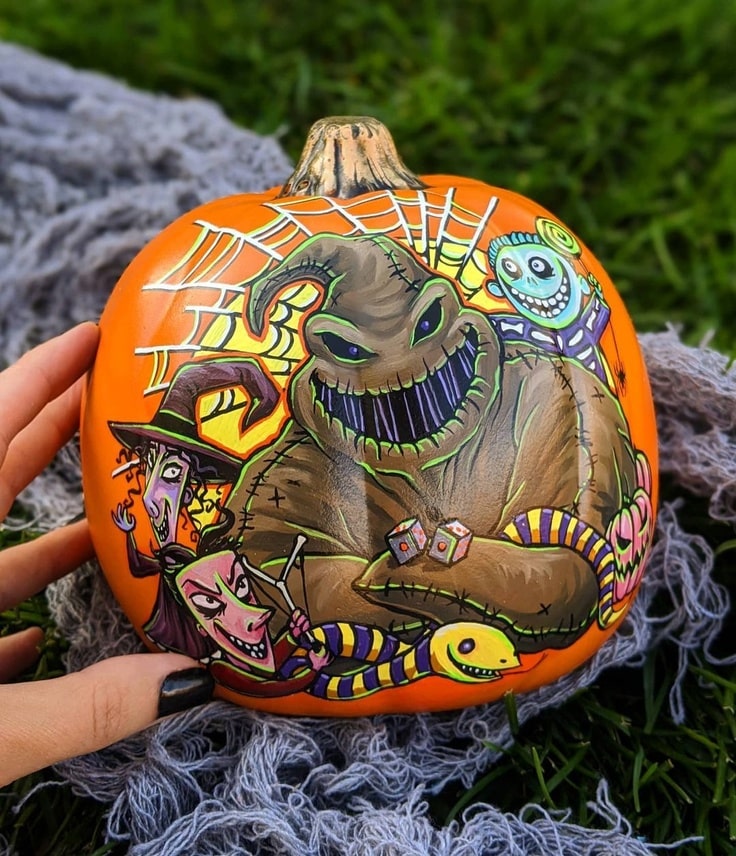 This gorgeous Painted Oogie Boogie Pumpkin was created by Kimberly Joy
If you've never visited Kimberly's Instagram, you are in for a treat. She specializes in fan art, pet portraits and painted rocks. My favorite thing are her Disney shoes. They are so pretty, it would be difficult to wear them.
This lovely pumpkin features Oogie Boogie. He is holding a pair of dice. The yellow and purple giant snake is in front of Oogie and his tail wraps over the arm holding the dice. Lock, Shock and Barrel are on the sides of the pumpkin. One has a lollypop and another has a slingshot aimed at the bogeyman.
The burlap that makes up Oogie Boogie's body is brown. His mouth and eyes are black and purple. There is a large grey spiderweb behind him and a bright yellow sun behind the spiderweb.
As is the case with all of Kimberly's artwork, the colors just pop. You'd think that a brown burlap bogeyman would look drab, but Kimberly uses so many bright colors around him that Oogie Boogie pops. Because he is the darkest part of the painting, he is what your eyes are drawn to.
Looking for more Nightmare Before Christmas Pumpkin ideas?
This great Jack Skellington Pumpkin has Jack trying to scare you!
This wonderful Nightmare Before Christmas Pumpkin features Jack and Zero, the ghost dog.
This romantic pumpkin carving has Jack and Sally looking lovingly at each other while Zero flies overhead.