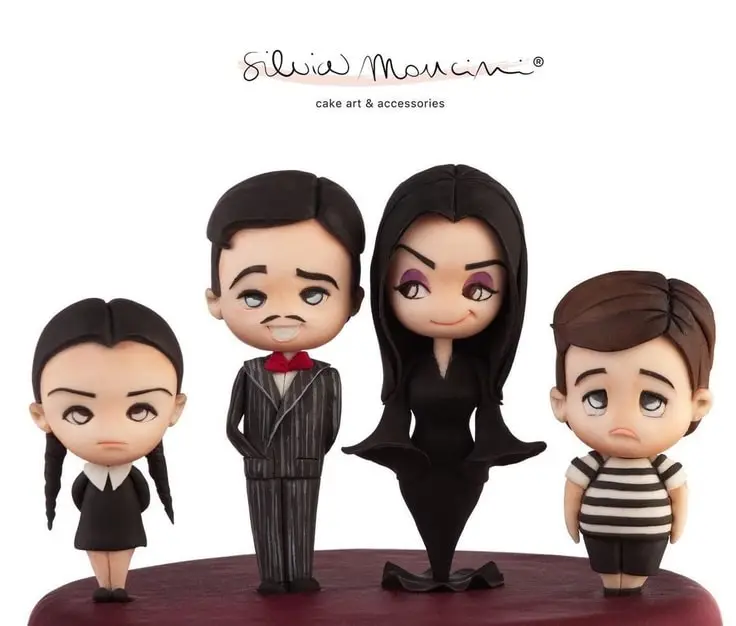 Yesterday, I featured two spooktacular Wednesday Addams Cake Toppers made by Silvia Mancini. Today, I wanted to wrap up my trilogy of Addams Family posts with Silvia's Addams Family Cake Topper. It features Wednesday, Gomez, Morticia and Pugsley. This is the version of the Addams Family from the movies in the 1990s which stared Anjelica Huston, Christina Ricci, Raul Julia and Christopher Lloyd.
Wednesday has black hair in ponytails and is wearing a black dress with a white collar. Gomez is wearing a grey pinstripe suit with a red bow tie. Morticia is wearing a full length long sleeved black dress. Pugsley is wearing black shorts and a shirt with black and white stripes.
One thing that amazes me about these cake toppers is that Silvia used a completely different art style on these than she did on her two Wednesday Addams cake toppers. On these four figures, the heads are larger than the bodies and focal point is their faces, so the clothes are slightly simpler. Silvia's versatility is absolutely amazing.
Planning a kooky, mysterious, spooky and all together ooky Addams Family party? Check out these neat, sweet and petite links below: