This adorable Winnie the Pooh Birthday Cookie was made by 506 Edible Art. Stephanie made this for Julie May from Penny Janes Cookies birthday.
The cookie features Winnie the Pooh wearing his usual red shirt. He is holding and waving a pink pedant in one hand. His other hand is holding a birthday present against his side. Pooh is wearing a blue and white paper party hat with an elastic band that goes under his chin.
I don't know if it is his body language, the way his head is cocked slightly or that he doesn't have a mouth, but Pooh doesn't look happy to me. He looks more melancholy and that makes this cookie tug at my heartstrings even more.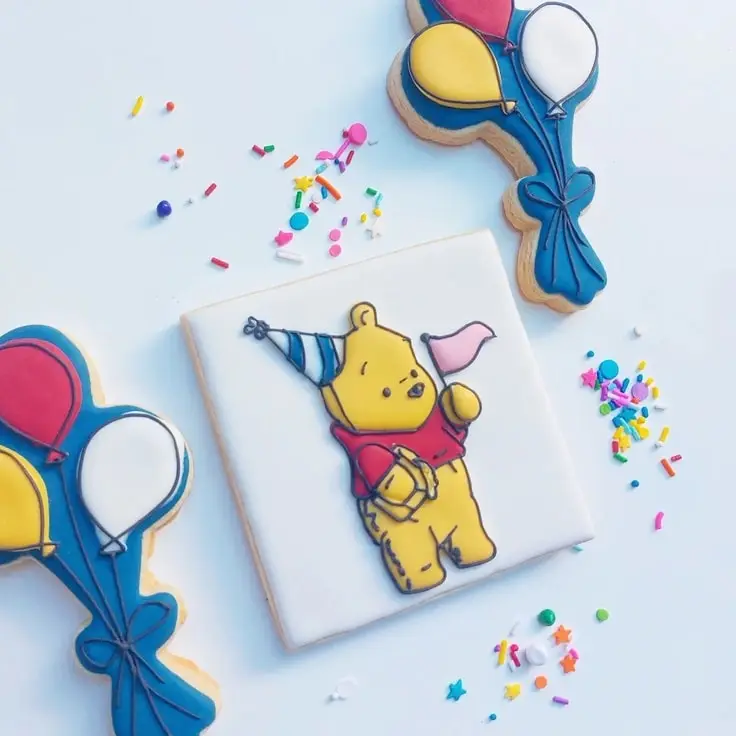 Stephanie made yellow, white and blue balloon cookies to go with the main cookie. This is a really great idea because it draws out the colors on the Pooh cookie. The background of the cookie is white, Pooh is yellow, and his hat is blue and white. The balloon strings are accented in blue to match Pooh's hat. The colors on the balloon cookies make the Pooh cookie stand out even more.
Planning a Winnie the Pooh Party? Check the links below for more ideas: