Winnie the Pooh and the Hundred Acre Wood Cookies
These Winnie The Pooh cookies have many Pooh cookies with illustrations from the book and terrific quotes. I like the way the baker combines these two in these birthday cookies.
These wonderful cookies were made by Sarmiesistersweets.
Winnie the Pooh Cookies
Firstly, It's so much friendlier with two – cookie has Pooh and Christopher Robin sitting across the table from each other.
Secondly, the quote – Any day with you is my favorite day – is on another cookie with Pooh and Eeyore and Piglet.
Thirdly, the quote – As soon as I saw you I knew.. an adventure was going to happen – is on a cookie with Pooh holding a balloon in one hand and Piglet in the other hand.
Fourthly, the quote – We didn't realize we were make in memories. We just knew we were having fun – is on a cookie with Pooh, Eeyore, Piglet, Rabbit, and Tigger.
Fifthly, the quote – Together is our favorite place to be – is on a cookie with Pooh and Piglet.
Sixthly, the quote – …and together they touched the sky – is on a cookie with Pooh, Christopher Robin, and Piglet.

Winnie the Pooh Cookie
Seventhly, the quote – Sometimes the smallest things take up the most room in your heart – is on this Winnie the Pooh cookie.
That same picture of Pooh is on the number 4 cookie to celebrate the 4th birthday.
It compliments the cookie that says Happy Birthday on the sign being carried by Christopher Robin and Pooh with Piglet and Tigger.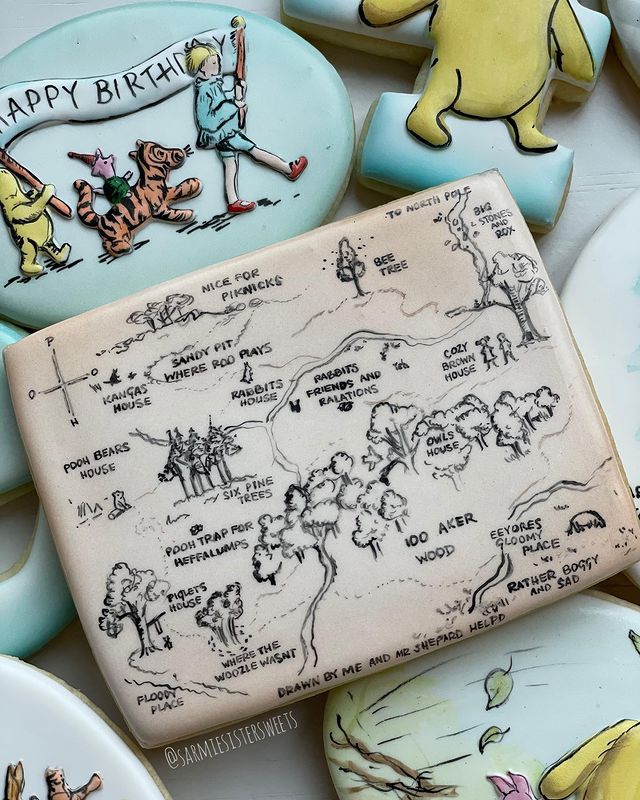 Hundred Aker Wood Cookie
Finally, here's a nice Map of the 100 Aker Wood cookie.
Also, check out these wonderful Winnie The Pooh Cakes and Cookies.