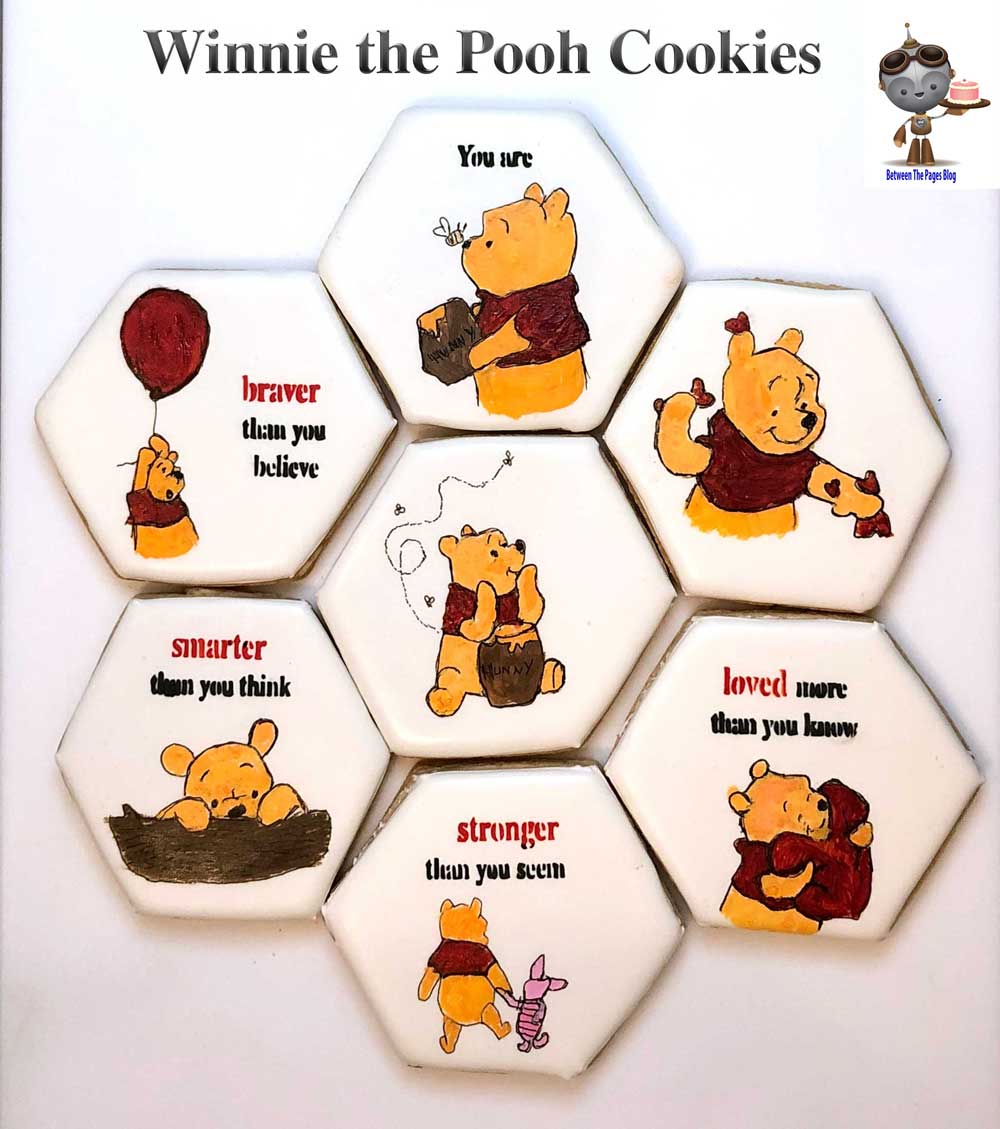 I made these Romantic Pooh cookies for mu husband's birthday. They feature Winnie the Pooh and the words of the Pooh quote, You are Braver then you believe, Smarter than you think, Stronger than you seem, and Loved more than you know. Even though the last part is not on the original quote, it appears on several greeting cards and I really like it added. In addition I included Pooh with hearts on other cookies. Moreover, each cookie has a hand-painted picture of Pooh in addition to the words.
The cookie in the middle shows Pooh holding a pot of Hunny with bees flying around. He is enjoying his favorite food. Next the top cookie has the words 'You are' with a picture of Pooh holding a Hunny pot and a bee is on his nose. Thirdly, Pooh is holding on tightly to a red balloon and the cookie has the words, Braver than you believe. Fourthly, Pooh is peeking over a log and the cookie has the words, Smarter than you think. Fifthly, Pooh and Piglet are walking together hand in hand and the cookie has the words Stronger than you seem. Sixthly, Pooh is hugging a red heart pillow and the cookie has the words Loved more than you know. Seventhly, Pooh is holding small red hearts in his hands.
How I made that Romantic Pooh Cookies
First, I designed the cookies so that each cookie had part of the quote. Also all of the cookies fit together to give the entire quote. A hexagon shaped cookie made this work nicely. In addition I wanted to keep the color scheme simple so I used mostly white, red, black, and Pooh gold.
I baked the cookies, then covered each cookie with white royal icing. Next I used a Cricut to cut out stencils for each of the words and used red and black royal icing to put the words onto the cookies. I like the way this made the words look printed onto the cookie. Next I drew Pooh onto the cookie. I used the Camera Lucida app to project the desired image in order to draw an outline of Pooh. After that I colored in all each image.
Here's a picture of the cookies bagged for the birthday party. I used clear cellophane bags.
For more Winnie the Pooh:
Red white and black Pooh cookies
Pooh Tigger Piglet heart shaped Baby Shower cookies