Every October, I share a bunch of amazing pumpkins carvings. Since Halloween was last night, I thought it would be fun to wrap up Halloween season by presenting my most popular pumpkin carvings posts of 2022. If you click on the link at the top of each item in the countdown, you'll be taken to the original post which will have even more pictures of these gorgeous pumpkins.
Each of these cool Batman Pumpkin Carvings were made by StoneyKins. Since the Bat-Signal is a light shining in the sky, a Bat-Signal Jack-o'-lantern is a brilliant idea.
Catwoman is one of my favorite Batman characters.
What's could be more perfect on Halloween then a scary clown?
This amazing pumpkin carving was created by Marc Evan from Maniac Pumpkins Carvers. My favorite part of this pumpkin is all the tiny hairs standing up on the top of his ear and head. That level of detail is stunning. I'm terrible at carving pumpkins, so I'm always amazed at the exquisite detail that pumpkin artists are able to create.
It's the Great Pumpkin, Charlie Brown is my favorite Halloween special, so I was glad these made the countdown. They were carved by StoneyKins.
In the pumpkin above, Linus is eagerly awaiting a visit from The Great Pumpkin.
A boy and his dog sitting together and looking at the setting sun.
Snoopy as everyone's favorite World War I Flying Ace. Notice the holes in Snoopy's dog house. Me thinks we're about to hear that famous battle cry – "Curse You Red Barron!".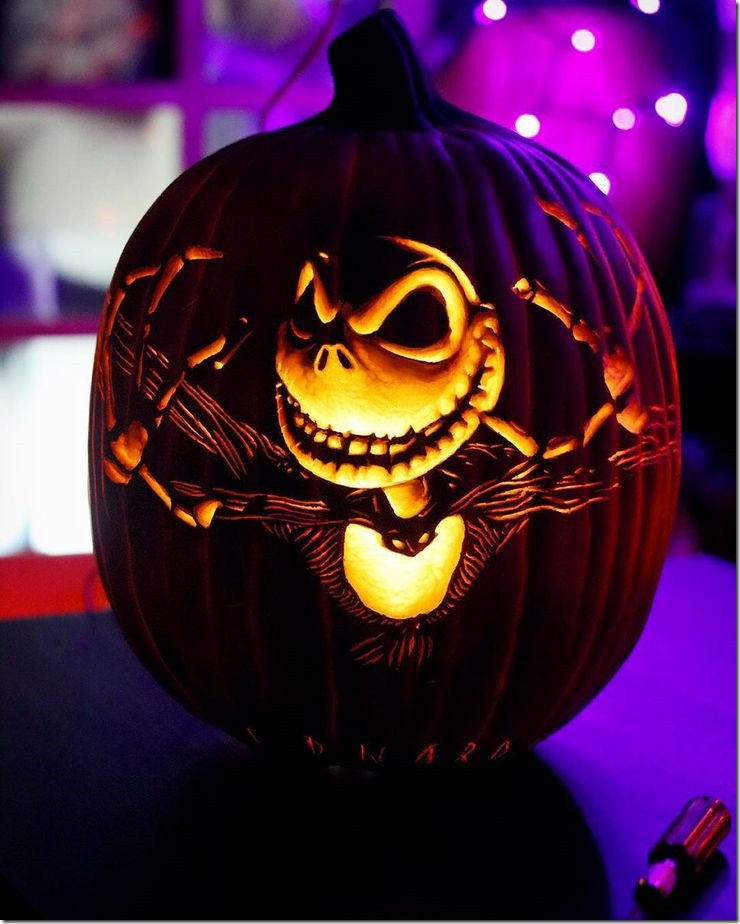 This wonderful Jack Skellington Pumpkin Carving was created by Edwards Art + Design.  It features Jack reaching out menacingly at you.  I always like pumpkins that look like they're interacting with the person looking at them.
My favorite carving of this set features Jack decorating for Halloween. This wonderful pumpkin was carved by Pumpkin Wayne.
These three Pumpkin Carvings were made by Alex Wer, The Pumpkin Geek. I really like the use of shadow and light on Spider-Man's costume.
The Green Goblin is the perfect villain for Halloween. The detail on this carve is amazing. The only thing missing is one of the Green Goblin's pumpkin bombs.
Number 4 brings us another monster. But he is way too adorable to be scary – Cute Stitch Pumpkin Carving.
This cute Stitch Pumpkin Carving was made by Carved In Kin.  This great pumpkin features Stitch sitting down and looking at you.  One thing I really like about this pumpkin is that the light comes from pupils in Stitch's eyes, so it really looks like he is looking at you.
This pumpkin recreates the famous Partners statue of Walt Disney and Mickey Mouse. It and the pumpkins that follow were made by StoneyKins.
I really like the Mickey head shaped silhouette surrounding Sorcerer Mickey.
My favorite Disney couple.
The Nightmare Never Ends! Jack is back again and this time he brought his dog with him. Coming in second place is this Wonderful Jack Skellington and Zero Pumpkin Carving 
This wonderful Nightmare Before Christmas Pumpkin Carving was made by Robert Kriess from Carved In Kin.  Jack Skellington is standing with his arms crossed. Zero's head is over Jack's shoulder and his ghostly body wraps around to the other side.  This is such a cute pumpkin.
Before we wrap up this countdown, I have an important question. How do you keep Jack-o'-lanterns lit under the sea? The reason I'm asking is because coming in at number 1 are these Lovely Little Mermaid Pumpkin Carvings.
Stephie from DeviantArt created this terrific silhouette of Ariel sitting on a rock with sun setting behind her. You can see the sun reflected in the sea.
I hope you enjoyed the countdown! I plan to make it an annual event. But, you don't need to wait a year to visit Between the Pages. I feature new content every day of the year.