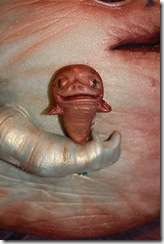 This amazing sculpted Jabba the Hutt birthday cake was made for a Star Wars fan by a friend of the family.  The creator of this cake did a fantastic job.  The recipient's four-year-old son likes Jabba's son Rotta and requested that the cake have Jabba and Rotta hugging.
The cake is made of chocolate cake, chocolate fudge, and fondant.
The lucky recipient of this amazing cake has a wonderful collection of Jabba-related items which can be viewed at Mighty Jabba's Collection.