My first thoughts when I saw this cake were – "She stuck a Rapunzel Styling Head
on a cake?" But as I looked at Rapunzel more, I realized that this absolutely amazing Rapunzel wasn't a toy. Rheena Sy, AKA Pastrychik, handmade both Rapunzel's head and the lanterns. Wow!!!
If you live in or around San Mateo, California. You can order a stunning cake from Pastrychik.
Rapunzel is made out of Rice Krispies Treats covered with fondant and modeling chocolate. The base is a 12 inch round chocolate cake filled with vanilla buttercream. The lanterns are edible too!
Here's a close-up of Rapunzel and the lanterns. This is without a doubt the best Rapunzel I've seen.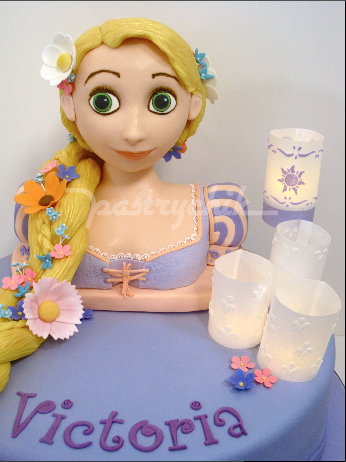 Planning a Tangled Birthday Party? Check out these Rapunzel party ideas:
Tangled Birthday Party with Rapunzel Tower Cake
Marvelous Rapunzel, Flynn Rider, Maximus, and Pascal cookies