This pink & white Rapunzel cake is a two tier cake decorated with a fondant drawing of Rapunzel and Pascal and fondant lanterns that spell out the birthday name and a yellow sun with the number 5 for the birthday age.
I made this Pink and White Rapunzel Cake for Icing Smiles for a 5 year old girl's birthday party. I love doing cakes for Icing Smiles for medically fragile children and their families. This girl was a Rapunzel fan and wanted a pink and white cake of her favorite Disney Princess.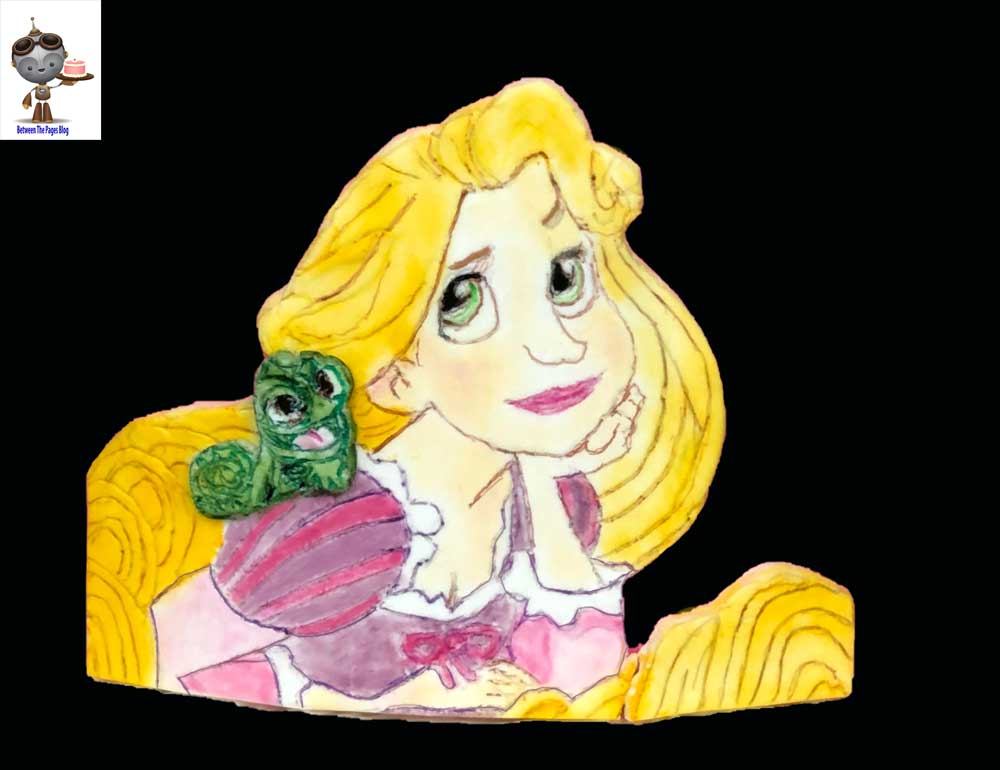 Fondant Rapunzel Drawing
I started by drawing Rapunzel onto a piece of fondant. She was inspired by a Disney limited edition drawing by Tim Rogerson called Flowers in Her Hair. Next I painted her with edible paint dusts. I painted using a dry paint method and a meat baster to blow off excess dust. Multiple layers of paint dust was applied to give different shades of a color. In addition, Pascal was drawn onto a separate piece of fondant that was painted. Then it was attached to Rapunzel. It is very helpful to have something like the Camera Lucida app to project the desired image onto the fondant.
Next, I cut out lantern shapes using cookie cutters and used tappits to cut out the letters of the birthday name and the number 5. I hand cut the yellow sun for the front of the cake.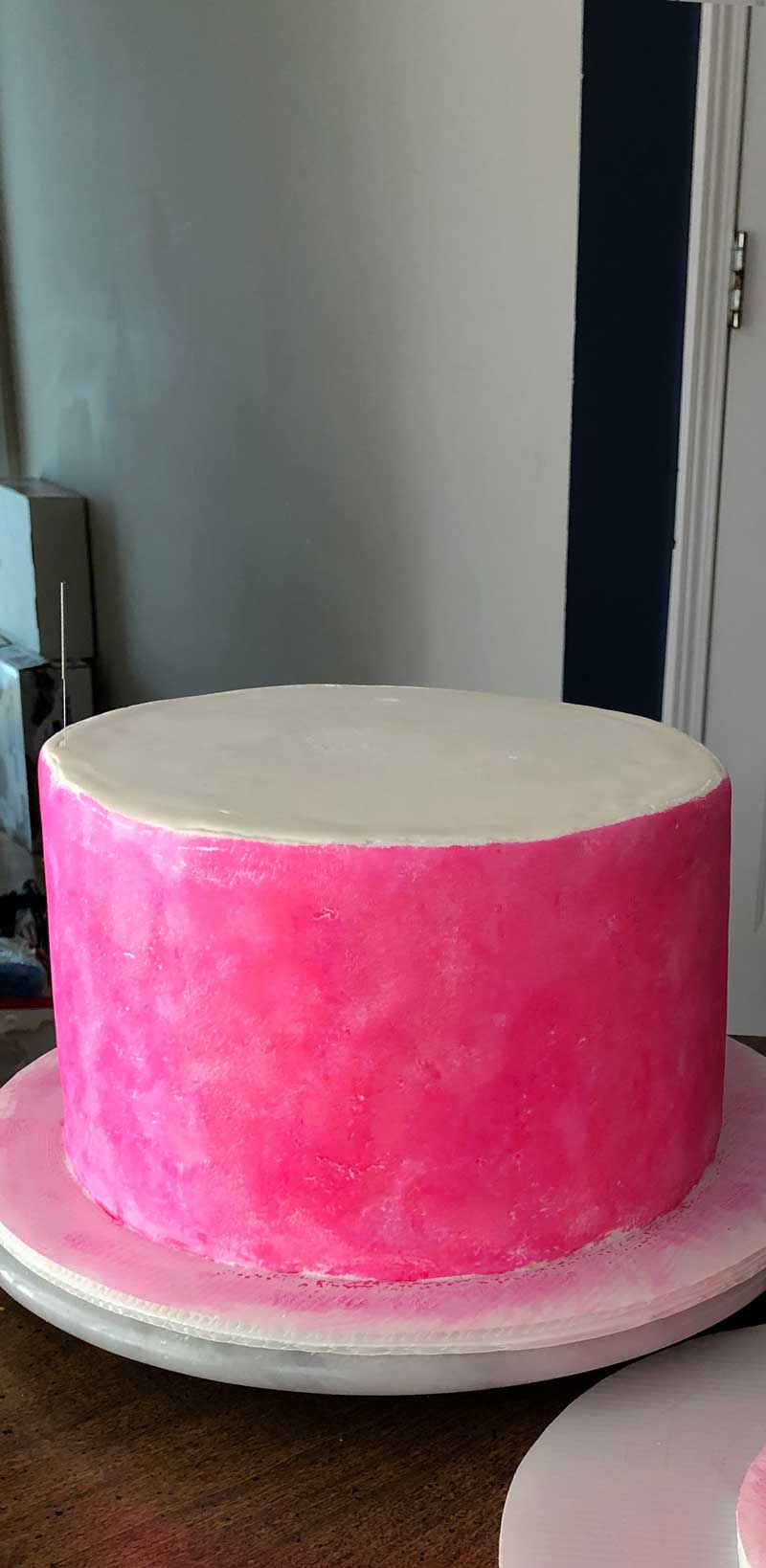 Make and color cakes
I made 9 inch and 4 inch barrel cakes and covered them in fondant. First, I covered the top of the cake. Then wrapped the sides in fondant. Then I used a tear drop shaped sponge covered with a paper towel to make the modeled pink pattern on the cake. I used a paper towel for the bottom edge. Next, I mixed electric pink paint with vodka to make a thin liquid to apply to the cake.
Next, I made a cake board using 12 inch cardboard cake circles hot glued together. I made sure the grain of each board was 90 degrees off set from the one below it to make it stronger. Then I hot glued a ribbon around the edge. For detailed pictures, take a look at Sugar Geek Show Cake Board Tutorial.
The birthday girl wanted sprinkles on the cake, so I placed some one the back of the cake and attached them with piping gel. In addition, I gave her a large bag of fresh made pink sprinkles to put on the cake wherever she wanted. Both the sprinkles and the piping gel were easy to make. The sprinkles tasted very good since they were very fresh. I also used sprinkles to cover the fondant seam at the back of the cake.
Finally, I cut out small flowers and placed the candles through the center to make a flower decoration around each candle.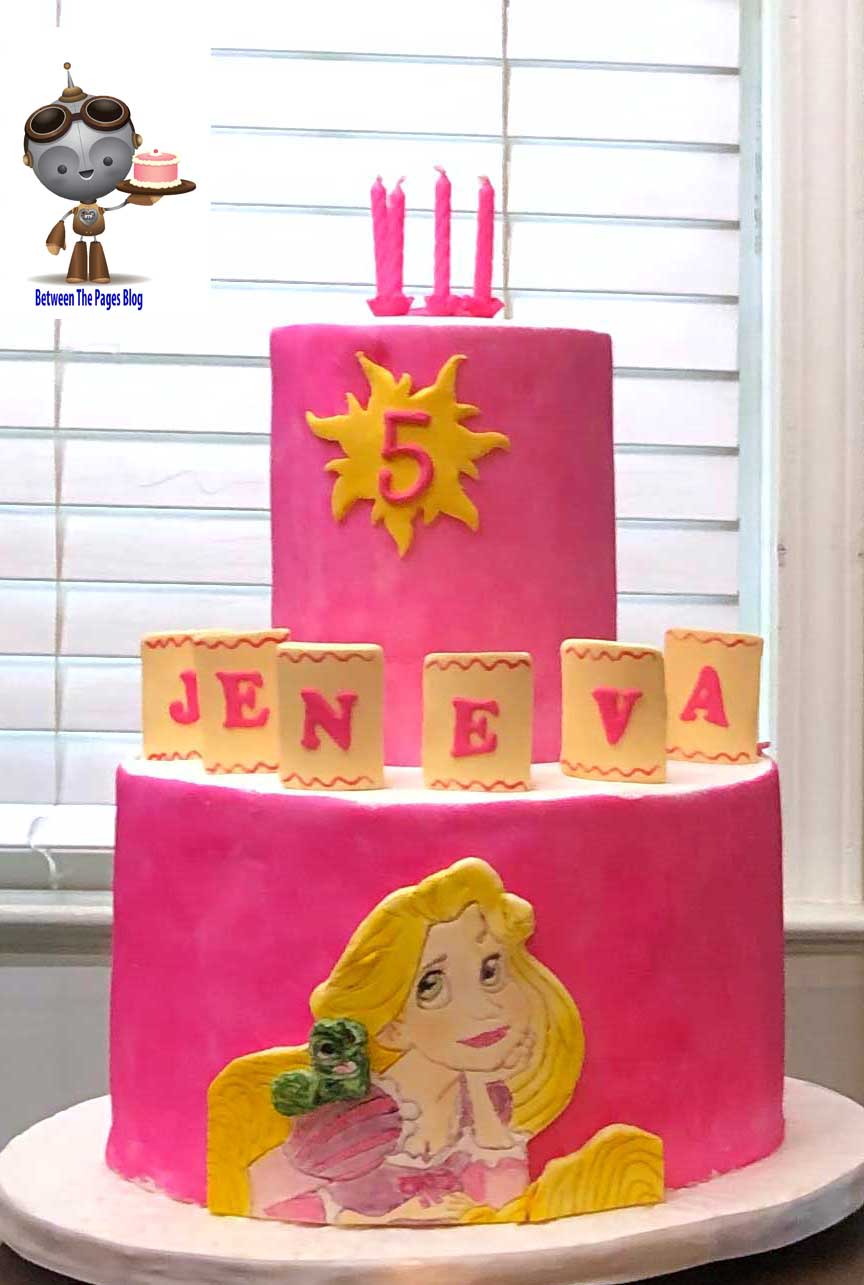 Here's a picture of the cake at the party.
For more Rapunzel party ideas:
Tangled Birthday Party with Rapunzel Tower Cake
Marvelous Rapunzel, Flynn Rider, Maximus, and Pascal cookies