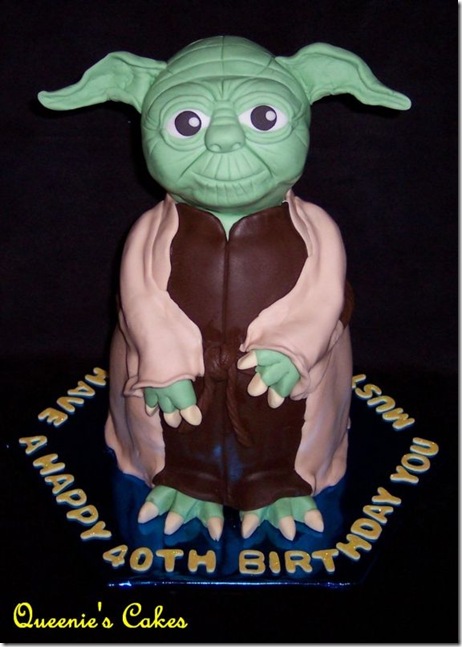 In 2008, Cake Central held a Star Wars Cake contest. This cute Yoda Cake, made by Mike Rowe's Hunny, was awarded 4th place.
Yoda's head was made from Rice Krispies Treats, while his body was made from chocolate. All of the decorations were fondant and gumpaste.
This cool Darth Vader Cake, made by Baking Girl, was awarded 3rd place.
Darth Vader was sculpted from 2 x 9″ round, 1 x 8″ round and 1/2 ball pan. The cake was covered in chocolate fondant and airbrushed black.
This terrific Stormtrooper Cake, made by Alogratera, was awarded 2nd place.
This cake was made by stacking a 12″ round sponge cake on the bottom and three 10″ round sponge cakes on top. The cake was then carved to look like a stormtrooper.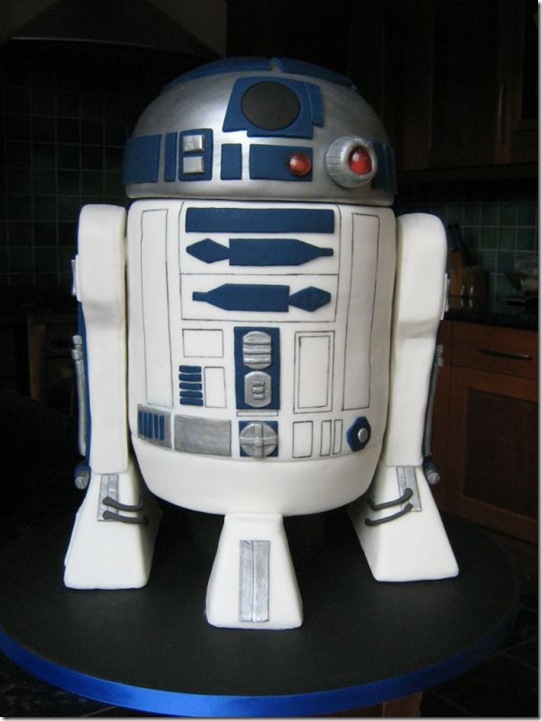 This wonderful R2-D2 Cake was awarded 1st place. Everyone's favorite Astromech Droid was made by The Cake Cupboard.
The body of this R2-D2 birthday cake was made up of five 7″ x 2″ round vanilla cakes with a buttercream raspberry filling. Cake boards were placed between layers 3 and 4, and between the body and the head. The head was made using a 7″ round with half a Wilton soccer ball pan on top. The entire cake was covered in fondant. A 1/2″ dowel was screwed to the bottom of the cake board, a 5″ x 2 1/2″ polystyrene round was placed on top of the board. The board and polystyrene round were covered with black icing. The legs were Rice Krispies Treats and the feet were polystyrene. Glace cherries were used for the eye pieces.