An Irish Fry
I am excited to be chosen to host a Foodbuzz 24×24 party. The theme of the party is an Irish Fry in celebration of Nana's, my Irish Mother-in-Law, birthday. Let me first describe the contents of an Irish fry. An Irish fry is a full Irish breakfast. It is usually eaten at morning or midday. At our Irish fry we served each person Irish bacon (looks a lot like Canadian bacon), Irish bangers (Irish sausages), black pudding(blood sausage), white pudding, Irish soda bread from Nana's own recipe,and fried eggs.
Nana was born and raised in Ireland. One of her favorite things has always been traditional Irish food. My Father-in-law, while he was born in the Bronx, has become almost as Irish as his wife. One of their favorite meals has always been a late breakfast or brunch. Since Nana's birthday is in mid-December, I thought it would be great to celebrate her birthday by making a traditional Irish fry (a full Irish breakfast) and invite the whole family.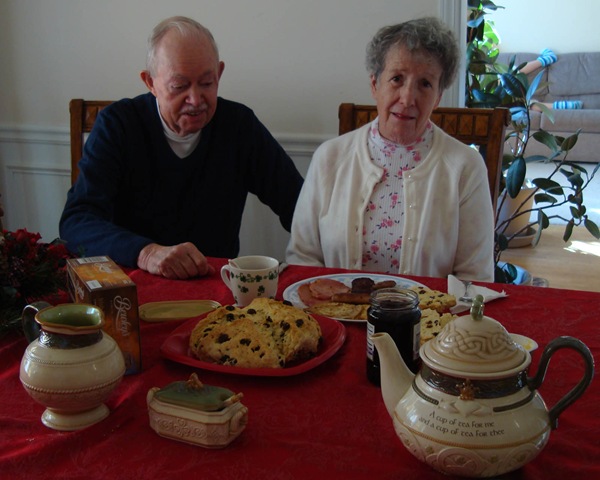 Nana and Grandpa
We have always regarded family as one of the most important things in our lives. As a result, our family is very close and always looks forward to getting together for food and fellowship. This Irish fry is the following: a celebration of Nana's birthday as a thank you from her family for all the times she has been there for us over the years: a celebration of family which is the focal point in all of our lives: and a celebration of Irish heritage which has always been a thing of pride for our family. Here are some pictures of the family eating the fry.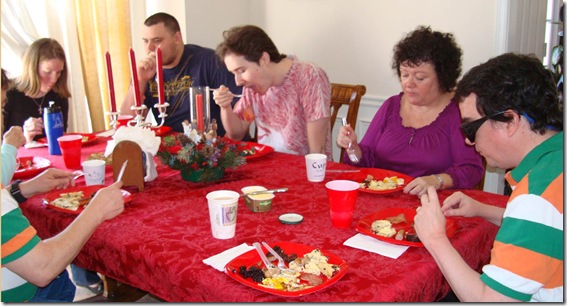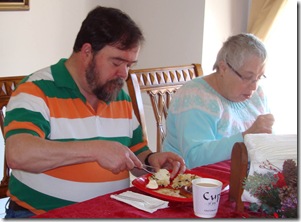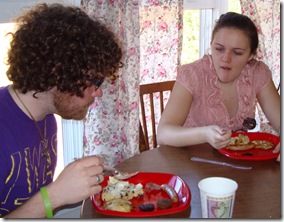 As part of the celebration of Irish heritage, some of Nana's grandchildren have put together an Irish band that specializes in Irish music using flutes, guitars, fiddles, and Penney whistles. This band is called Shanveen. Here are some pictures of them playing at the Irish fry.
Two items that are the center point of this Irish Fry are Irish Soda Bread and Traditional Irish Meats.
Irish Soda Bread is hand-made raisin bread which usually uses baking soda as its leavening. We used Nana's family recipe that is wonderful.
Irish Soda Bread
Irish soda bread is best eaten the day it is made. It must be stored wrapped in a moist cloth to keep it from drying out. Every day Irish soda bread does not include raisins. Raisins are used on special occasions. We used raisins because it is a special occasion. We served the Irish Soda Bread with Irish butter and Black Current Jam.
I purchased my traditional Irish Meats at A Taste of Britain, a terrific English and Irish store, which sells authentic foods such as Irish bacon, bangers, and black and white pudding. A Taste of Britain also sells imported tea from Ireland and I bought that as well. I purchased Irish butter from Publix Grocery Store.
Black Currant Preserves Irish Butter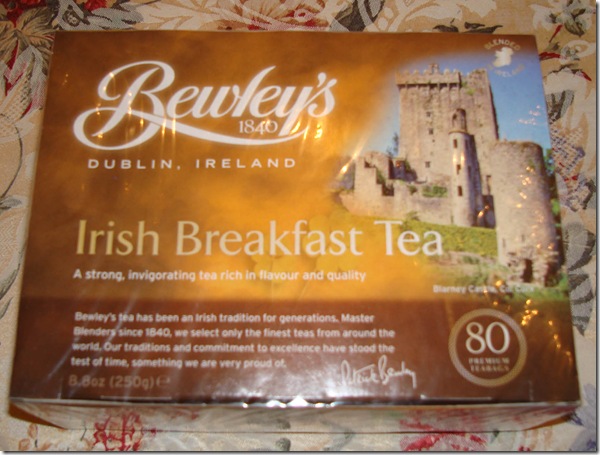 Irish Breakfast Tea
Below are pictures of the meats that were served at our fry.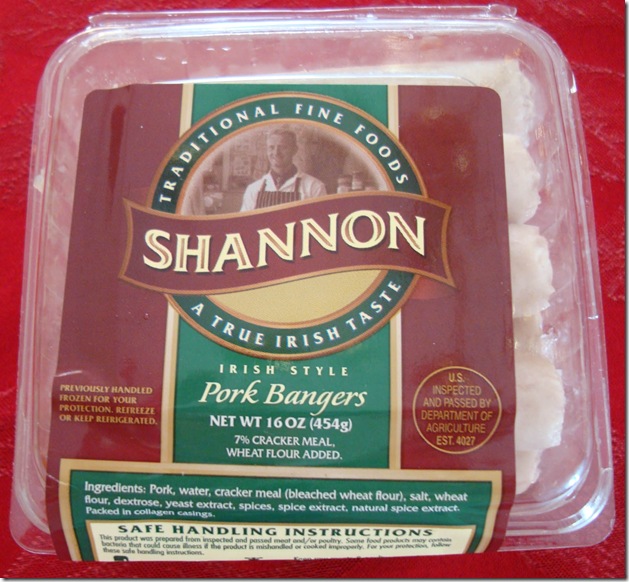 Irish Pork Bangers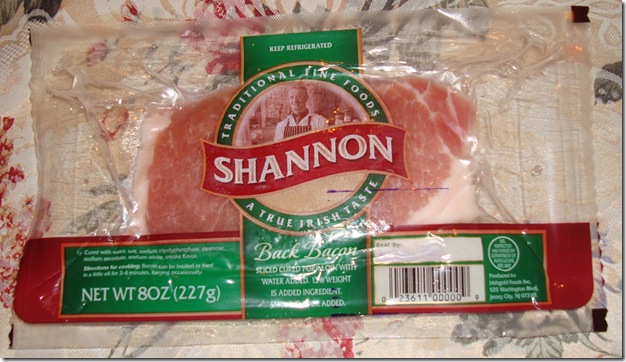 Irish Bacon
Irish bacon is made from the back meat of the pig, while American bacon comes from the pork belly. While similar to Canadian bacon, Irish bacon tends to have a layer of fat around the meat to enhance the flavor of the meat.
Black and White Irish Breakfast Pudding
Black pudding, also known as blood pudding, consists of cooked blood or dried blood with fillers such as meat, fat, bread, and oatmeal which is cooked until it is thick enough to congeal when cooled. White pudding is essentially black pudding without blood. Both are formed into the shape of a large sausage. To cook these, slice them, and fry the slices.
Here's how we prepared the fry. We prepared and baked the Irish soda bread before the meal because it takes time to bake. We cooked the bangers in a frying pan. We fried the Irish bacon over medium heat until the Irish bacon was nicely brown. Next we fried the slices of black and white pudding until lightly browned. Lastly, we fried the eggs over medium heat until they were done.