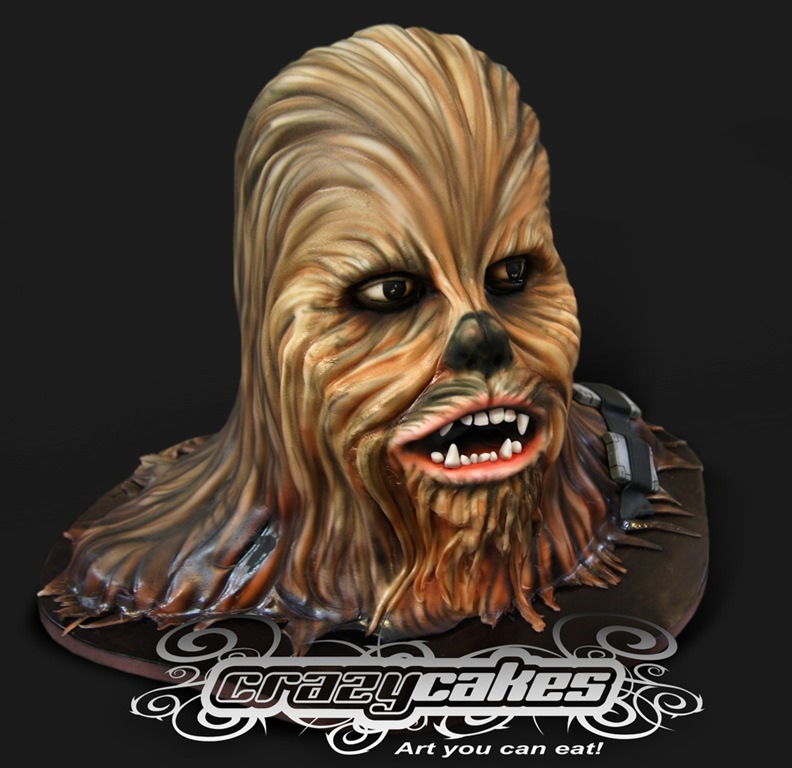 Some people say there is a Wookiee to blame,
but I know it's Chewbacca's fault!

Welcome to Between the Pages' 10th Birthday Bash!!!
I'll get to Chewie's role in all of this in just a second. But first, the amazing Chewbacca Cake you see above was made by Crazy Cakes. I love Star Wars, feature it frequently, and this is one of my favorite Star Wars cakes ever.
It is hard to believe but ten years ago today, I began this blog – Between the Pages. 10 years later, I've written over 4,500 posts and been blessed with over 5 million visitors! To each of you reading this post, THANKS! I wouldn't still be writing this blog without you.
I thought I'd begin with a little history. When I started out, my blog wasn't subtitled where food and pop culture meet, instead it was the home of everything cookbooks leave out. Hence the name Between the Pages. I love cooking and teaching how to cook, so starting a blog about those topics seemed like the perfect fit for me. I wrote tips and tricks and detailed recipes.
Promise not to cringe too much? Here is a link to my very first blog post. Hopefully, I've improved a little since then!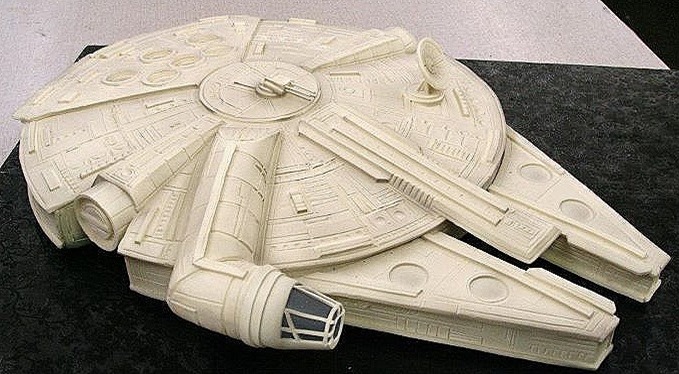 This terrific Millennium Falcon was made by Mike's Amazing Cakes. I'd love someday to take a one on one class with Mike McCarey.
So how did a cooking blog become the world's geekiest cake blog?
Writing recipes and cooking tips took a lot of time and research. My very first winter blogging, I came down with a sinus infection that I couldn't shake for weeks. I felt yucky and couldn't think straight, so I only posted a few quick tips and tricks. Since I was sick for weeks, I finally decided to write even simpler posts. I love baking and decorating cakes, so I posted pictures of some of the pop culture cakes I'd made my kids over the years.
My cooking posts did okay traffic wise, but my cake posts went crazy. What's crazy? How about ten thousand hits in one week. Needless to say, I decided to start focusing more on baking. I'm not that dense!

That's when Chewbacca changed everything. I was sharing some of my Star Wars themed cakes on Twitter when Renae Valdez-Simeon (author of $10 Buck Dinners) replied and told me that she was making a Chewbacca cake for one of her kids birthday. Unfortunately, she couldn't find any good Chewbacca cakes online for reference. I offered to help, found a few nice Chewbacca cakes online and put them together in a post. You can read it here.
Renea was thrilled. She made her Chewbacca cake and sent me pictures. After that post, I got a few more requests from other people on Twitter and soon Between the Pages switched to focusing on pop culture cakes. I looked seriously at changing the name of my blog to Cakes With Character, but by this point Between the Pages was starting to gain a reputation, so I stuck with the original name. I'm really glad I did because one of my favorite people Jean Schapowal has a bakery named Cakes With Character.
I can't mention Jean without sharing one of her amazing creations. Here's is her stunning The Creature from the Black Lagoon Cake. The only thing more amazing than her cakes is Jean herself.
My timing on changing my blog's theme couldn't have been better. Decorated cakes and cookies became extremely popular and pop culture went through the roof in popularity. When I started writing about pop culture, I decided I'd cover any family friendly fandom, but I knew I needed to sharpen my focus. I chose three unrelated fandoms that I liked – Disney, Star Wars, and Marvel Superheroes.

Little did I know what the future would hold for those three.
It was about this time in my blog's history that I hired Jerrod Maruyama to create the blog's amazing mascot. If you ever need a mascot for you bakery, business, or blog – check out Jerrod. He does AMAZING work and is an absolute pleasure to work with.
I grew up watching I Love Lucy, so I adore this stunning cookie by Kirkie Kookies. The drawing of Lucy is wonderful and I love the vintage TV set.
Blogging means long hours in front of a computer writing. What I didn't realize is that it also means making wonderful friendships in both the geek and baking communities. Both of these groups have welcomed me with open arms.
I'll start with the geek community first.
I'm going to start by talking about the two people who are a large part of why I'm still blogging 10 years later – Bonnie Burton and Paul O'Connor.
Once you have a fan base, blogging becomes easier. But, those early days when you're writing stuff and no one is visiting your site are really hard. That's where Bonnie Burton comes in. Bonnie, who at the time ran social media for Lucas Films, was a key early supporter of this blog. Thanks to her, I was mentioned on IMDB news and the Star Wars website. The Star Wars Twitter account often retweeted my Star Wars themed tweets which brought me a regular flow of readers when I was first starting out. I'm not sure I'd be blogging today without the help Bonnie gave me early on. Bonnie can be found on Twitter @bonniegrrl.
Paul O'Connor, of the Longbox Graveyard (which has been on summer vacation way too long), invited me to join a brand new blog team-up known as Super Blog Team-Up (SBTU) and I've been a member ever since. Because of this group, I've made some very good friends who have opened so many doors for me.
I'm a big fan of both Winnie the Pooh and Doctor Who, so this is one of my favorite cakes I've posted. This wonderful Winnie the Pooh / Doctor Who Mash-up was made by Nerd Ache Cakes.
I cannot mention Super Blog Team-Up with giving a massive shoutout to our den mother – Chris Bailey! Chris, AKA Charlton Hero, writes the blog The Superhero Satellite and can be found on Twitter @Charlton_Hero. He is one of the nicest people I have ever known and a dear friend.
I did two short plugs for SBTU on Dean Compton and Emily Scott's radio shows. That lead to one of the most nerve wracking and wonderful experiences of my life. Dean and Emily had me as the featured guest on their radio show. We spent an hour talking about blogging, baking, Star Wars, Batman: The Animated Series and so much more. The best place to find Dean and Emily is at their blog – The Unspoken Decade – A Look At 90's Comics.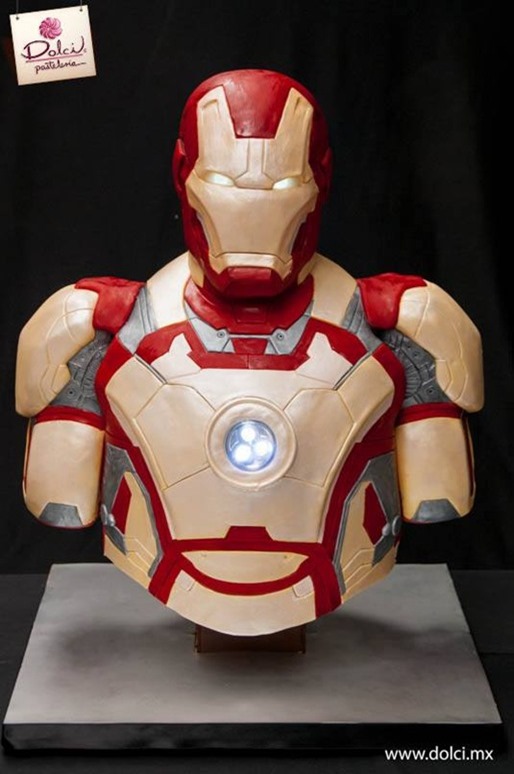 This awesome Iron Man Cake was made by DOLCI Pastelería. This is where I'm supposed to insert some witty comment, but this amazing cake leaves me speechless.
Another amazing honor is that the fine folks at The Retroist loved my post so much that I was invited to become a blogger for them. I loved writing about everything from Star Trek, to the Flintstones, to Haunted Mansion for that wonderful site. I consider Larry Luper, Jr (aka Vic Sage) a dear friend and chat with him online every day or two. Sadly the Retroist blog is no more, but Larry has started a wonderful site of his own – The Pop Culture Retrorama. You've got to check out this site!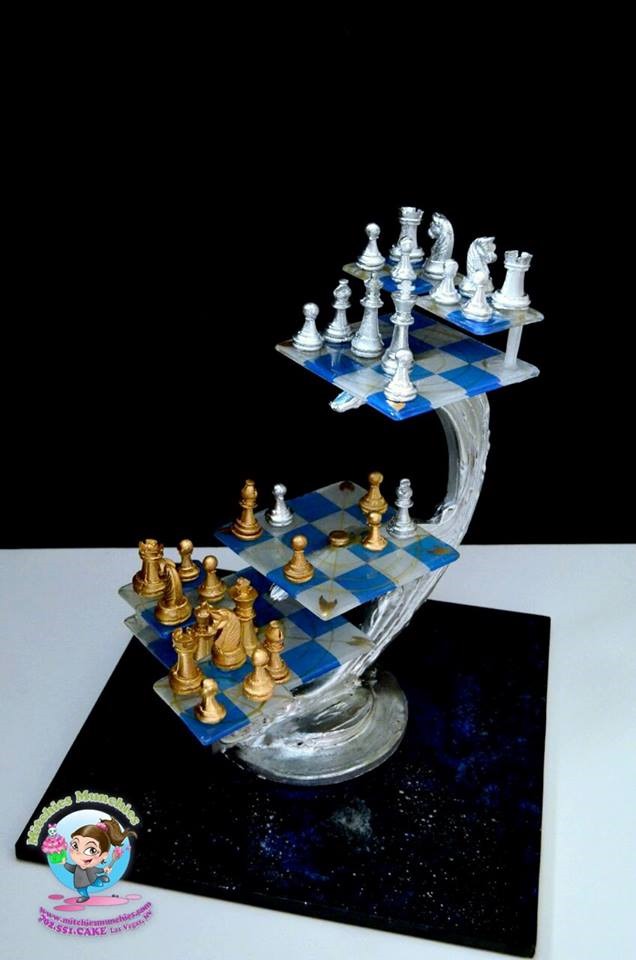 You can't get much more awesome retro than this 3-D chess set made with Simi Isomalt. The only thing cooler than this chess set is the person who created it – Chef Mitchie Curran.
The baking community has been just as loving to me.
90% of my friends on Facebook are bakers who I met through this blog.
This one blows my mind!!! I went from being someone who was asked to write posts about cake collaborations to being invited to participate in them. One of those collaborations was the runner up for Cookie Connection's annual collaboration award. Never in a million years did I imagine being able to be part of something so amazing.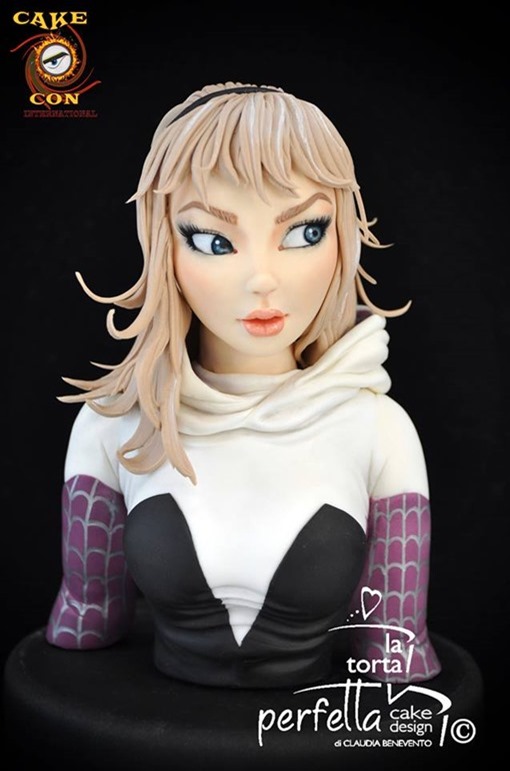 This stunning Spider-Gwen Cake was made by Claudia Benevento from La torta perfetta. I'm a big fan of super heroes and this is one of my favorite super hero cakes. Gwen's hair, face, and costume are all amazing.
I never expected this, but writing about cakes for 10 years has made me a better cake decorator. Because of this, I've had the honor of making a semi naked wedding cake with flower corsages for my Sister-In-Law and a Wonder Woman & Captain America wedding cake for her daughter.
I've also been blessed to be invited to make cakes for the wonderful charity Icing Smiles. Some of my favorites for them were a moose cake that looked like the child's favorite stuffed animal, a Disney princess castle cake, and a Minnie Mouse cake.
That's just the tip of the iceberg. I have had so many wonderful experiences because of this blog.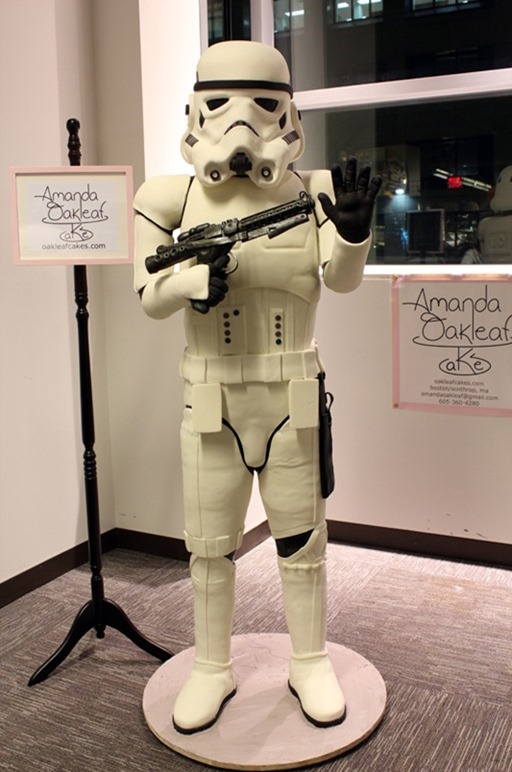 Check out this Life Size Stormtrooper Cake. It was made by Amanda Oakleaf Cake and was six feet four inches tall. This wonderful cake is definitely "not a little short for a stormtrooper."
This wonderful Incredibles Cake was made by Little Cherry Cake Company. I've never counted but I'm guessing the bakery that I've featured the most often would be Little Cherry Cake Company. Tracy makes amazing pop culture cakes and is such a wonderful person.
The first 10 years have been INCREDIBLE and I have plans to keep making Between the Pages better and better.
To help with this, I'm launching a Patreon today.
I will have five tiers.
$1 or $2 a month – A dollar or two may not seem like much, but they add up quickly.
$5 or more a month – At least once a month, I will have a post thanking our supporters. I'll include the name of your business, bakery, blog, or podcast, a short description of it, and a link to your site.
$10 or more a month – I'll conduct an e-mail interview with you and use it to write a spotlight post about you and your business. You'll be included in the sidebar thanking our supporters. You'll also be listed in the monthly post thanking our supporters.
$20 or more a month – You'll receive all of the benefits listed above with one big change. Instead of being included in the sidebar thanking our supporters, you will receive your own individual block on our sidebar.
I reserve the right to revoke this offer for any links which are spammy, objectionable, or questionable.
THANKS for an amazing decade.
Here is to the next ten years and beyond!!!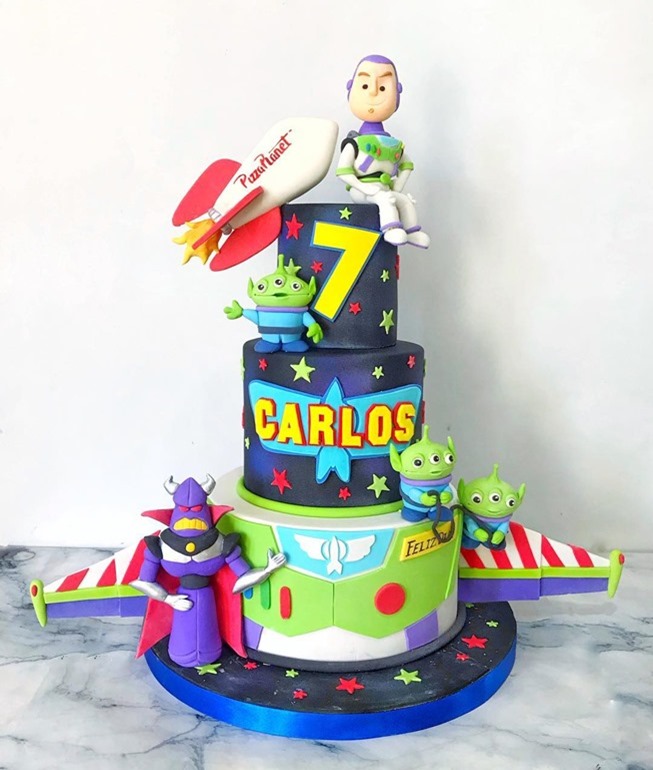 I'm closing out this celebrations with this terrific Buzz Lightyear & Friends 7th Birthday Cake made by Carlos Moreno, Cake Designer.