Marzia Caruso Cake Design made this magnificent Addams Family Cake. Let's pay a call on this edible version of the Addams Family where we will meet Lurch, Gomez, Morticia, Uncle Fester, Grandmama, Pugsley, Wednesday, Thing, and Cousin Itt.
The bottom cake layer is covered in fondant and decorated to look like an old wooden fence. The gate has black two eyes and a black frowning mouth.
The top layer has fondant red sides with black vines. The top of the cake looks like a black and white tiled checker board floor. Gomez and Thing play chess from time to time.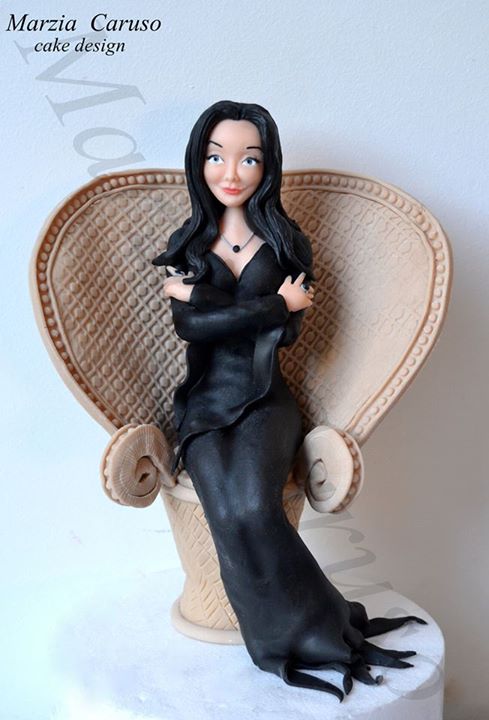 Morticia is sitting in the iconic beige wicker Addams Family chair. She has black hair and is wearing a long black fondant dress. The trim on the chair looks like it was made using a gumpaste or fondant mold of some sort. I wonder if a texture mat was used for the pattern in the gumpaste chair.
Lurch is standing behind her . He is wearing his black jacket, white shirt, and black tie.
Wednesday Addams and Thing
Also, Wednesday is standing beside her. She is dressed in black shoes, white socks, black pants with a black top with a white collar and white cuffs. She has long black hair. Her doll is headless with a gray dress and a black waistband. Thing is in his black box on a small brown table in front of Wednesday and Morticia.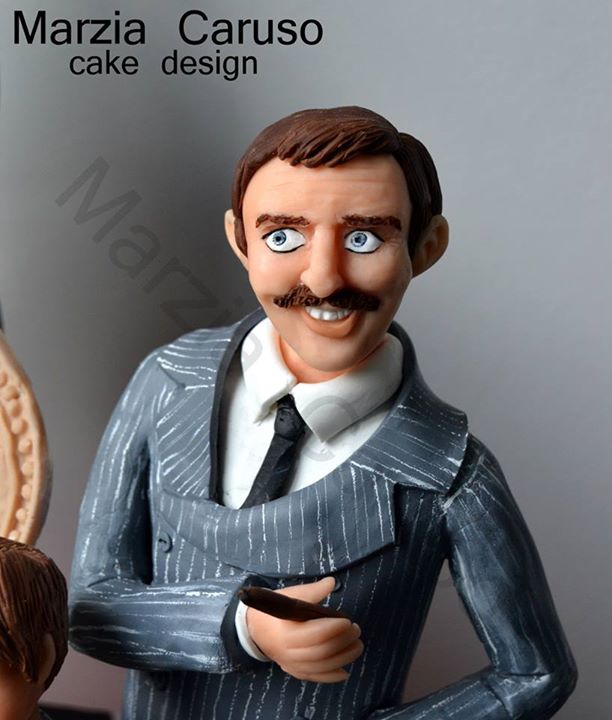 Moreover, Pugsley, Gomez, and Cousin Itt are on the other side of Morticia. Gomez is wearing a pin striped suit with a white shirt and a black tie. He is holding a cigar.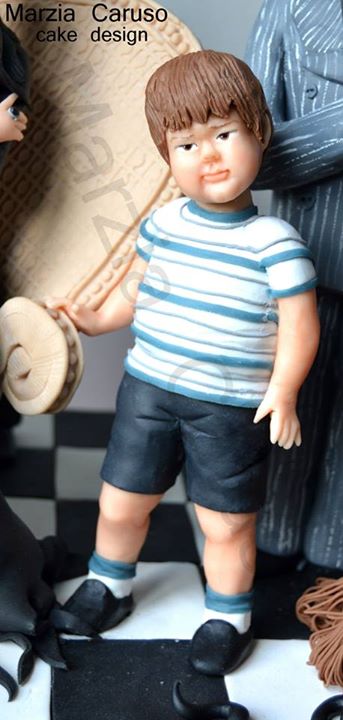 Pugsley is standing in front of him wearing black shorts and a striped shirt.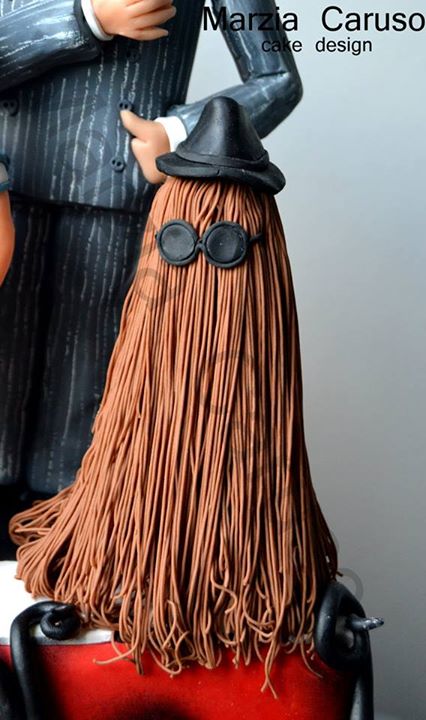 Cousin Itt is standing beside Gomez Addams. He is all long brown hair. He is wearing black glasses and a black hat. I wonder if an extruder was used to make all the long brown strands of fondant for his hair.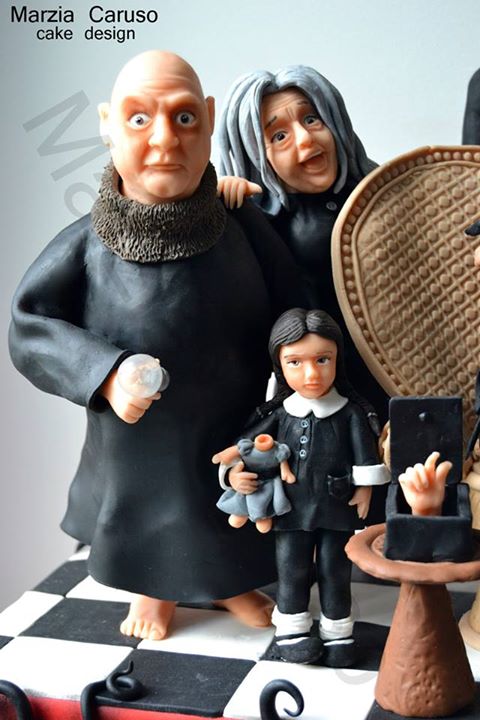 Also, Uncle Fester and Grandmama and Wednesday are beside Morticia. Uncle Fester is wearing a black coat with a dark brown fur collar. He is bald.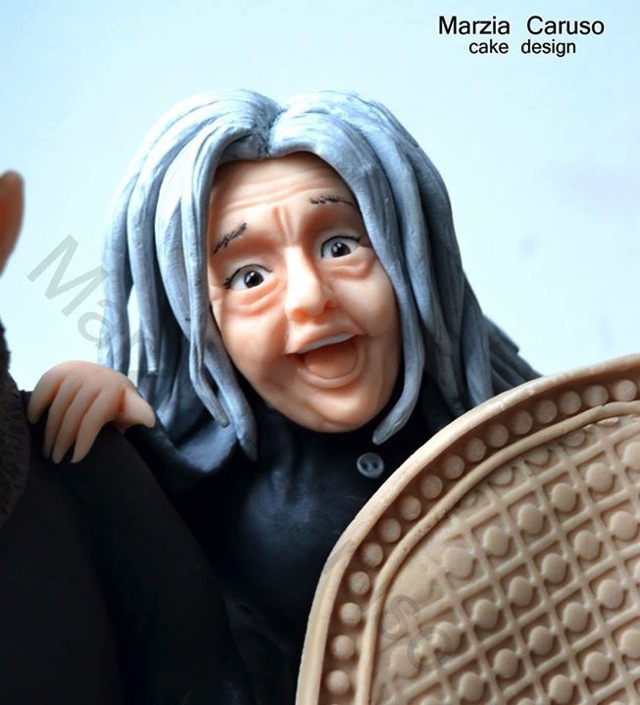 Grandmama is wearing a black coat and has gray hair.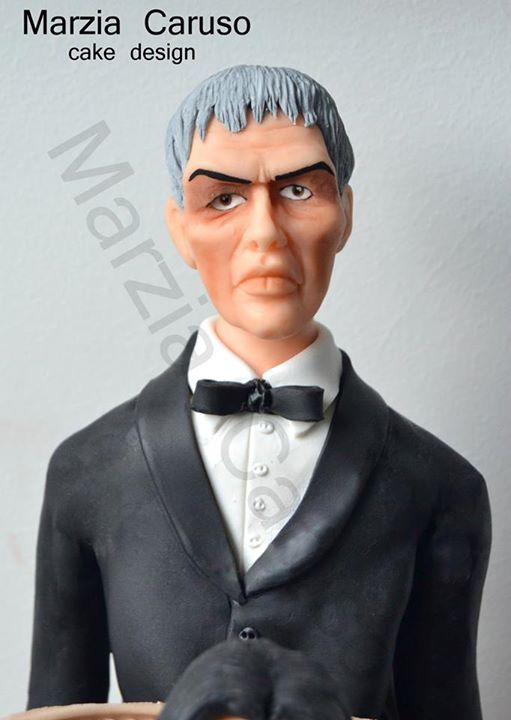 Here's a close-up of Lurch.
All of these fondant Addams Family characters are absolutely amazing!
In Progress Pictures of Uncle Fester and Lurch Fondant figures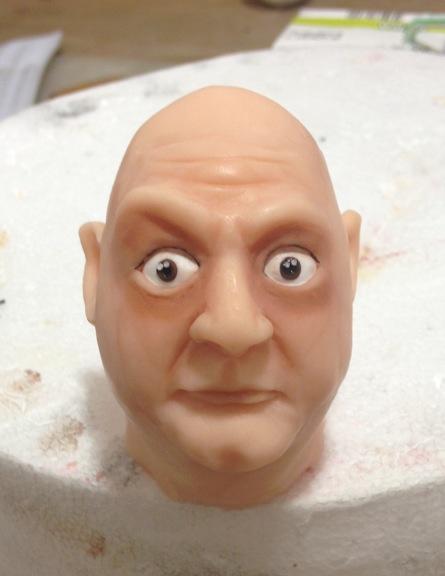 The detail of his eyes and the wrinkles on his forehead is amazing. It must have taken a while to make this fondant / gumpaste version of him.
Planning an spooktacular Addams Family Party? Take a look at these: