This Fabulous Corpse Bride Cake was made by Sprinkle Bakes. It features Emily in her wedding dress resting in her coffin.
The cake board is white with white roses. The coffin is brown on the sides with a woodgrain pattern. The top of the coffin is covered in dark red with black buttons to represent a quilted pattern.
The Corpse Bride is laying on top. The bones of one leg and one arm look like that of a skeleton. One arm, part of one leg, and the other leg is blue. Her face and neckline are also blue.
She is wearing white shoes and a white dress with pearls at the top and blue trim in the front. She has long purple hair and has a white veil that is behind her. Emily has flowers on the top of her head. She is holding a white bouquet of flowers. A blue velvet cake was used to make the coffin.
Heather gives a wonderful step by step tutorial on how this Marvelous Corpse Bride cake was made.
Face in progress
Here's a step of step guide of how the face was made: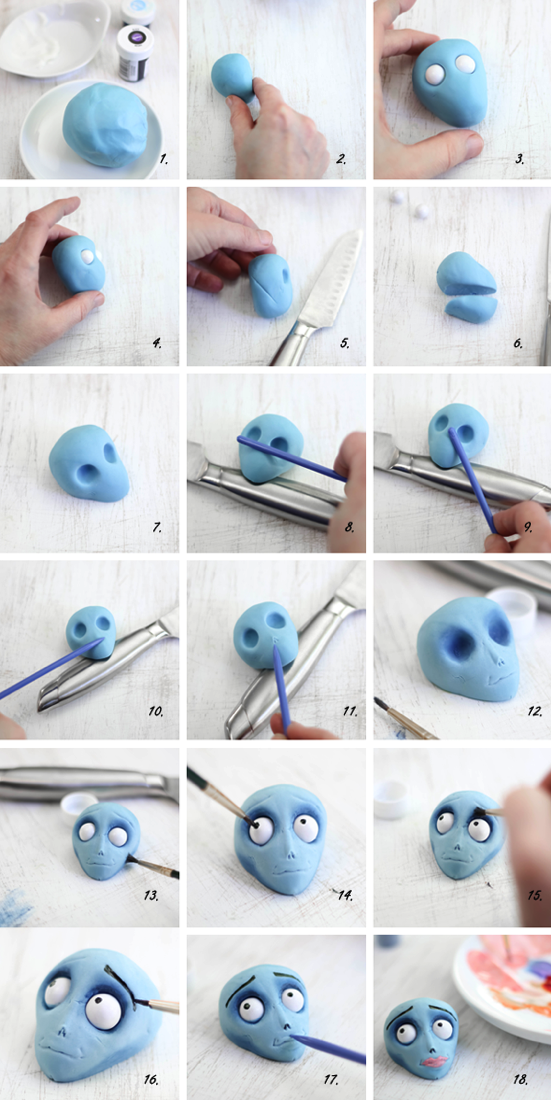 Looking for more Tim Burton themed treats? Check out these spooktacular treats: