Steampunk Sugar Geeks is a collaboration between cake decorators which celebrates steampunk.  For the last few days, I've been featuring a bunch of these awesome steampunk cakes.  Today, I'm featuring steampunk creatures which include everything from wind-up crocodiles to Easter hydras. 
The stunning cake shown above was made by Eat Cake Party.  It features a flying serpent wrapped around a pocket watch.  The complexity of this cake is amazing.  It had to have an amazing complex support system. 
I really like how the watch and flying serpent have the same color scheme and design.  Even the bolts on the two are the same.  The detail on the wings is stunning. The copper inside part of the wings has outside supports and is bolted to each grey wing piece.   Each pieces of the grey metal on the outside of the wings is shaded and bolted onto the next piece.  The face is fantastic. This creature has mechanical eyes and a beak.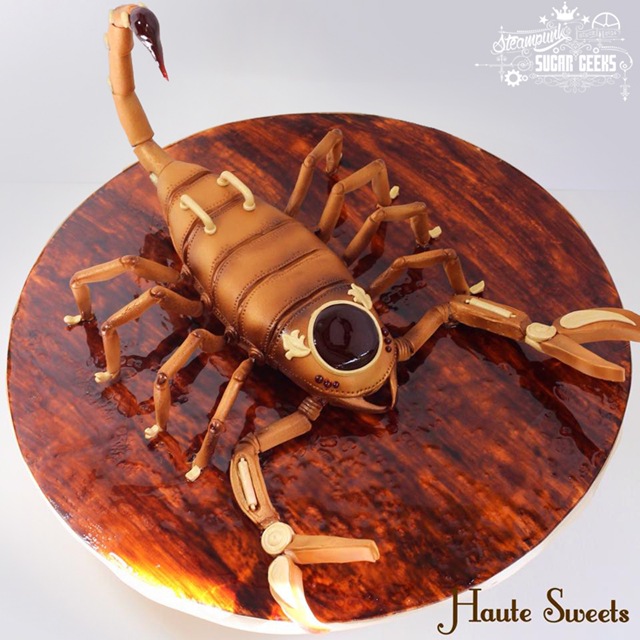 This stunning Steampunk Scorpion was made by Haute Sweets.  The large cyclopean eye looks like a hatch to me.  I could easily see a mad scientist riding around in this steampunk scorpion.  My favorite part is the stinger on the tail.  It looks so wicked.  I also really like how the tail looks like a bunch of separate pieces bolted together.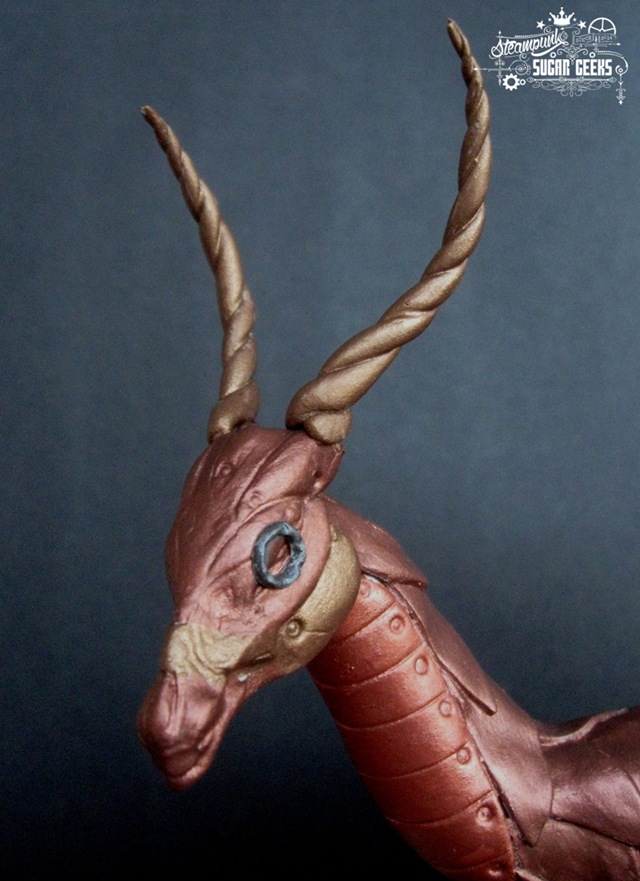 This wonderful Steampunk Dragon on a Box Cake was made by McLean SugarArt.  The horned dragon is terrific.  I like the way it looks as if the wing are completely separate pieces which are bolted on.  The dragon's underbelly has a similar design.  I also really like the tiled pattern on the box.  It give the box texture that looks great.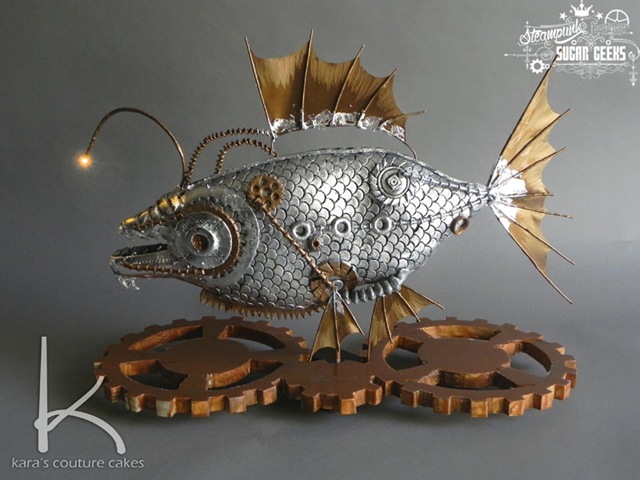 Mr. Nibbles was made by Kara's Couture Cakes. There is nothing fishy about this cake.
Kara wrote the following about her awesome cake: "This is my Angler Fish. There is just something about this fish that GETS me. I think it's the crazy forehead lamp he rocks. Nature gave this fish the PERFECT excuse to be steampunked!"
"Everything you see is edible: gelatin fins, edible silver leaf covering every scale (which was individually cut, hand laid, and cut twice more to nestle the next scale in… WHAT was I thinking???), and YES! He is in fact cake."
Ever time I looked at this cake, my eyes were drawn to fish and I completely missed one the coolest details.  Go up to the 1st picture of this cake and check out the amazing gear cake board.  That is the coolest cake stand.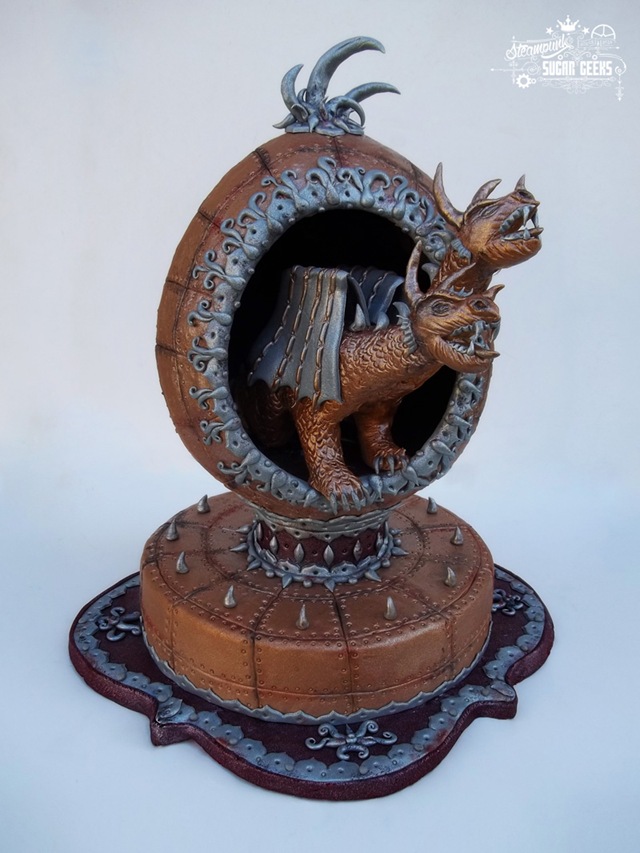 Hail Hyrda!  Don't let S.H.I.E.L.D. know that Gonzuela's Cakes is an agent of Hydra.
All joking aside, this cake brings back memories for me.  When I was little, my mom and I used to make sugar eggs at Easter.  They lasted forever.  She had one set that we made in her china cabinet for decades.  A few Easters ago, I made sugar eggs with my two kids.< /p>
I mention this because, the egg that the Hydra is in looks just like a sugar egg.  I would never have thought to make a Hyrda / Suger Easter Egg Combo.  But, Gonzuela is such a gifted baker that it looks absolutely stunning.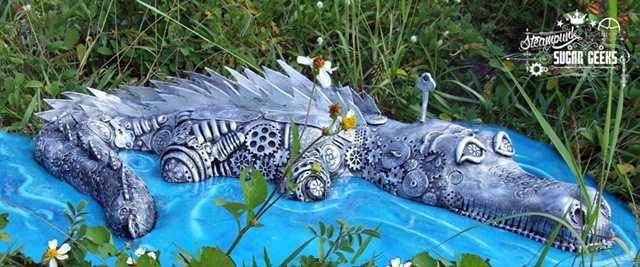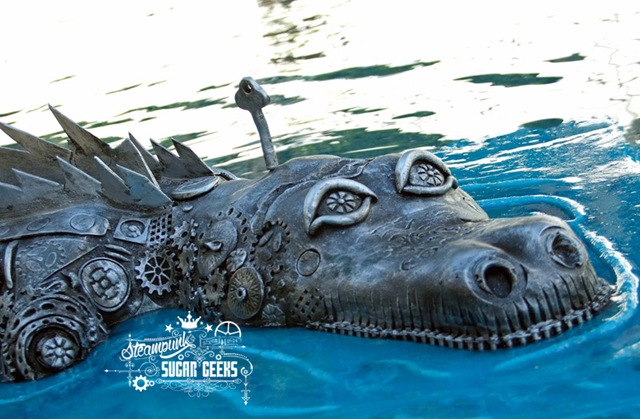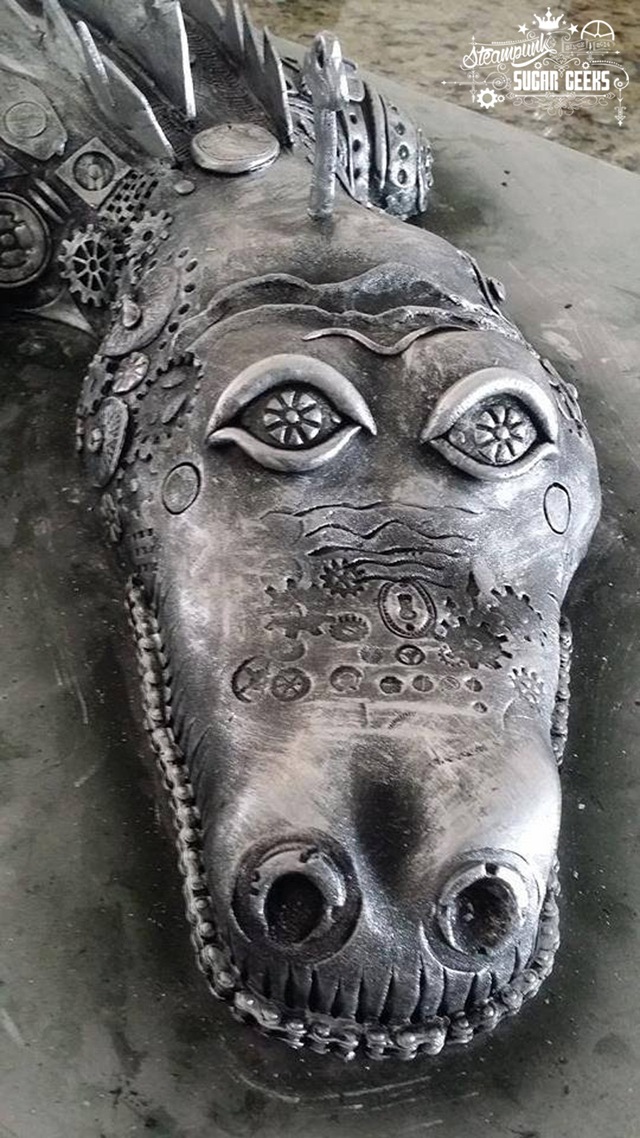 Never smile at a crocodile
No, you can't get friendly with a crocodile
Don't be taken in by his welcome grin
He's imagining how well you'd fit within his skin
Never smile at a crocodile
Never dip your hat and stop to talk awhile
Never run, walk away, say good-night, not good-day
Clear the aisle but never smile at Mister Crocodile
This wonderful wind-up crocodile was made by Curiaussiety Custom Cakes.  The details on the crocodile is amazing!  Not only is he covered in gears, but if you looks closely you'll also see that in spots he is covered with the impression of gears.  I love the fact that he is a windup crocodile.  I missed the golden days of wind-up tin toys by a few years, but I still have fond memories of those toys from when I was tiny.