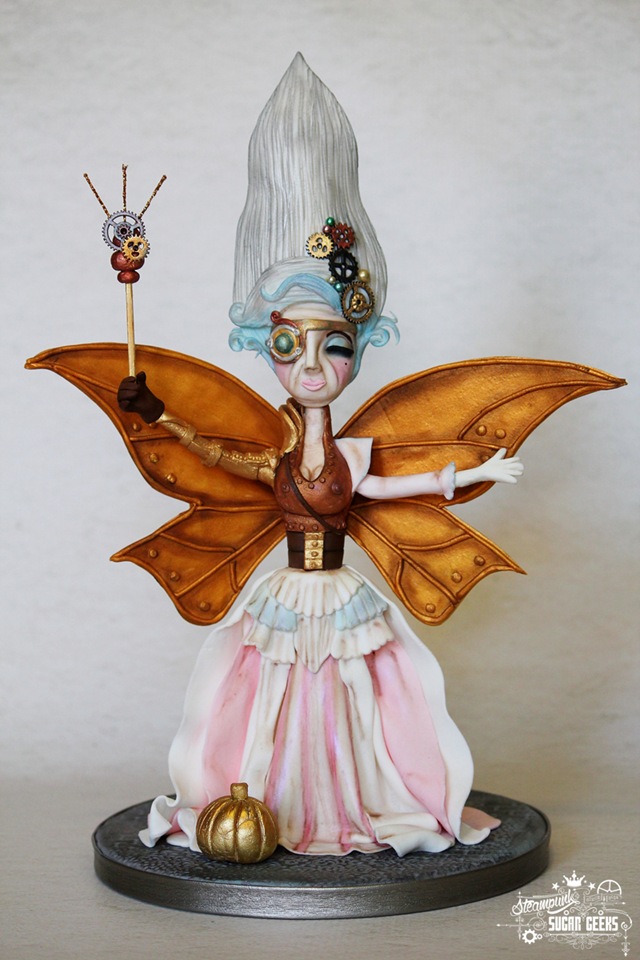 Steampunk Sugar Geeks is a collaboration between cake decorators which celebrates steampunk. For the last few days, I've been featuring a bunch of these awesome steampunk cakes. Today, I'm featuring steampunk cakes that focus on fantasy and fairytales. This includes Cinderella's Fairy Godmother, a fairy in flight, and Alice and the Mad Hatter.
This awesome Steampunk Fairy Godmother Cake shown above was made by Man Bakes Cake. Rudy chose Cinderella's Fairy Godmother because he wanted to reinvent her with his own vision. Rudy saw her as a woman still sexy, smart, maternal, quirky, and inventive. She is both classic and modern. Her powers incorporate both steam-powered electricity and magic.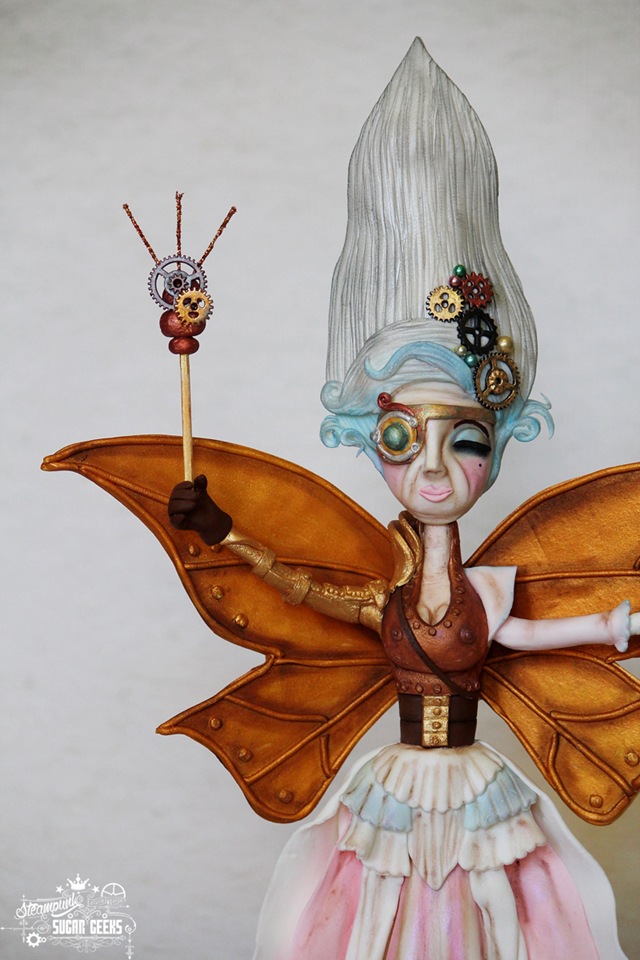 Since the fairy godmother's powers are based on steam-powered electricity and magic, Rudy gave her a wand which reflects both. It looks like a magic wand, but it has gears on the end.
The fairy godmother has one mechanical eye. I can't tell if it supposed to be a pair of steampunk glasses or if the fairy godmother lost an eye battling an evil fairy.
More Steampunk Cakes and Cookies
She wouldn't be a fairy godmother without a pumpkin.
This lovely Steampunk Fairy Cake was made by Mimicafe Union.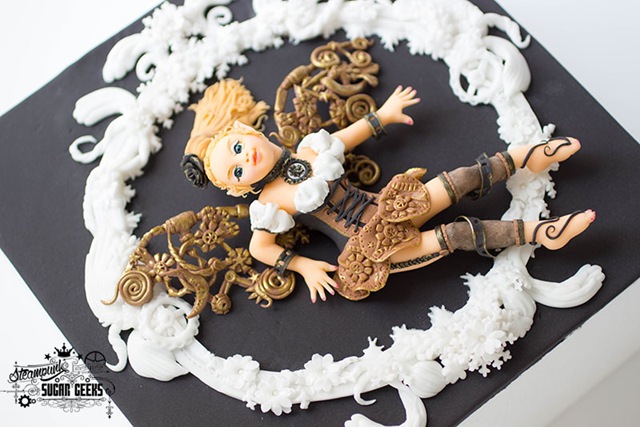 Sachiko's use of colors is wonderful. The main colors she used were black, white, and bronze. Having the background be black and white makes the fairy stand out. The fairy has just enough black and white on her clothes that she fits perfectly with the background.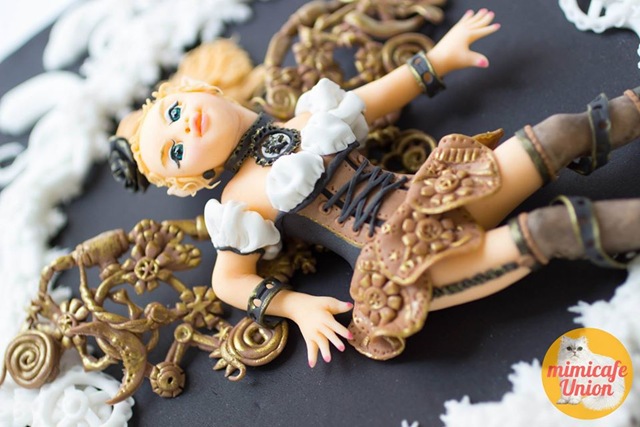 The fairy's steampunk wings are gorgeous! There are moons, flowers, spirals, and stars in the wings.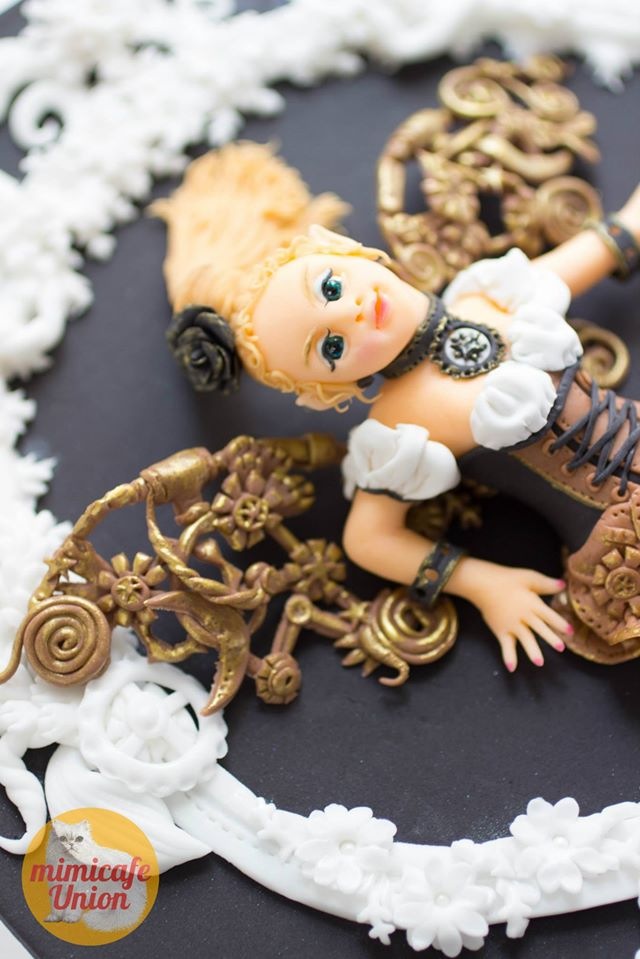 Here you can see a close-up of the white ring around the fairy. It is a mixture of flowers and steampunk. I love how the ring looks cloudlike, so you get the impression that the fairy is flying.
The figure of the fairy is simply gorgeous.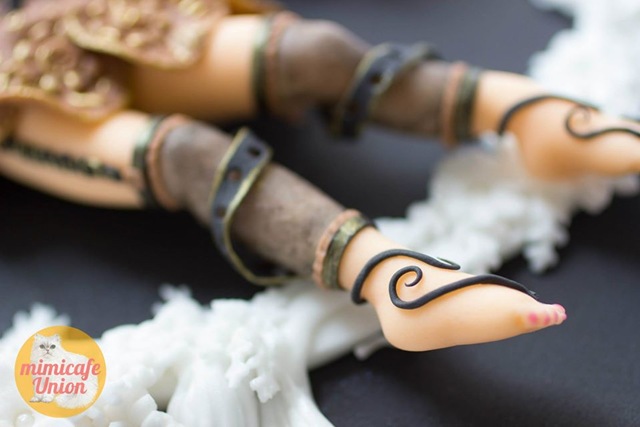 Since she flies everywhere, she doesn't need shoes.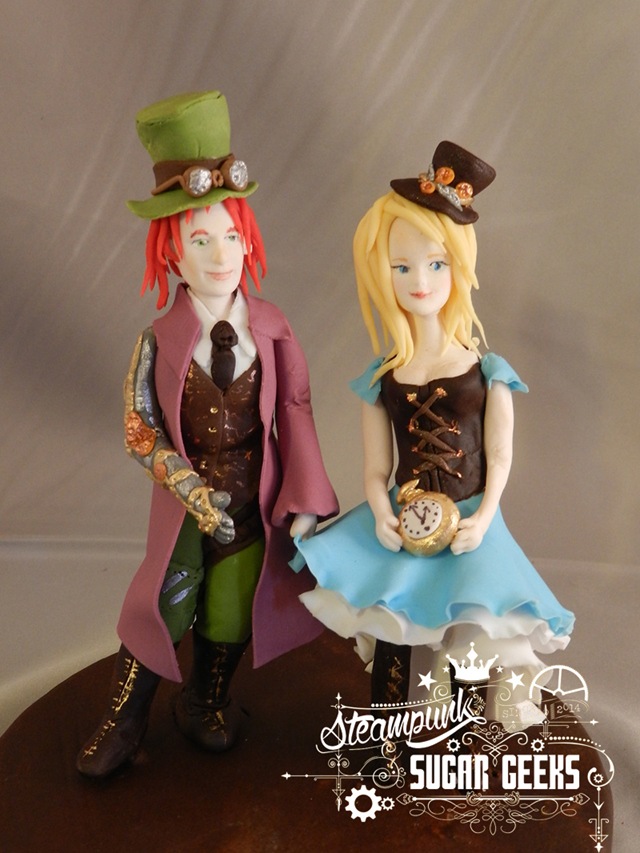 These lovely steampunk Alice in Wonderland figures were made by Ruth Rickey. You can find Ruth on her website, the SugarZen blog, SugarZen's Facebook page</spa n>, and SugarGypsy Facebook Page, and Instagram.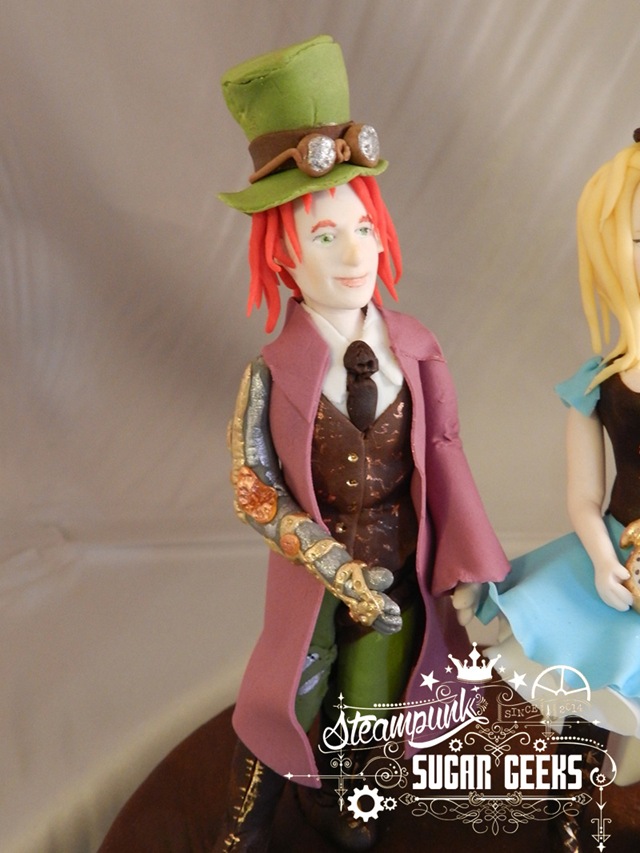 Ruth's figure of the Mad Hatter is wonderful. He has his classic hat and a pair of steampunk goggles. His vest, tie, and boots are snazzy. I notice that he has a mechanical arm. I wonder if he lost his arm fighting the same evil fairy that the fairy godmother lost her eye to?
Ruth's Alice is lovely. She has kept the blue and white from the Disney version and added a hat, a lace up corset, and boots. Alice is holding the White Rabbit's watch.