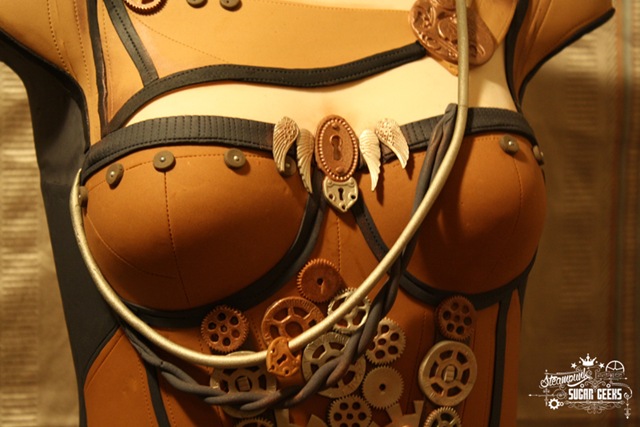 The Steampunk Sugar Geeks are a group of over 40 sugar artists who have joined together in their love for all things steampunk to create the best group of steampunk cakes around!
Chocolate, sugar, cake, buttercream and of course, steam all combine to create these visual masterpieces. Each member created their piece based on a steampunk theme. The Steampunk Sugar Geeks brainstormed over 100 ideas, everything from steampunk fairies to airships and of course corsets!
I thought I'd start todays post spotlighting the Steampunk Sugar Geeks by featuring Sheila Jimenez amazing corset cake. The detail on the corset is mindboggling. That the corset is edible doesn't seem possible.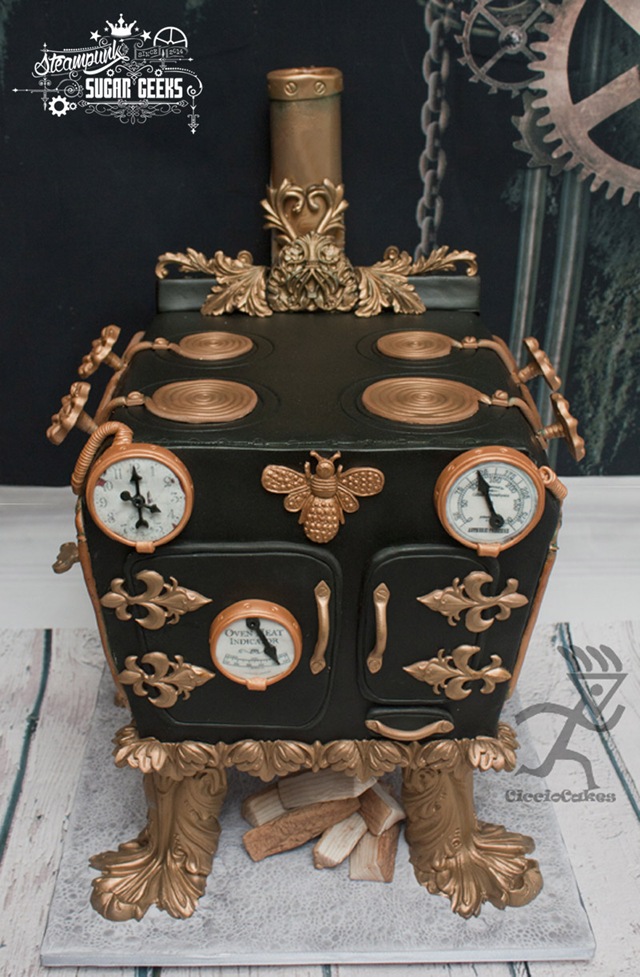 Bakers and ovens go together like peanut butter and jelly. So, I thought it was so cool that Ciccio Cakes created a steampunk oven cake. When designing this cake, Jo started with a terrific question. If I had a steampunk oven in my home, what would I want it to look like. Jo ended up with an oven that would be wonderful in any Victorian era home.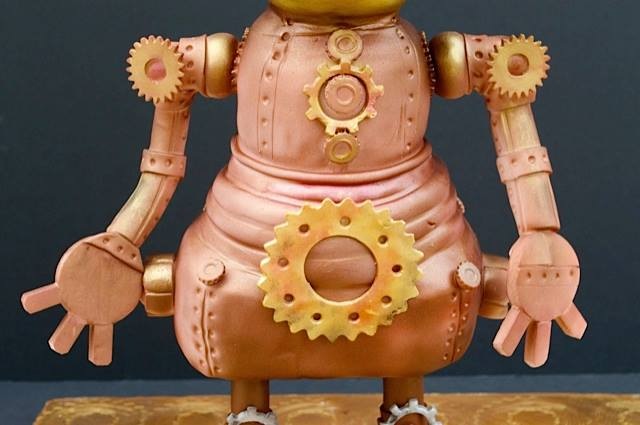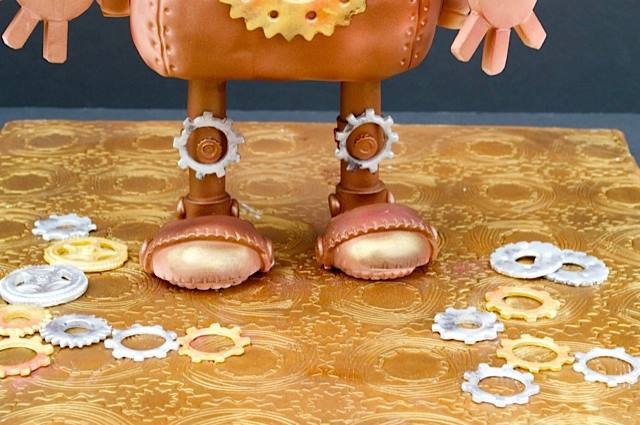 This cute Steampunk Robot was made by Jean Schapowal from
Cakes with Character
. Jean is well known for her robot cakes. In fact, the very first cake of hers that I ever saw was her amazing cake of the
Between the Pages' steampunk robot by the amazing Jerrod Maruyama. Someday, I have to hold a name the robot contest.
Purple Feather Cake Design

was shooting for the moon with this wonderful steampunk cake. The cake is a tribute to the legendary Georges Méliès. Georges was one of the pioneers of motion pictures. He made over 100 films. His best remembered film will probab
ly always be the A Trip to the Moon, the very 1st science fiction film. Because he created the first science fiction film in 190,2 one year after the end of the Victorian Era, Paul sees Georges Méliès as the father of steampunk. That is a really cool idea. The rocket, its exhaust, and the moon are edible. Outer space and the stars are a backdrop. There was no photoshop involved.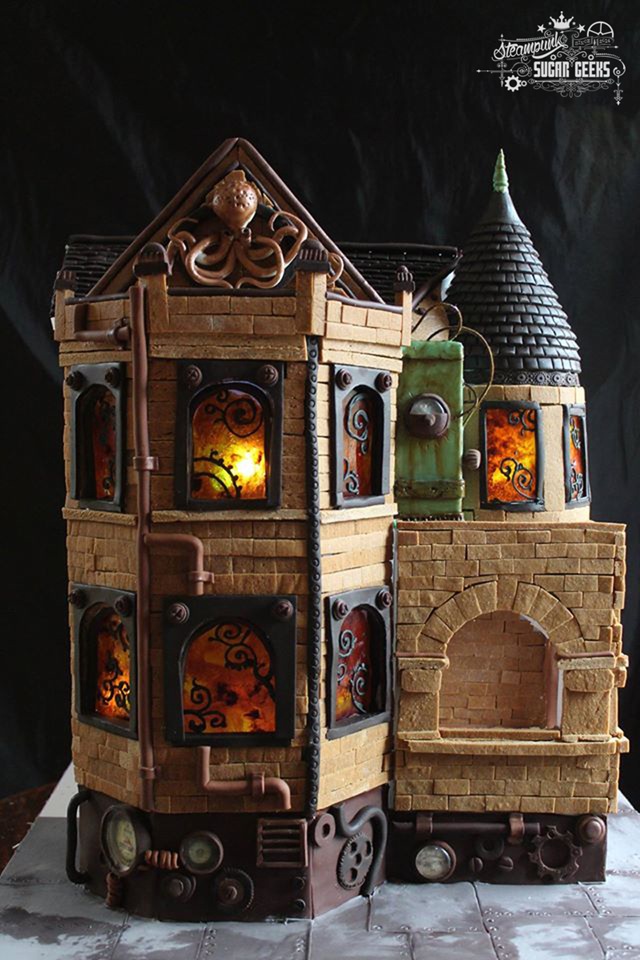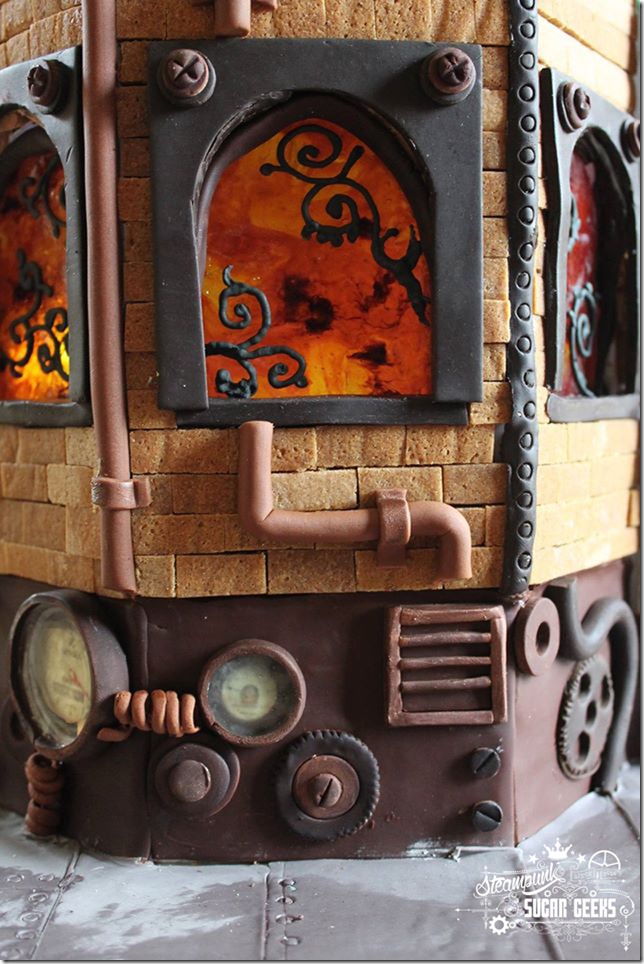 This amazing steampunk house was made by Good Gracious Cakes. The detail on this cake is mindboggling. You can see every single brick and roof tile on this masterpiece. All of the windows are wrought iron. There are pipes on the outside of the house. You even see the underneath of the house which is metal and covered with gears and gages. This cake has so many amazing touches, but my favorite is the steampunk squid statue on the gable. The squid statue even has goggles.