Wow! This cake is mindbogglingly beautiful.  Verusca Walker did a stunning job with her contribution to Steampunk Sugar Geeks.  Steampunk Sugar Geeks is a collaboration between cake decorators which celebrates steampunk.
The steampunk mechanical fish is amazing!  The cake board looks like the ocean floor. There are plants growing on the ocean floor.  Plus, there are gears and a key scattered on the ground.  I love how it looks like the mechanical fish is floating above the ocean floor.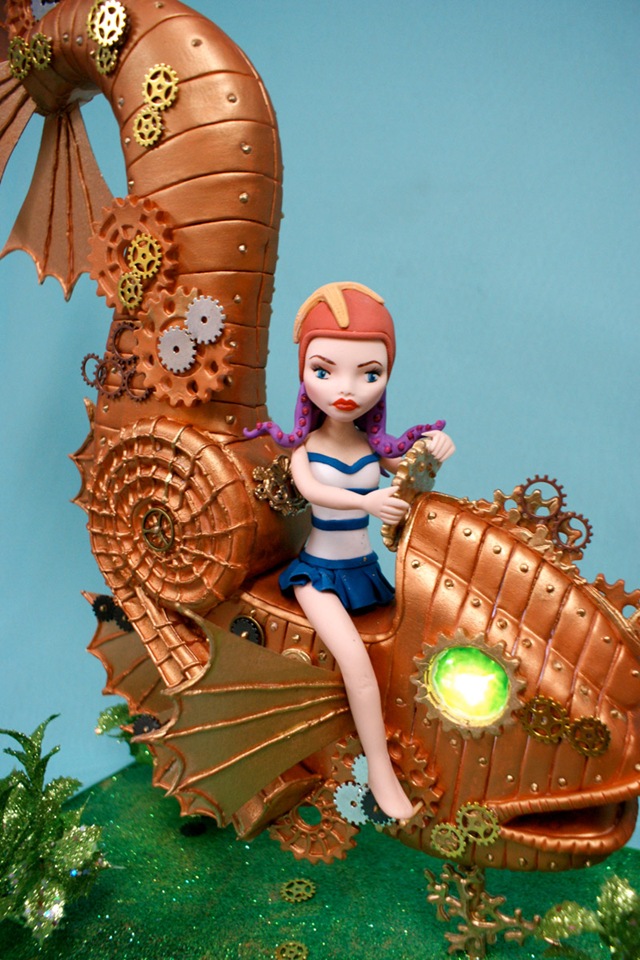 The figure of the little girl is terrific.  The starfish stuck to her helmet is adorable.  Her hair looks like purple and red octopus tentacles.  Since she lives under the sea, she doesn't wear shoes. She has her hands on a steering wheel.  Her feet are on peddles connected to gears.  It looks like she peddles this giant mechanical fish like a bicycle or a paddle boat.
The detail on the fish's tail is unbelievable.  You can see the seam down the middle of the tail and how it is bolted together.  There are gears all over the tail. 
At the bottom of the tail is an intricate spiral pattern.  You can't see in it this picture, but in the middle of the spiral is a handle that you can turn.
The fish has a glowing mechanical eyes and a mouth which opens and closes by gears.