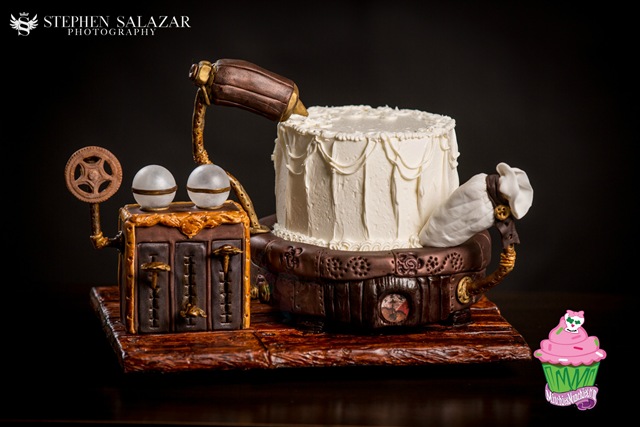 Chef Mitchie sent me these photographs of her awesome contribution to Steampunk Sugar Geeks. Steampunk Sugar Geeks is a collaboration between cake decorators celebrating all things steampunk.
Chef Mitchie's contribution is this amazing cake which resembles a steampunk cake decorating machine. The idea of a cake that decorates cakes is too cool!
Chef Mitchie and her awesome cakes can be found on her bakery's website, Facebook, and Twitter.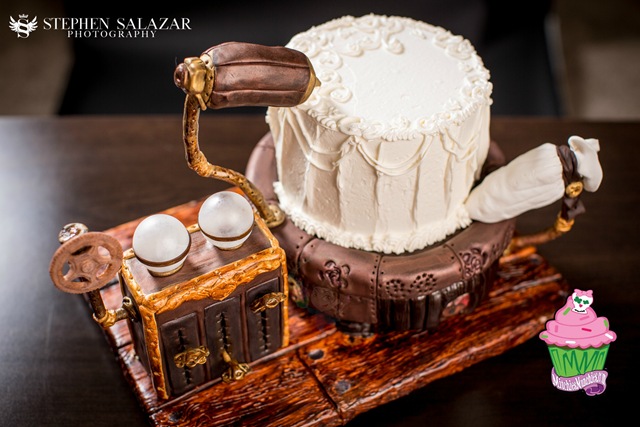 When she began planning her contribution to Steampunk Sugar Geeks, Chef Mitchie really liked the idea of bringing old world fashion, mechanics, and lifestyle into a more modern world. She also liked the notion of machinery working on steam power. So, she decided to mix steampunk, Rube Goldberg, and her profession. The results is this stunning steam powered cake decorator cake!

If this was a real machine, the way it would work is that you'd place your cake atop the turn table. Turn the crank and water would flow into the machine and begin to heat up. If you want the turn table to turn and the piping bags to simultaneously decorate, you'll also need to depress the switches. Once the steam rises into the bubbles, it is dispersed through the pipes to get things moving. The switches determine which cake decorating techniques is used.
Photographing cakes can be a real challenge. So, Mitchie had her friend Stephen Salazar of Stephen Salazar Photography take pictures of her cake. Stephen's photographs are absolutely fantastic. He captures every detail of the cake perfectly.
Chef Mitchie's favorite part of the cake are the bubbles atop the steam generator and the crank. Both are made from isomalt. The bubbles are even at different phases of steam filling into them.