is an international collaboration of over 100 bakers to raise money for three different charities: Icing Smiles, Alzheimer's Society, and Australia's Melanoma Research Foundation. This Marvelous edible Christmas village features houses, people, stores, a fair with Merry-Go-Round and Ferris Wheel, an ice skating rink on a frozen pond, a mansion where each room is shown decorated for Christmas, and Santa with his sleigh and reindeer. Check out the
and five booklets of
with images, instructions, and recipes that show how to recreate these delicious treats. One raffle is for UK participants only and the other raffle is open for anyone located anywhere in the world to participate. All of the proceeds from the raffle and tutorials go to the three charities.
There are so many wonderful creations that are part of this fabulous undertaking. I am featuring a few of them below to give you a taste, but please check out all of the baker's creations at
and support these amazing charities by participating in the
and purchasing the
.
Here's a close-up of the Frostington Mansion with each room decorated for Christmas.
This cute Santa in the kitchen scene from the mansion was created by
. A little girl happens upon Santa as he gets a drink from the refrigerator. The little girl and Santa are both surprised to see each other.
The refrigerator was made from a 4" by 4" by 6" mini cake covered in fondant and painted with luster dust. The inside of the fridge is an edible image.
This Marvelous edible Santa with sleigh and reindeer were made by
. The entire sleigh and reindeer measures 32 inches long. The sleigh is made of cake and the reindeer are made from chocolate. This sleigh is flying through the air over Frostington.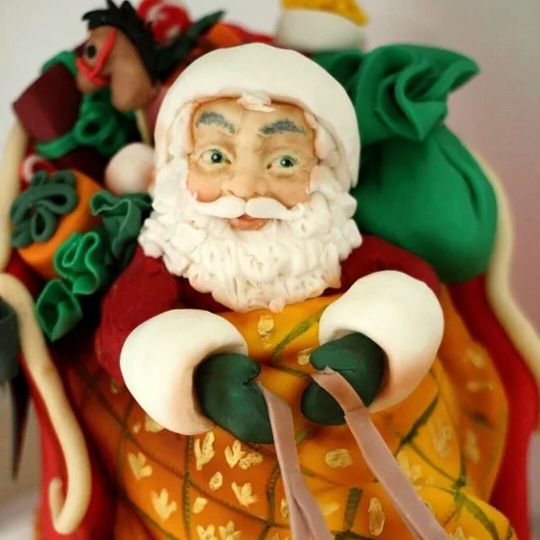 Close-up of Santa with his sleigh
Santa and his sleigh in progress
This Superb Frostington Fire Station was created by
.
Side view of Fire House.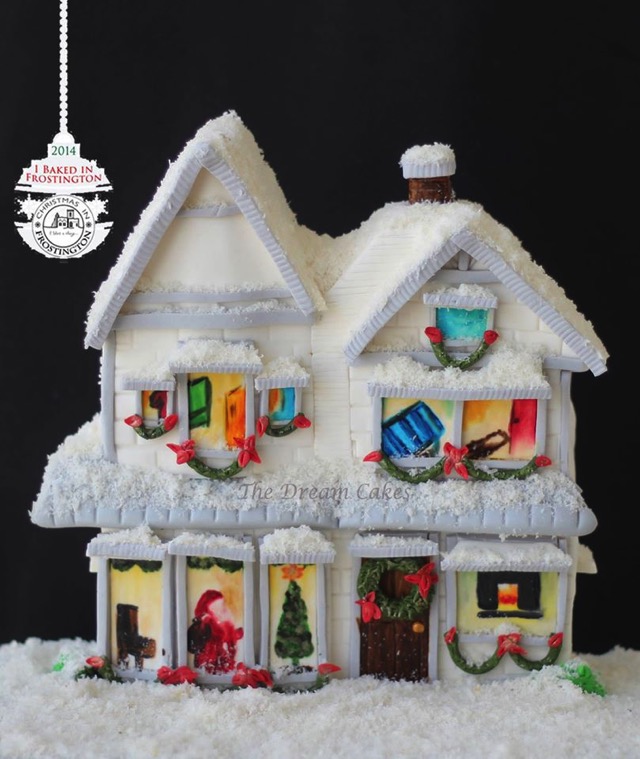 This Splendid two story house was made by The Dream Cakes. Santa and a Christmas tree can be seen through the window.
This Terrific Christmas Carousel was made by Richard's Cakes.
Polar bear on carousel
red sleigh on carousel
Penguin with red Santa hat
Rudolph the Red-Nosed Reindeer on carousel
Snowman on carousel
Cakes With Character created this Wonderful friendly and dignified snowman.
Close-up of holly painted onto snowman
Mitchies Munchies made this Marvelous Christmas Candy Shop. The shop was made using gingerbread. The clear windows were made using gelatin. The snow is a mixture of powdered sugar, corn starch, and crushed melted isomalt.
Door with fresh snow and green wreath
window with Christmas Tree and candies
more candies in window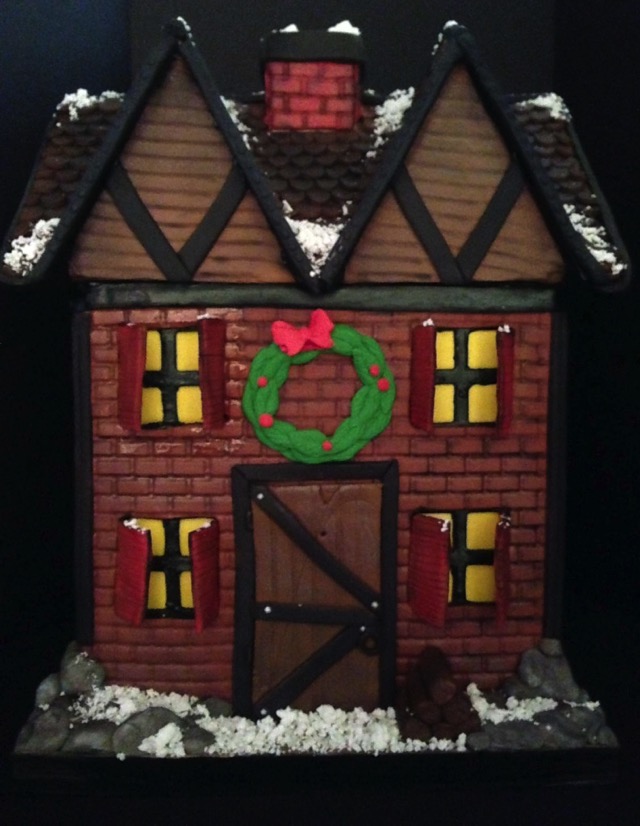 This Splendid two story brown house was made by Sugar Skull Cakery. The house has working lights that light up.
light shining through windows
Also, check out these wonderful Christmas Cakes and Cookies.