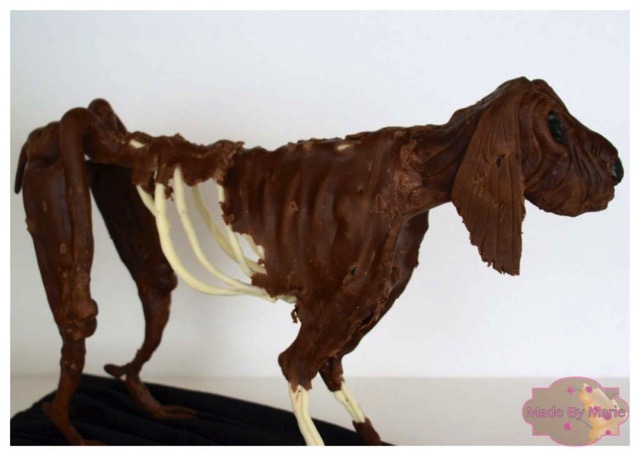 This Marvelous Rustler the Ghost Dog Cake was made by Marie Donald of Made by Marie for the Cakes From Middle Earth Cake Collaboration. Rustler and his owner were both ghosts in the Frighteners film done by Peter Jackson. Rustler is brown and has several rib bones showing and leg bones showing since he is a ghost dog.
This Frighteners cake was made using one kilogram of fondant and modeling chocolate. Rustler is 10 inches high. Marie created this cake over the course of several weeks, working on it as she had time.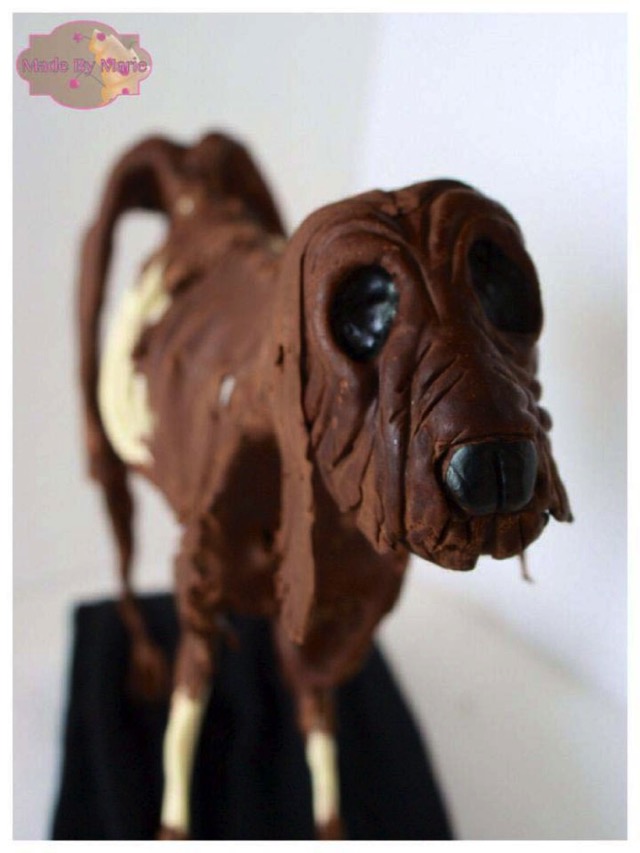 Close-up of Rustler
This Amazing Frighteners Cake was made by Pauline Nunns of Iced for the Cakes From Middle Earth Cake Collaboration. A Weta sculpture was used as a model for this cake. This Peter Jackson cake features a white skull and with large bugs on and near the skull.
The skull was made using chocolate and modeling chocolate. The skull was covered in fondant and airbrushed. Then a cup of coffee was splattered all over it.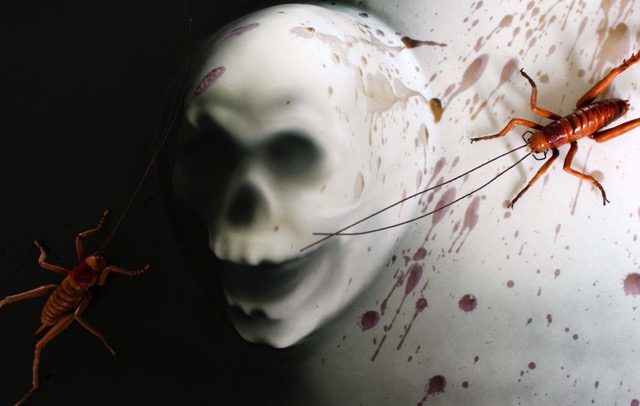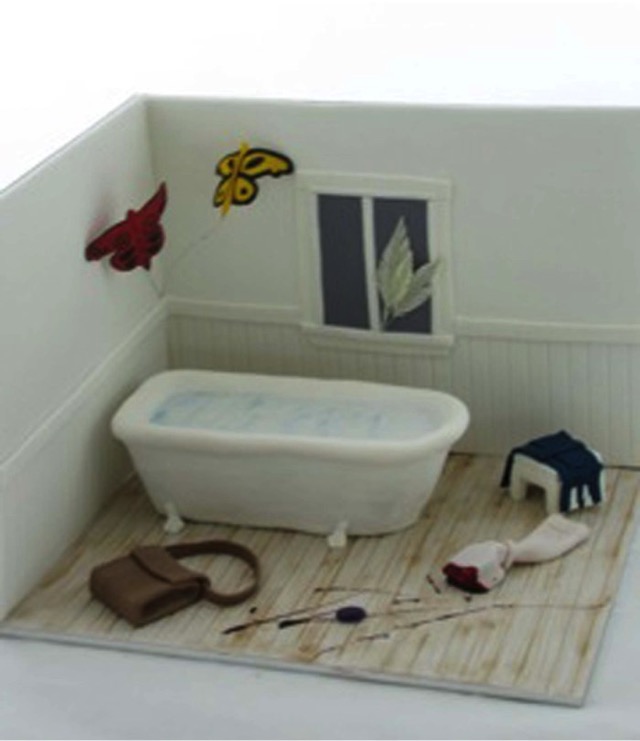 Heavenly Creatures Cake was made by Jessica Bell, who does cake decorating as a hobby, for the Cakes From Middle Earth Cake Collaboration. This cake was based on the plain houses of the 1950's with key features from the film added in. This cake shows a plain white room of a house with butterflies, white feathers in the window, a white bath tub, a purse, a stool, and articles of clothing. The butterflies represent the butterflies the girls chase in the movie. The feathers represent the feathers that can be seen through the sand castle. Heavenly Creatures was one of Jessica's favorite movies. One of her favorite parts of the movie was the girls chasing the cartoon like butterflies.
This Splendid Braindead Cake was made by Trish Woodward of GoBake and Sarah Sare of Little Ninja Cake Kitchen for the Cakes From Middle Earth Cake Collaboration. They thought the baby from Braindead was disgusting and would make a fantastic choice as a cake theme. The baby is wearing a red and white striped outfit with large black buttons. They did a good job capturing the disgusting look with his closed eyes and the features of his face.
Modeling chocolate was used to made the head of the baby and Rice Krispies Treats covered in fondant was used to made the body. Dry noodles and petal dust were used to make the hair.