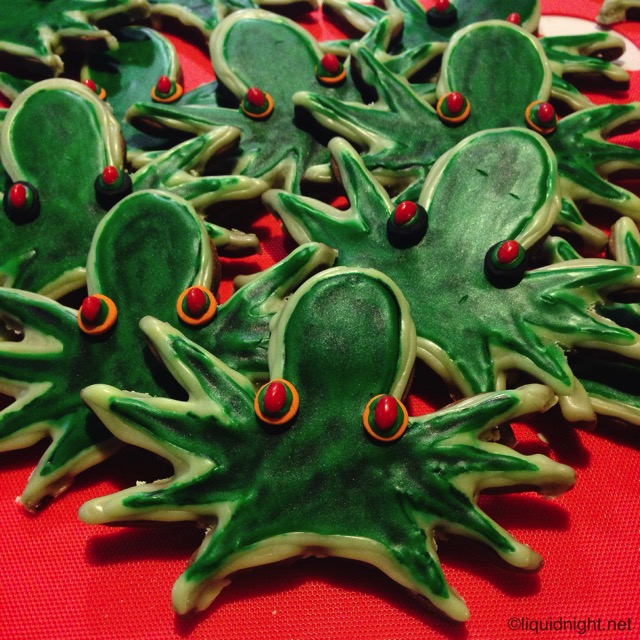 These Awesome Cthulhumas Cookies were made by Maika. She sent me these Wonderful Eldritch treats and I thought they would be great to share with other Cthulhu fans. Maika and her amazing creations can be found of both Instagram and Imgur.
To make these 'Dreaded' Treats, Maika started with Cthulhu Cookie Cutters (aka Octopus cookie cutters) and rolled out brownie rollout cookie dough and cut out these evil creatures. The cookies were baked and cooled. To continue in the construction of these sinister creations, a light green icing border of powdered sugar and milk was applied and let dry. The cookie was filled with darker green icing. Next, the cookie was painted with green food color diluted to give it a darker green hue. The final touch to make the cookies come to life were the eyes. The eyes were a combination of jumbo confetti sprinkles with cinnamon imperials for the pupils.
raw cookies cut with Cthulhu cookie cutter aka. octopus cookie cutter
Baked cookies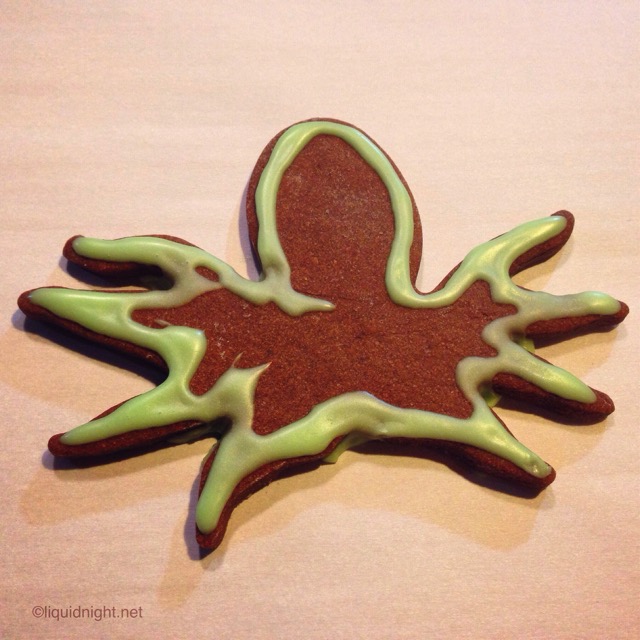 green trim applied
darker green filled into middle of cookie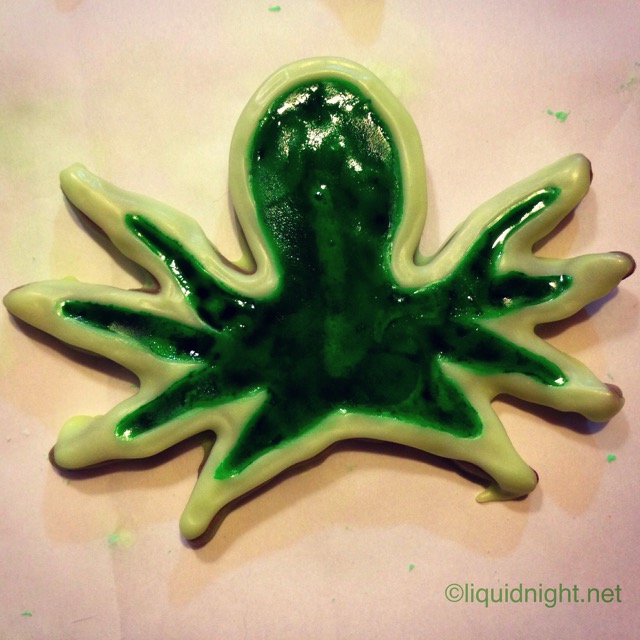 darker green patches painted onto cookie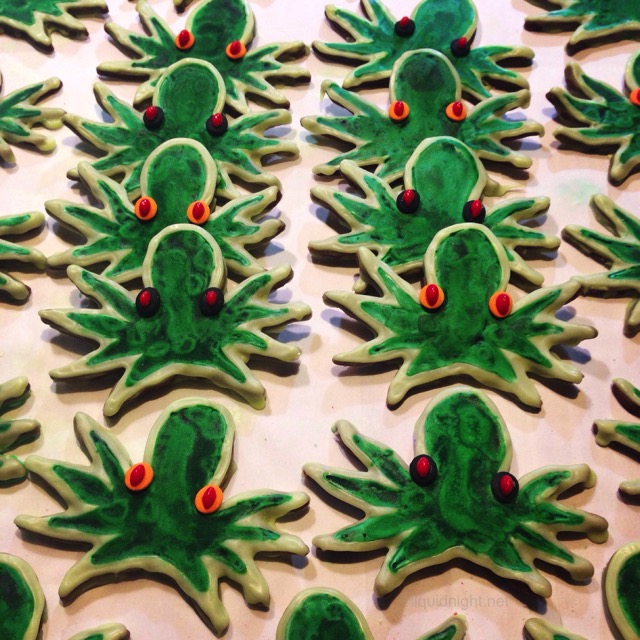 In addition to these cookies, she also made a Cthulhu Christmas Tree complete with wings.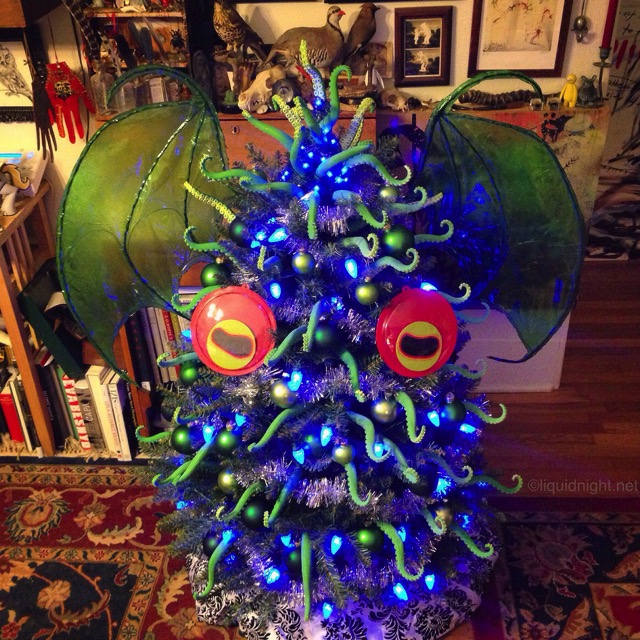 This Marvelously sinister Cthulhu Christmas Tree was a multi year effort. The first year the tree was created, the next year pairs of eyes and wings were added. The year after that, an illuminated tree topper was added to the tree.
The wings of the tree were made using green cellophane, wire coat hangers, floral wire, floral tape, and spray adhesive.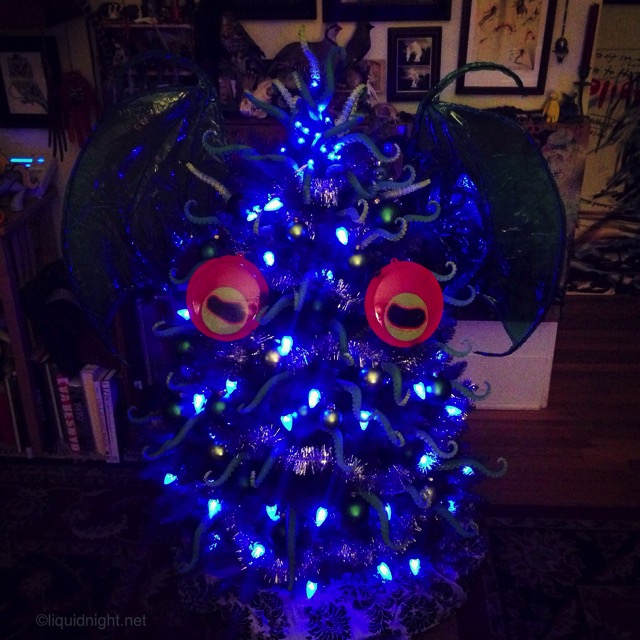 Cthulhu Christmas tree lit up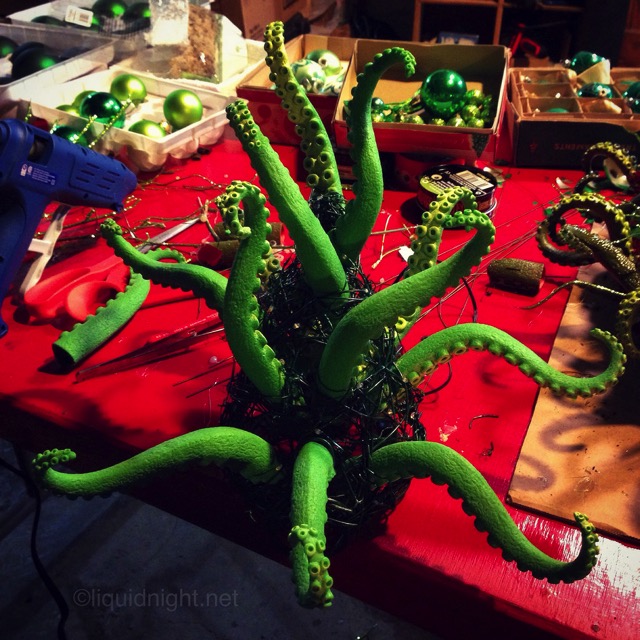 tree top lit up
Cthulhu tree wings
eyes
The Cthulhu Christmas wreath guards the door of her house. This Cthulhumas wreath was made using a styrofoam core with red garland wrapped around. Tentacles were painted and glued to the wreath. Christmas ball ornaments, lights, strings, and spikes of tiny glass ornaments, and green moss were added to the wreath. LEGO Cthulhus were painted and added to the wreath.
wreath in progress
Also, check out these wonderful Christmas Cakes and Cookies.