This cute Mickey Mouse Christmas Cake was made by Daantjes taarten. Danielle made this cake for a little boy who was turning two during the Christmas season. Danielle has a distinct style that I really like. She is known for character cakes where she makes a large fondant cutout which is the main focus of the cake. Here the cutout character is Mickey Mouse dressed as Santa Claus. For another example, check out this gorgeous Minnie Mouse 1st Birthday Cake.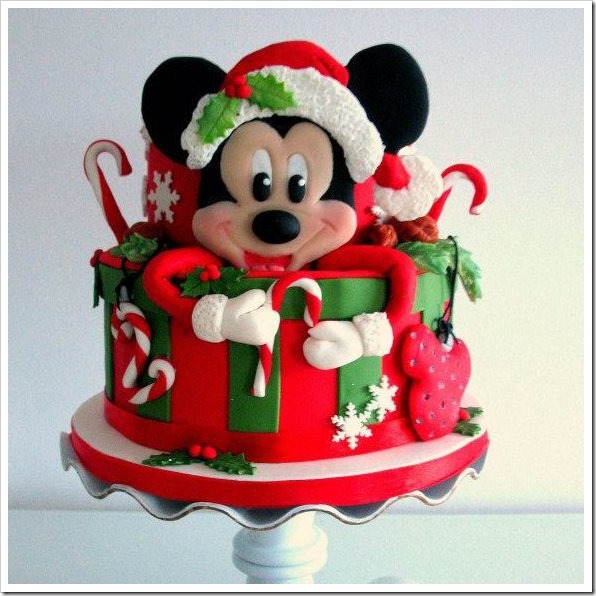 This cake features Mickey Mouse dressed as Santa. Mickey's hands are reaching down the front of the cake and holding a candy cane. One of my favorite things on this cake is that Mickey always wears white gloves, but on this cake, he is wearing Santa's white gloves.
The cake is the traditional colors of Christmas – Red, Green, and White. Danielle decorated the cake with candy canes. One of the candy cakes is shaped like the number two because this is a 2nd birthday cake. There is a Mickey Mouse shaped Christmas ornament hanging on one side of the cake. There are also snowflakes scattered on this cake. The cake board is red and white with mistletoe.
In addition take a look at these terrific Disney Christmas CakesandDisney Christmas Cookies
You may also enjoy these terrific Mickey Mouse Cakes & Cookies.