Look! Up in the sky! It's a bird. It's a plane. It's Batman Cupcakes?
Wow, these Batman Cupcakes are so cool!  The Brown Eyed Girl Bakery did a terrific job with this set of cupcakes.  The bottom row is Gotham City's skyline at night.  All the buildings are black or gray.  There windows are lit, so they're yellow.  Since it is nighttime, the sky above the buildings is dark blue and full of stars.  You can see the Bat-Signal lighting up the sky behind the two middle buildings. In the second row of cupcakes, the Bat-Signal takes up even more space.  To the side are cupcakes with Pow and Bang.  They're done in such a way that they look like a cross between fireworks and the sound balloons on the classic Batman TV show.  The last two rows feature a giant Bat-Signal in the middle.  In the corners are cupcakes with the birthday boy's name and age.  Above the Bat-Signal is one solitary Batman cupcake watching over Gotham City.
The color scheme of these cupcakes is terrific! With the expectation of the red on the Pow and Bang cupcakes and Batman's skin tone, the cupcakes only use four colors – Black, Grey, Yellow, and Blue.  Those are the four colors most associated with Batman.  Since the only bright color is yellow, the Bat-Signal really stands out on these cupcakes.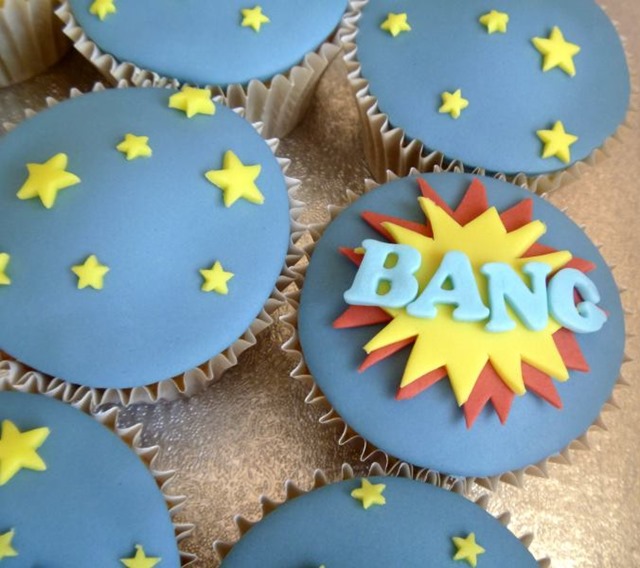 These cupcakes remind me of the classic Batman TV Series.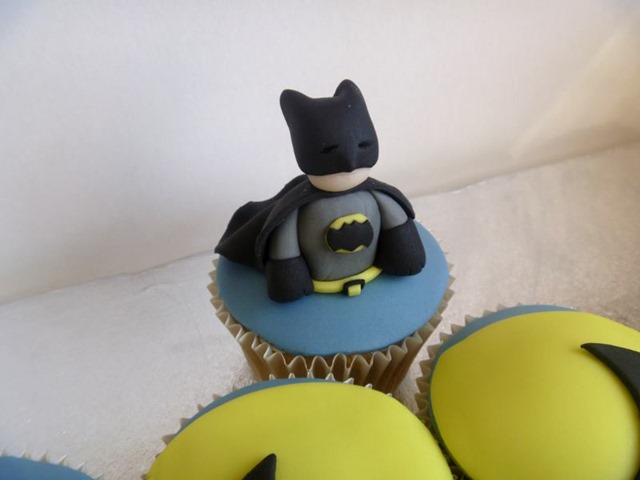 Batman watching over Gotham City.