Cake Creations by ME created this playful Easter Bunny Cake as part of the Easter Coloring Book Cake Collaboration, a collaboration featuring both religious and secular Easter coloring book themed cakes by 23 designers from all over the world. Cake Creations by ME is located in the San Fernando Valley, California. The Easter Coloring Book Cake Collaboration can be found on the web and on Facebook.
The Easter Bunny balancing the Easter Basket full of eggs is wonderful.
Want to make this playful Easter Bunny at home? Mayra created a free four page tutorial showing you how she made the cake's support structure. It can be found on The Easter Coloring Book Cake Collaboration's blog.
Mayra wanted her cake to look like a coloring book that had come to life. Part of what makes this work so well is that everything looks like it was hand colored with crayons.
Here is a close-up of the Easter Basket. The weaved pattern is terrific. The basket is even filled with plastic grass.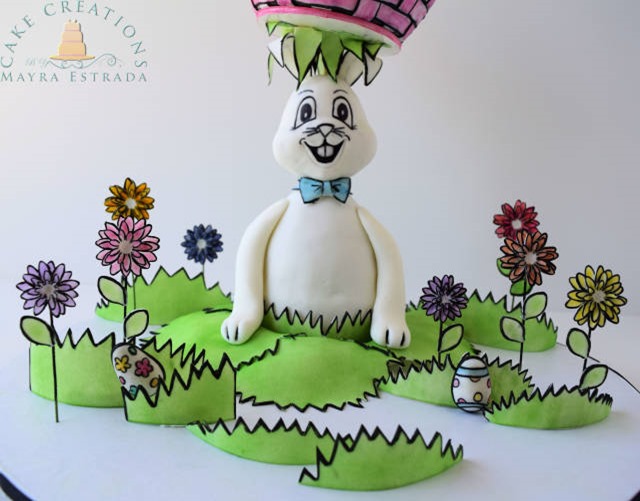 Since this is a coloring book, the plants, flowers, and Easter Eggs all look two dimensional.