This Fabulous Chibi Boba Fett Cake was made by my good friend Jean Schapowal at Cakes with Character. This Star Wars bounty hunter is adorable as an edible Chibi character. Boba Fett's head is much larger than his body in this chibi design. He has a blaster in one hand and in the other hand he has the string of a wafer paper helium balloon with the image of Han Solo in carbonite.
He has on brown boots and gray and green armor. His utility belt is brown. Parts of his arm armor are brown also. His helmet is green with a red and black visor. There is an antenna sticking up from the side of his helmet.
The cake board is green with wood grain. There are edible gray and brown pebbles on the cake board near Boba Fett's feet.
This cake is part of a Star Wars Cake Collaboration called Star Wars Cakes – The Fondant Awakens. May the 4th be with you. The cake collaboration was put together by many bakers to celebrate the 38th anniversary of Star Wars and the release of Star Wars: The Force Awakens later this year.
Here's a nice view of the top of his helmet.
Boba Fett's helmet has shades of green and gray to make it look battle worn. There is also a silver scratch in the black visor of the helmet.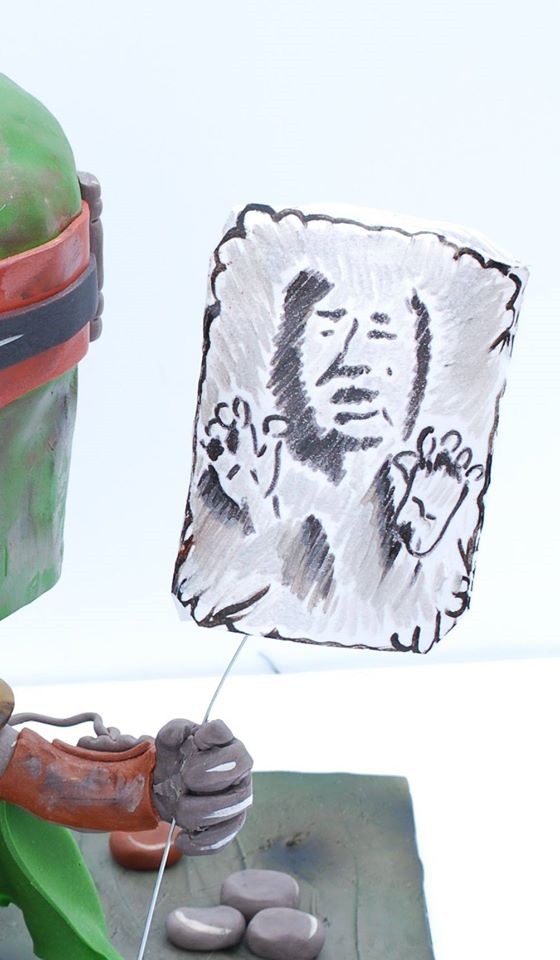 Here a view of the Han Solo in carbonite balloon.