I made this Touche Turtle cake for my nephew who volunteers at Zoo Atlanta. My nephew loves helping out at the zoo. He dressed in a turtle costume for Zoo Atlanta during one of his volunteer days, so I made him a cake with Touche Turtle, a famous vintage Hanna Barbara cartoon character.
The Cake is one side of a two-sided cake. The second side will be revealed in tomorrow's post.
The cake is white with green grass around the bottom of the cake. A brown monkey is coming out of the grass. There is a bamboo fence around Touche Turtle. A sign near him accounts him as a new exhibit at the zoo. In the background is the Zoo Atlanta sign. Below the sign is a giraffe and an elephant. A brown monkey is standing on top of the sign.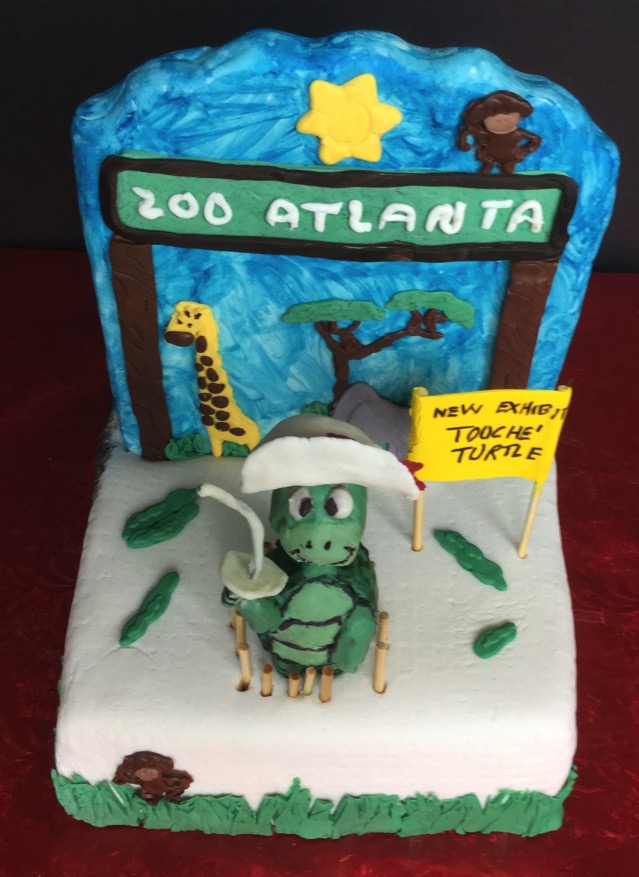 Here's a top view of the cake.
Here's a picture of Touche Turtle with the drawing sheet behind him.