I made this Steampunk Mickey Mouse cake for the Steam Cakes – Steampunk Collaboration. To celebrate the Steampunk International Day, Cake Artists from around the world gathered to create their own edible Steampunk masterpieces.
I love all things Disney. I wanted to try my hand at creating a 3D edible sculpture of Mickey Mouse. I searched online for ideas and I found a few steampunk versions of Mickey, but none were close to what I was looking for. I decided I wanted to portray Mickey dressed in Victorian clothes with a Steampunk flair.
I wanted to show Mickey encountering another Mickey made entirely of gears so Mickey is standing behind a Steampunk black and gold gears version of himself.
I could envision seeing something like this Steampunk gears Mickey in front of Mouse Gear in Walt Disney World's Epcot Theme Park.
Mickey is dressed in Steampunk Victorian clothes. He has on a brown hat with a gold gear and band in front. He is wearing a brown cloak fastened with gold clasps and a red vest with gold buttons. His shoes are black with gold bands. His gloves are white.
He is standing on a stone surface that is embossed with gears. The stone surface was made using fondant and gear molds and colored with white, brown, and gold edible colors.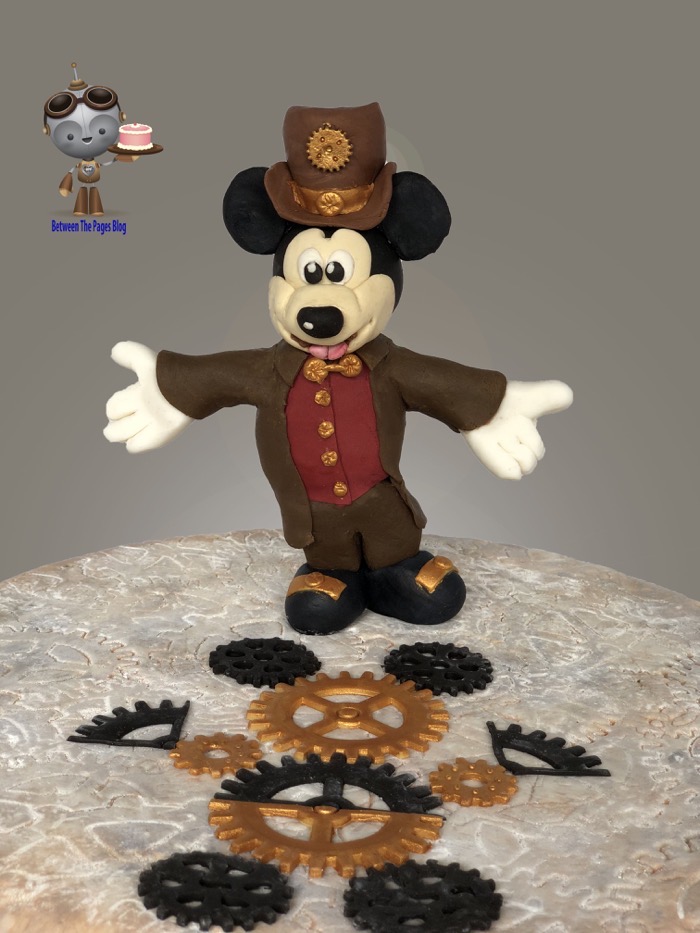 Here a close-up of the Mickey Mouse figure.
I followed this Mickey Mouse tutorial by Zoe's Fancy Cakes to make Mickey's head. Mickey was made using sugar modeling paste.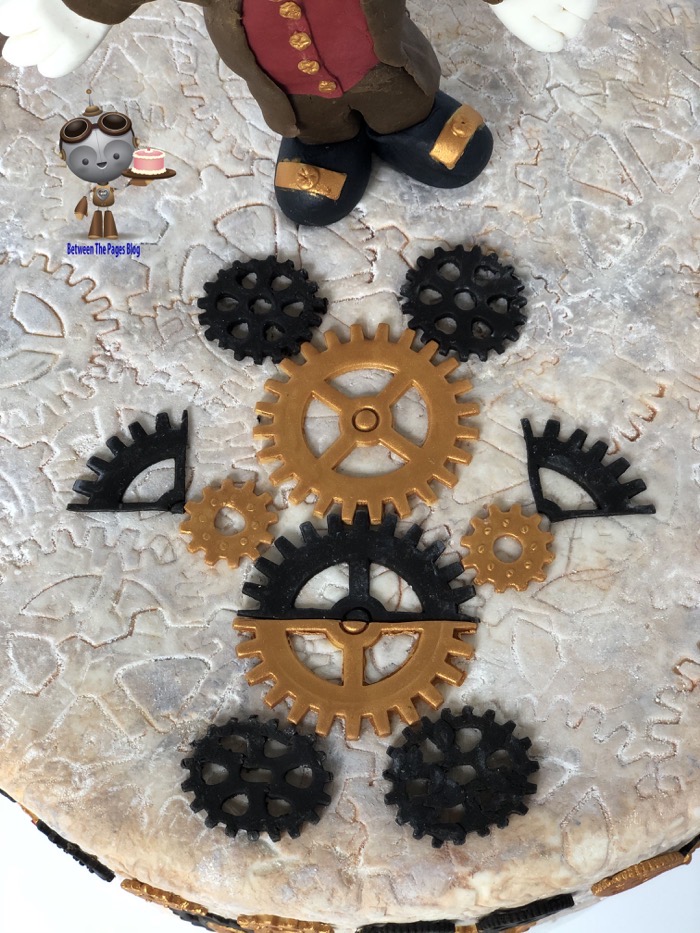 This is a close-up of the Mickey made of gears. His hands are partial gears that look somewhat like fingers.
The gears were made using Little Cherry Cake Company Steampunk gears molds. They were colored with gold luster dust.
The gold matches the gold on his hat.

This is a close-up of the front of the cake. MICKEY is spelled out with each letter in a Mickey head made of gears. The red letters match the red of Mickey's vest.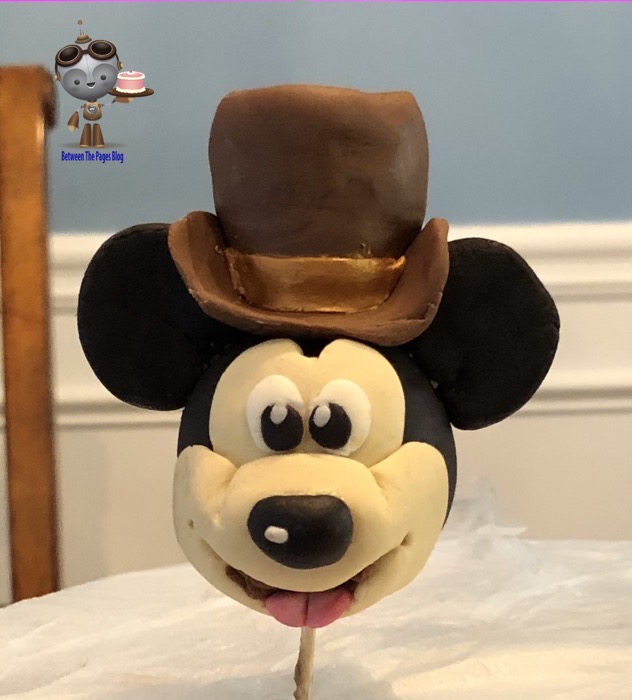 Mickey's head was the first thing I made.
Then I made his body and shoes.
I added his red vest.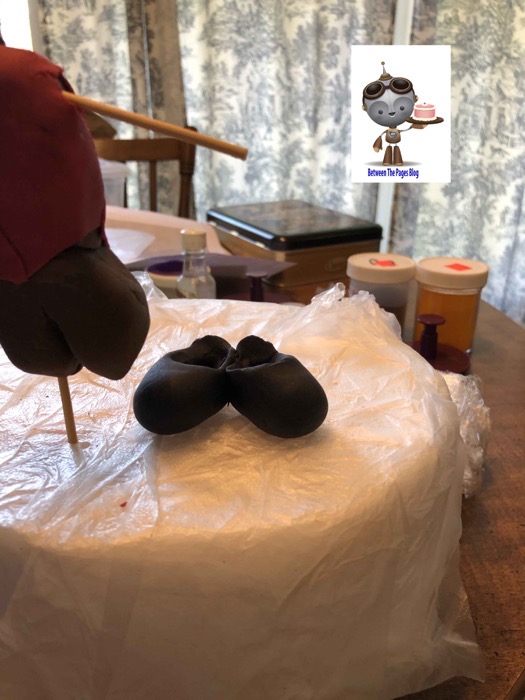 Mickey's shoes. I had to use edible glue to attach them to the legs.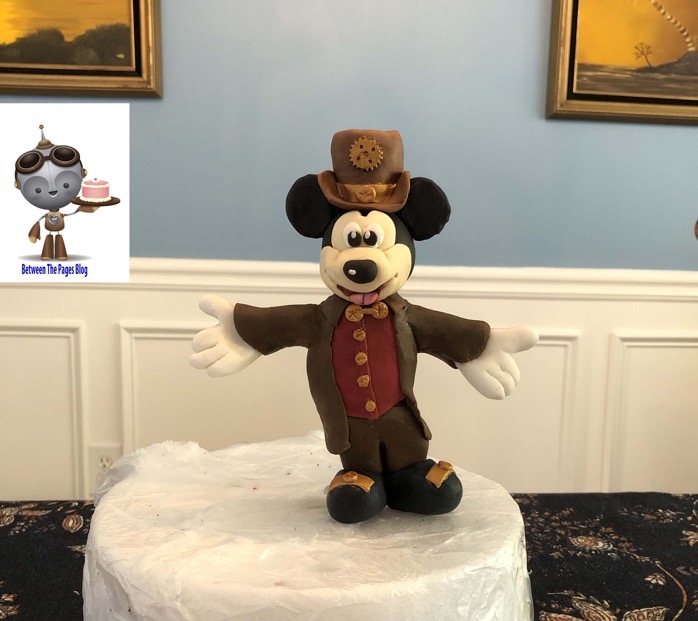 I completed the Steampunk Victorian Mickey Mouse cake topper.
I embossed the fondant with gear molds and covered the cake. The top of the cake has been colored with edible paints. The side has not been painted.
Here's a picture of the back of Mickey.
The bottom tier of the cake was covered in white fondant embossed with steampunk gears. I painted it black using an airbrush.
The Mickey Mouse cake topper and the gear Mickey is on the top of the cake. Mickey's name still needs to be added.
I want to take the opportunity to tell you a little about myself by answering the same questions that I asked the other bakers.
Tell me about yourself. How long have you been decorating cakes? How did you learn to decorate? Do you decorate professionally? Have you taught any cake decorating classes? Have you competed in any cake competitions?
My name is Karen Williams. I started decorating cakes when I was a teenager. My mother took a Wilton cake decorating course and she taught me everything she learned.
I have grown a lot in cake decorating skills since that time. I made many cakes for my children's birthdays. I started using fondant and have sculpted several cakes. I have taught myself many things and I have learned a lot from online classes and videos too.
I mostly decorate cakes for friends and family members, but have done cakes for others on occasion.
I enjoy decorating cakes and have made Pop culture and semi-naked wedding cakes, sculpted Star Wars cakes, and Disney Up, Mickey Mouse, and Haunted Mansion cookies.
When I'm not baking, I'm busy blogging. I'm a big fan of Disney, Star Wars, Doctor Who, Star Trek, Superman, and Batman. I run this pop culture cake blog called Between The Pages which combines these two passions.
Social media links:
https://www.facebook.com/Between-The-Pages-154334334603506/
Stories about your cakes. Do you remember the first cake you decorated? When and why did you decide that you wanted to create cakes as a business / hobby?
The first cake I remember doing was a cross cake for a church social. Back then I only used Wilton buttercream. I enjoy decorating cakes and seeing the smiles the cake brings to people's faces.
Do you have a favorite story about a cake you made?
I loved making the Captain America Wonder Woman Wedding cake for my Niece's wedding. I sat down with the couple and worked out with them what they wanted the cake to look like.
Do you have a favorite story about a cake disaster?
I made a square block cake for a baby shower and I did not support the tiers correctly. I finished the cake and went out with family to eat. When I got back, the top layers where sliding off the rest of the layers. The cake was due the next day, so I had to take the layers apart and reassemble it with more dowels to keep the layers from sliding apart. I got it finished in time and it looked good, but it was definitely a disaster that had to be corrected before delivery.
If one of the famous cake decorators offered to make you your dream cake, what would you ask for?
I would ask Mike McCarey of Mike's Amazing Cakes to make a 3D sculpted Star Trek USS Enterprise cake and let me assist him so I could learn from him.
Who is your favorite Harry Potter character? If you went to Hogwarts, which house would you want to be sorted into? Which house would you actual be sorted into? If you were a teacher at Hogwarts, what class would you want to teach? What would your Patronus be?
I would want to be a member of Gryffindor. I would want to teach transfiguration or potions.
Who is your favorite Star Wars character? Which Star Wars movie is your favorite? Do you have a favorite Star Wars TV show or book? If you were living in the Star Wars universe – what would you want to be Jedi, Sith, Rebel, Imperial, Resistance, Smuggler, Bounty Hunter…?
My favorite Star Wars character is Han Solo. I find the stories with him in them, some of the most interesting. My favorite Star Wars Book is a set of three books called Star Wars: The Thrawn Trilogy by Timothy Zahn.
Who is your favorite Star Trek character? Which Star Trek series is your favorite? If you were part of Star Fleet, what position would you want and which captain would you want to serve with? If your desired position is captain, what ship would you want to be captain of?
My favorite Star Trek character would be a toss up between Mr. Spock and Captain Kirk. Star Trek The Original Series is my favorite. I really like the way Spock, Kirk, and McCoy interact. They had a chemistry that made the show.
Do you have a favorite Disney movie? Do you have a favorite Disney character? What is your favorite thing to watch on Disney+? Have you been to any of the Disney parks? Do you have a favorite ride? Do you have a favorite story about a trip or experience at one of the Disney parks?
I like all of the Disney movies. I'm not sure I have a favorite. I like watching Disney+ where I can see the movies and the old Disney afternoon TV shows as well as classic cartoons, and Star Wars cartoons.
I love all of the rides at Walt Disney's Magic Kingdom and Disneyland. One of my favorite rides is Rockin Roller Coaster at Disney's Studios. Another one is the Matterhorn at Disneyland.
I liked the time when my family went to a Disney Mickey's Not So Scary Halloween party dressed as cards from Alice In Wonderland. We got to be in the parade that night.
Which Doctor is your favorite? Who is your favorite companion? If you could travel in the TARDIS just one time, where would you go?
It's really hard to choose a Doctor, but if I had to I would choose Matt Smith. My favorite reoccurring character is River Song. I like to listen to the River Song audio books put out by Big Finish.
Do you have a favorite superhero? What is your favorite superhero movie? If you read comics, what is your favorite comic or run on a comic? If you could be any superhero, who would you want to be? If you could have one super power, what would it be?
My favorite superhero would be a tossup between Batman from Batman the Animated Series and George Reeves Superman.
I enjoy superhero and Star Wars comics. My superhero power would be flying and I would like to have a utility belt like Batman.
Do you have a favorite cartoon series or character? What was your favorite cartoon to watch when you were little? Would you prefer live in Bedrock with the Flintstones or in the future with the Jetsons?
I love to watch the Jetsons and the Flintstones. If I had to choose I would live in Bedrock with all the cute animal gadgets.
Here are a few of my favorite cakes and cookies that I have made: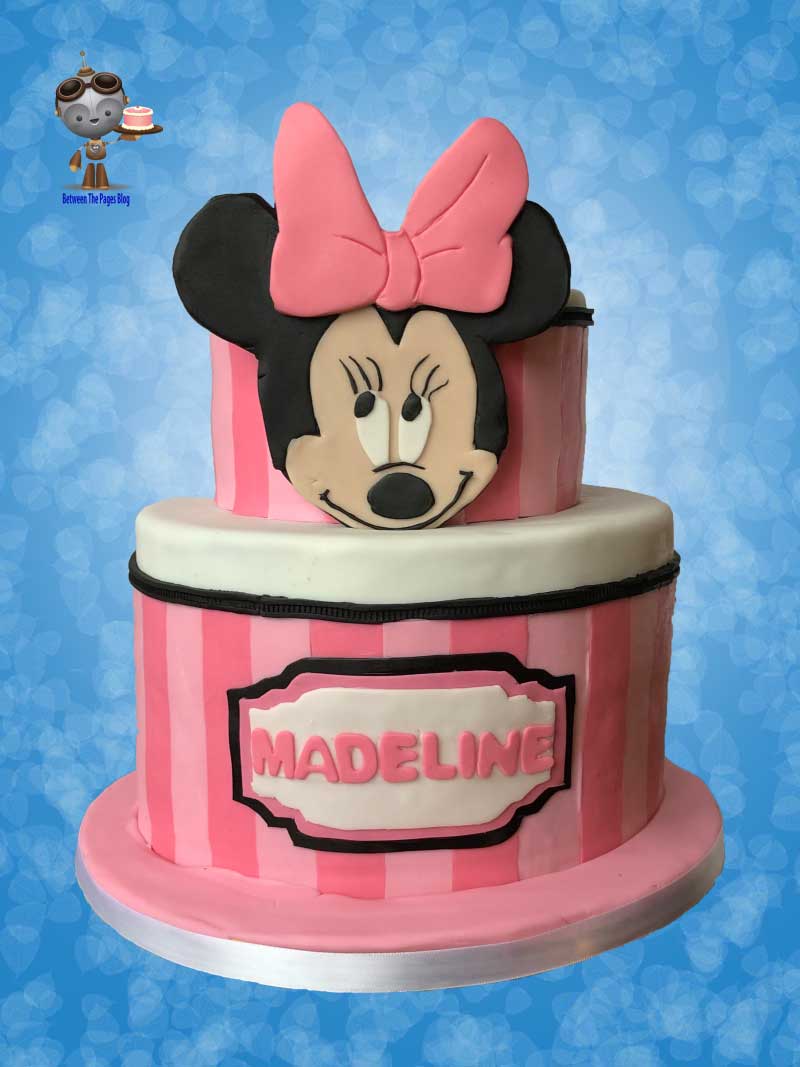 I made this pinkMinnie Mouse Cake for Icing Smiles. I was invited to the birthday party for the child and got to serve the cake to them.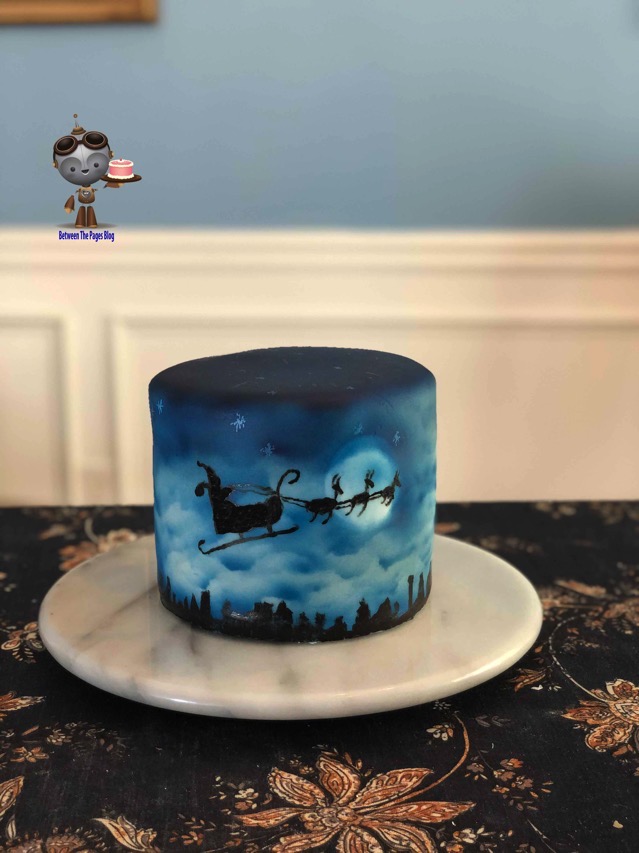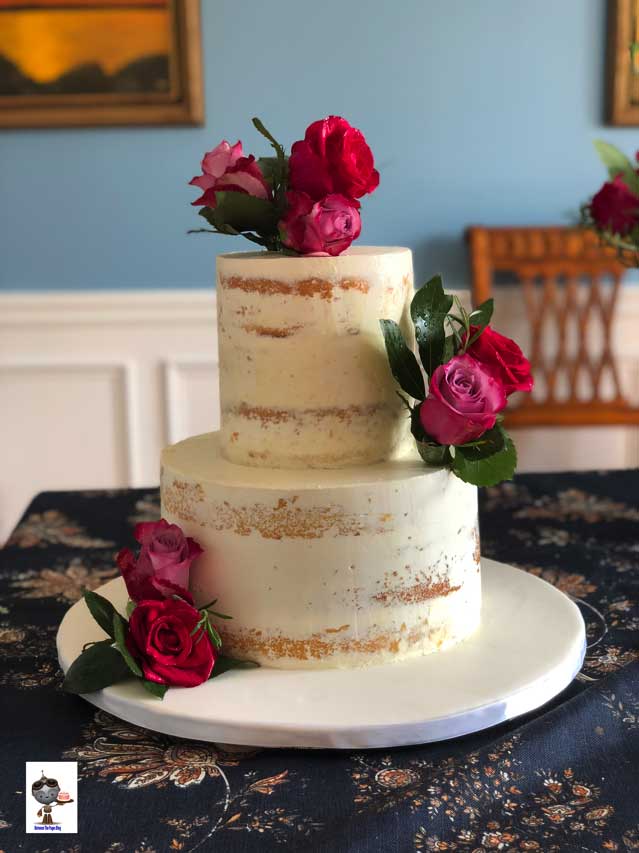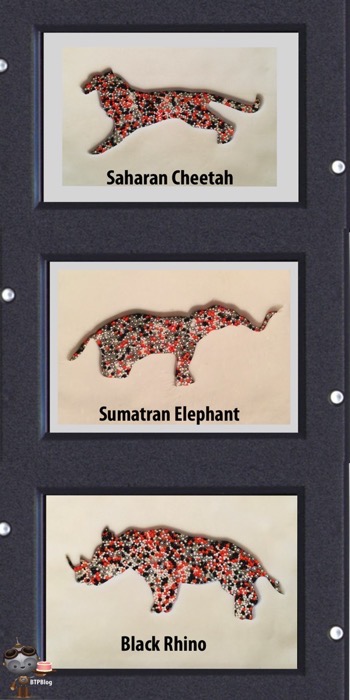 Endangered Species Animal cookies