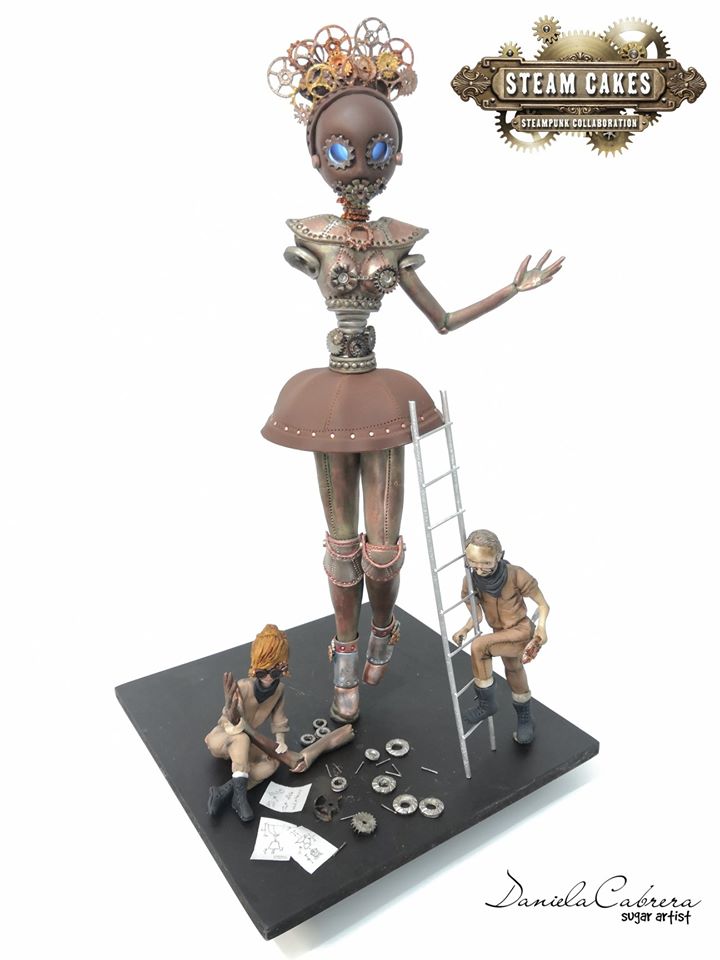 This wonderful cake was made by Daniela Cabrera Godinez from Danny's Cake Factory
This Marvelous cake was created for the Steam Cakes – Steampunk Collaboration. To celebrate the Steampunk International Day, Cake Artists from around the world gathered to create their own edible Steampunk masterpieces.
I also want to spotlight Daniela Cabrera Godinez and share my interview.
Tell me about yourself.
My name is Daniela Cabrera Godinez, I am a mexican sugar artist and Cake Designer, mom of a beautiful Young lady and married with a wonderful man, they, together with my two sisters and my Dad, have always encouraged me to Follow my dreams and supported me in all ways.
How long have you been decorating cakes?
– since I was 15 years old!! I used to help my sister.
How did you learn to decorate?
-my mom was a great Baker, so I started learning from her. She passed away when I was 14 so I kept learning from my older sister. Since I was a child, I always loved hand crafted stuff, like painting, drawing, modeling with all kinds of dough, so I developed a lot my creative side, until I met fondant. It was love at first sight!! Since then, I dedicated entirely to learn more about sugar modeling and to improve my skills.

Do you decorate professionally?
-Yes, I owned a bakery since 2005. Unfortunately I had to choose Between stay home or travel around the world to teach so I closed the bakery. Now I only bake special orders for special clients.

Have you taught any cake decorating classes?
-yes, I am a teacher specialized in sugar modeling, specifically fondant toppers, I became a Satin Ice instructor three years ago and I have been traveling around the world for 9-10 years now to teach and share my knowledge with amazing People!!

Have you competed in any cake competitions?
-yes, I have compete two times in That Takes the cake show in Round Rock Texas , I won best in show in special techniques division, first place, gold medal and second place, silver medal, also 5 more, one platinum, two gold and 3 silver medals.

What is the name of your business/bakery, where you are located, what area you serve, and what you specialize in.

-I am located in a small Town in the center of my country, México, in San Francisco del Rincón, Guanajuato. My Business name, Danny's Cake Factory.
Custom cakes, Weddings and special occasions.
Social media links:
Facebook link www.facebook.com/DANNYCABRERASUGARARTIST
Or my personal profile
https://www.facebook.com/DanielaCabreraSugarArtist
Instagram
https://www.instagram.com/dannycabrera_sugarartist

Tell me about your cake. What was the inspiration for your cake?
-I wanted to make a big Doll, but I didn't want it to be human like, so I remembered I saved from pinterest (yes, I know, but Who doesn't go for a walk through pinterest when is lack of inspiration??) it was few months ago, that I saw a picture of a robot-Doll that I loved, so I thought I could make my own version!! When I was about to finish it, I thought she looked so lonely, and I decided to make a smaller one, and started to imagine that she was building the robot-Doll. I made some drawings in rice paper to simulate the scene, and put an arm in her hands. I was finished. But then, I thought,,,, I had to complete the scene!! So three nights before deadline I started modeling a man!!
Then I thought it would look pretty cool if he was climbing a ladder, so I made the ladder. It took me all night and part of the day to finish it but finally I saw it looked great! Thank God I had to send the pictures, if not, I would continue making and adding more things😂😂😂
I always name my dolls, so I started searching for steampunk names!! I found a great one to name her! MILICENT
I still had to name the project, and making reference to the scene, with the help of my beloved FRIENDCE, 0Chris Aranda, I decided to name it
MILICENT :THE LAST PIECE.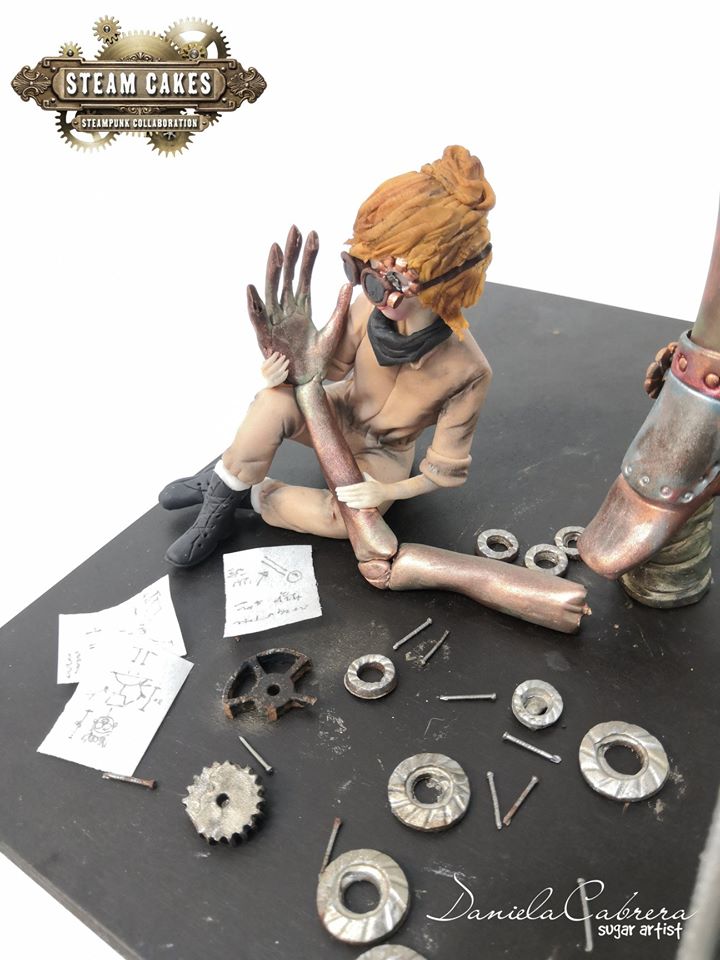 How did you create it?
-the robot-Doll is made with internal structure, styrofoam and wires. All covered and modellled by hand with Satin Ice chocolate fondant. I made each gear with flower cutters, then I cut all ends to make them look more sqared, also, I used Round tips to cut the centers. Others, I made by using button molds, cutting the centers with tips, adding texture, and finally painting with different metallic color dusts. I wanted to put light somewhere, so I made the Face over a styrofoam egg shape, then I let dry and took it off, that way the Face would be empty and I could place a lamp inside. But I had one problem… How would I be able to turn on-off the lamp???
I decided to make the back of the head with styrofoam and glue the internal part of the lamp to it. The capsule that covers the lamp, I used it as the Glass in her eyes so I tried to model the Face accordingly to the capsule size. It was an odyssey to put together both sides of the head!! But I could finally do it!! And it did not fall.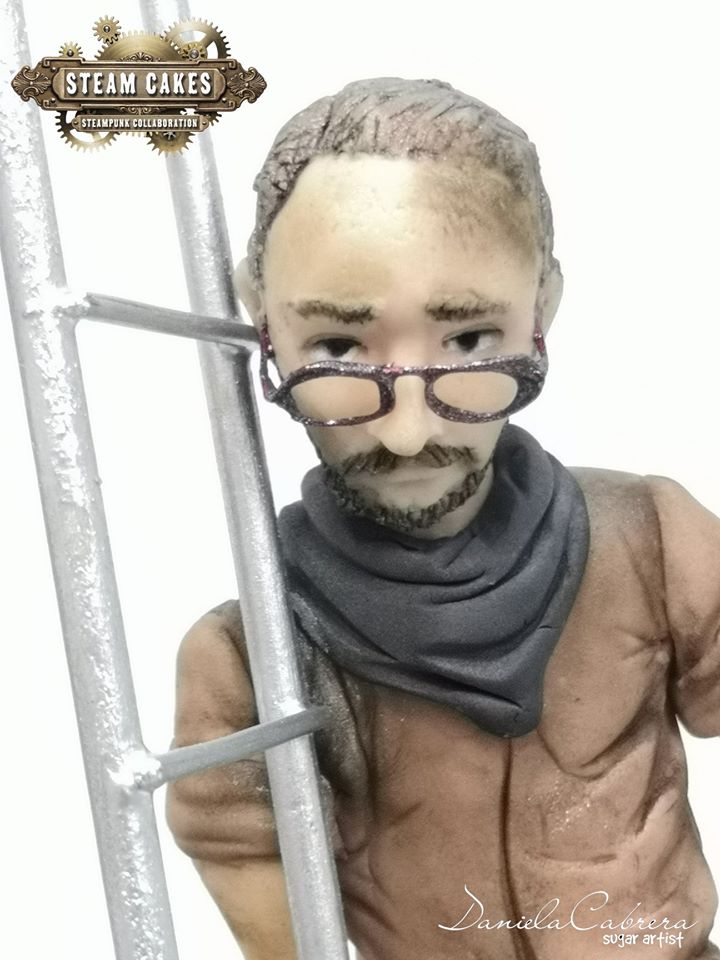 Stories about your cakes. Do you remember the first cake you decorated?
-I can't remember the first cake I Decorate my self, I used to help my sister so I can't really know exactly which one was😂 I Just remember I always wanted to add more decorations and she always said: "no! stick to the main sketch!" 😂😂😂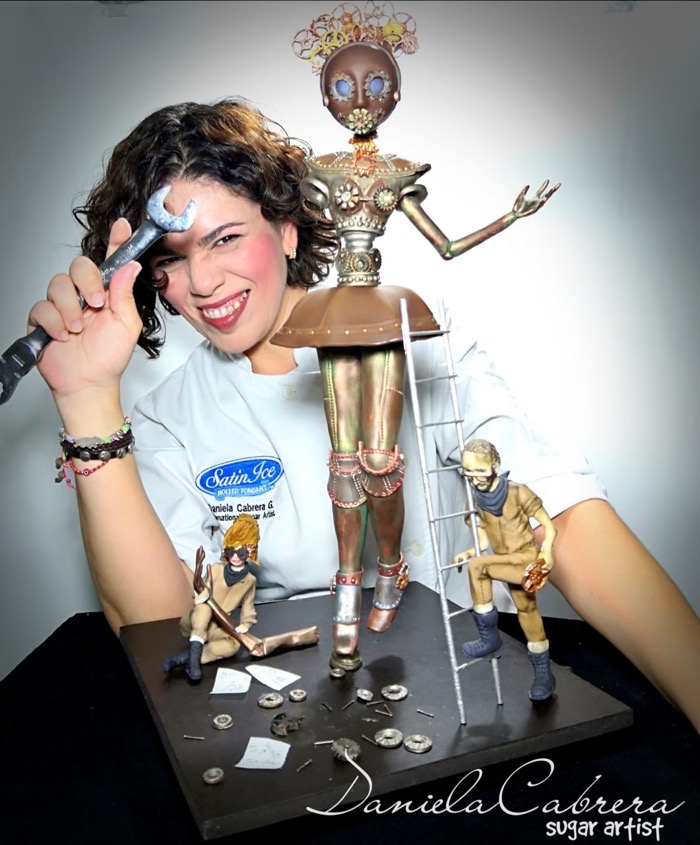 When and why did you decide that you wanted to create cakes as a business / hobby?
-Actually it was my sisters Business, but she got married and went to live to another country. She told me to keep the Business running, and I accepted. I fell inlove with this and now I can't see myself doing any other thing!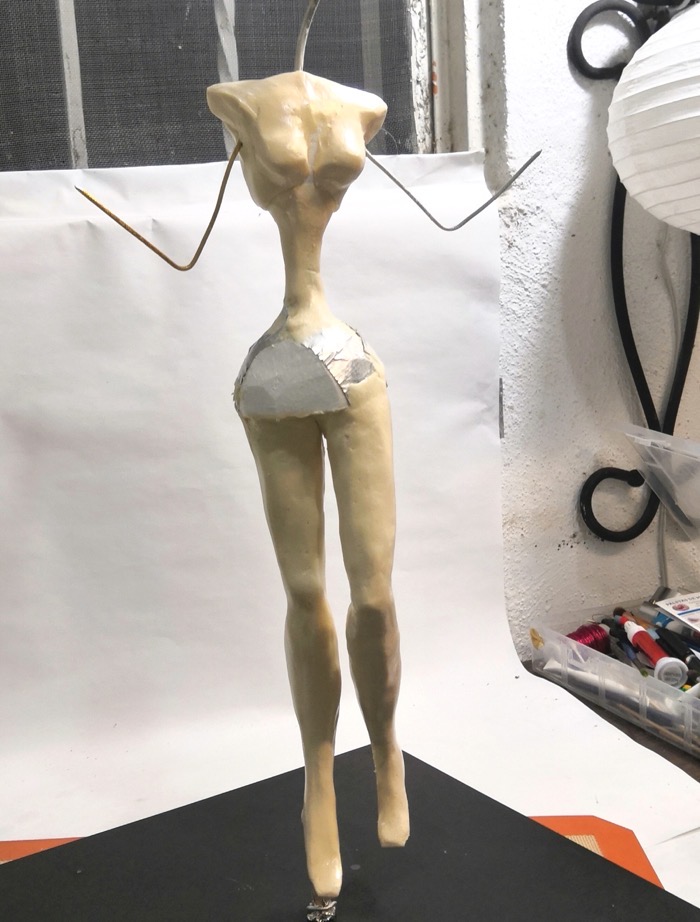 Do you have a favorite story about a cake you made?
– I think every cake has its own Story, but I guess the most memorable for me, was a Wedding cake, like 7 years ago. The bride asked me to make this beautiful 5 tiered cake, and a special request, a TOPPER with a couple kissing and hugging passionately. So I did it. I think that cake was the most beautiful cake I have ever made, unfortunately for them, the bride's mom got extremely mad when she saw the topper😂😂😂
But everyone loved it and was so amazed with it, that she Couldn't do anything about it!!
I really loved that cake!!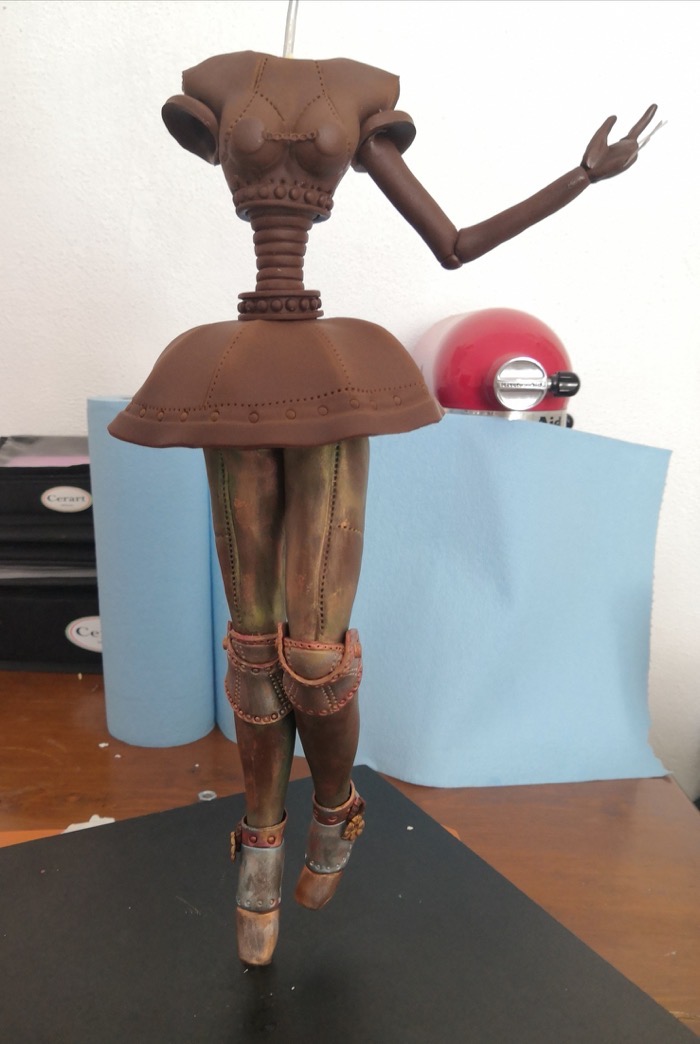 Do you have a favorite story about a cake disaster?
-Thank God I have never had an extremely bad cake disaster I could not fix on time"😊

If one of the famous cake decorators offered to make you your dream cake, what would you ask for?
-a white, hughe pastillage castle with many many flowers everywhere!!
Who is your favorite Harry Potter character?
Hermione😍

If you went to Hogwarts, which house would you want to be sorted into?
-Griffindor

Which house would you actual be sorted into?
– ok, I had to take a quiz before I answered this question😂😂
And the results were Griffindor, but by the way that I am…. Ravenclaw I guess….

If you were a teacher at Hogwarts, what class would you want to teach?
-enchantments

What would your Patronus be?
-dragonfly

Do you have a favorite Disney movie?
– Cinderella

Do you have a favorite Disney character?
– Anna from Frozen

What is your favorite thing to watch on Disney+?
– Movies
Have you been to any of the Disney parks?
-not yet… (I really need a vacation)

Do you have a favorite superhero?
-Ironman

What is your favorite superhero movie?
-ironman 1

If you read comics, what is your favorite comic or run on a comic?
-Archie

If you could be any superhero, who would you want to be?
-Ironman(female version😂😂😂)

If you could have one super power, what would it be?
-teletransportation
Do you have a favorite cartoon series or character?
-phineas & ferb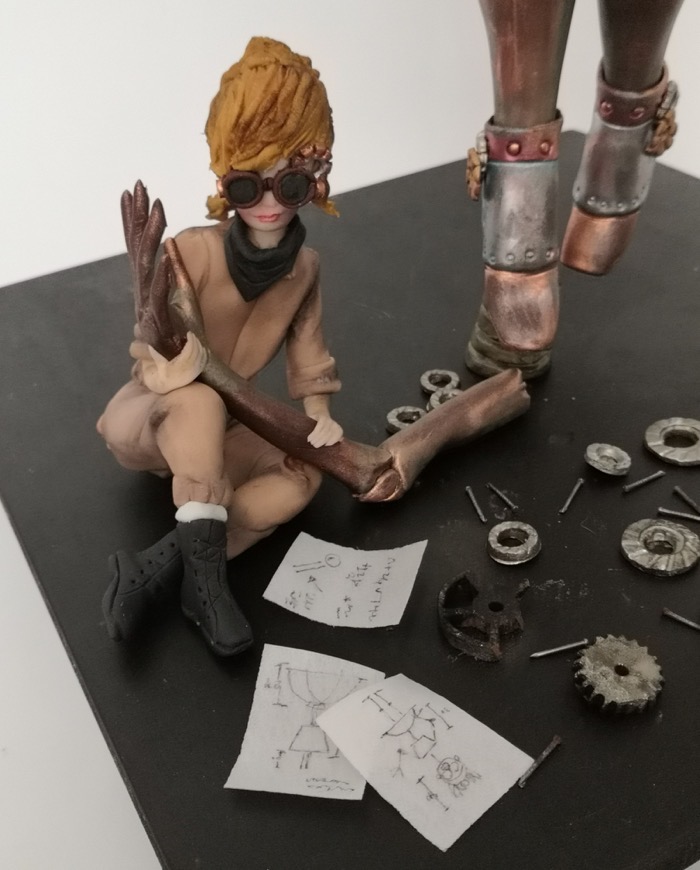 What was your favorite cartoon to watch when you were little?
– the smurfs

Would you prefer live in Bedrock with the Flintstones or in the future with the Jetsons?
-in the future with the Jetsons!!!