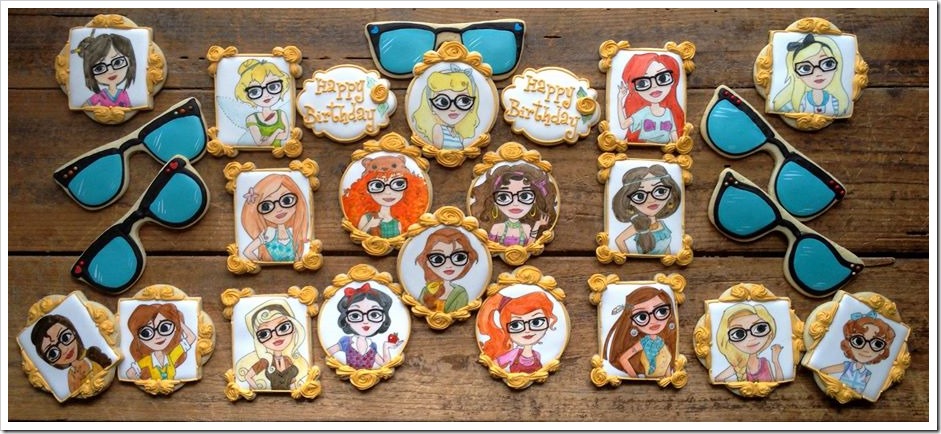 Hipster Disney Princesses Cookies
Wow!!! These amazing Hipster Disney Princess Cookies were made by Cookie Cowgirl. I love how Monica re-envisioned these classic Disney characters as real girls. I've had serious eye problems since birth and my husband is visually disabled, so I thought the idea of having all of the girls wearing glasses was a really neat touch.
Here is a close-up of these amazing cookies:
The characters are Tinkerbelle, Jasmine, Ariel, Giselle, Pocahontas, Aurora, Belle, Snow White, Merida, Meg, Cinderella, Esmerelda, Mulan, Jane, Rapunzel, Alice, Tiana, & Wendy.
The close-ups of these cookies are amazing. I LOVE Monica's designs for each of the girls. She captures the essence of each character and updates them to look like real girls. A classic example of this is Cinderella who is near the middle of the picture. Cinderella has her blond hair, her light blue head band, her blue choker, and pearl earrings. Her colors are still blue and white. Because of this, she is instantly recognizable as Cinderella, but the design is so modern that she could go to the mall and not stand out.
Each girl has a different set of glasses which is designed to fit their personality and clothing.
I also love how the cookies each have a gold frame. It makes the cookies stand out. Monica uses three different designs for the frames.
Monica drew these cookies with edible markers and then added more colors with a brush. The end results is simply stunning. The artwork is so detailed, it is hard to believe these are cookies.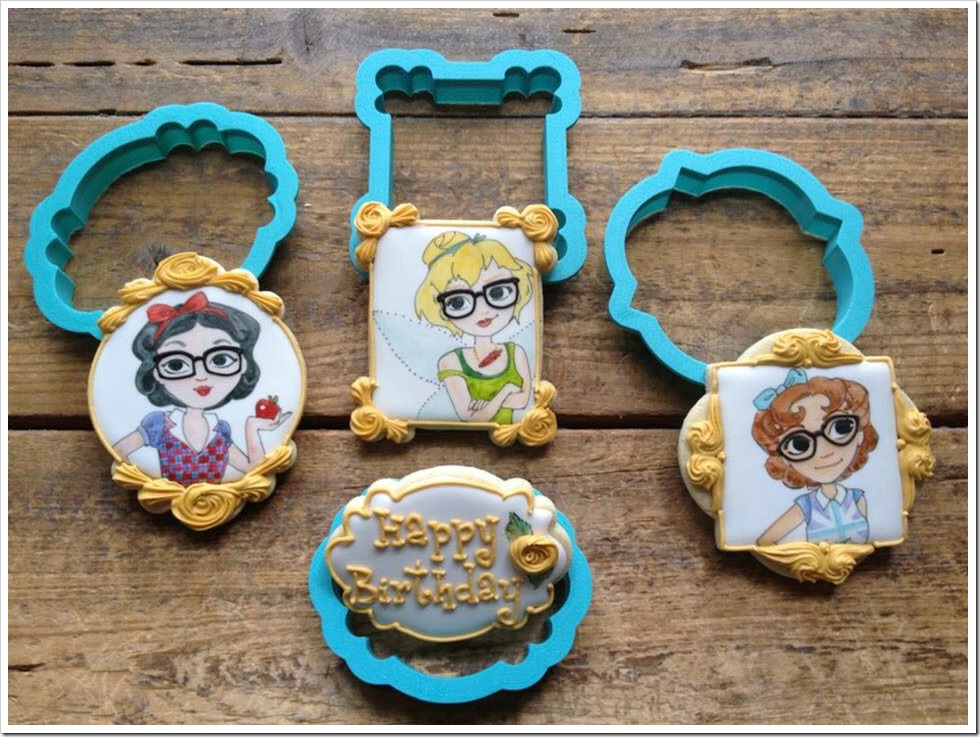 The cool cookie cutters were made by Whisked Away Cutters.
Planning a hip Disney Princess Party? Check out these amazing Disney Princess Cakes and Cookies.