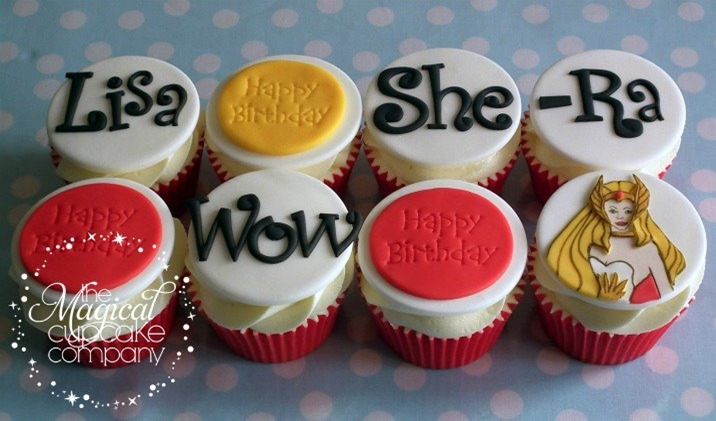 These cool She-Ra cupcakes were made by The Magical Cupcake Company. The Magical Cupcake Company is located in Guildford, Surrey, UK. These awesome cupcakes feature three types of cupcakes: white cupcakes with black writing on them, cupcakes with yellow or red Happy Birthday buttons, and a cupcake featuring She-Ra: The Princess of Power.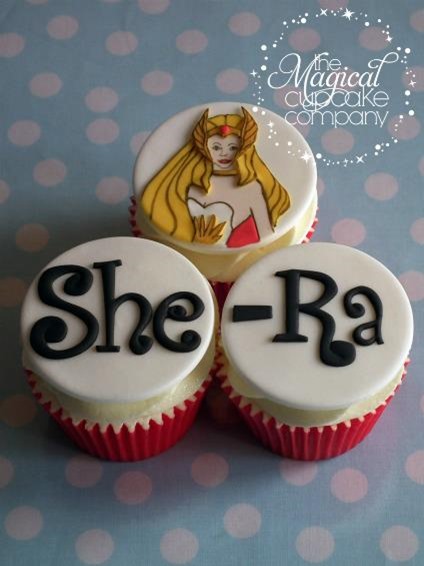 This trio of cupcakes is too cool. The top cupcake features She-Ra, while the bottom two spell out her name.
Here is a close-up of the She-Ra cupcake. I really like how She-Ra was made from layers of fondant placed on top of each other. It gives her hair and tiara texture that they wouldn't have otherwise.
This year is the 30th anniversary of She-Ra and she is still popular. There is some great She-Ra material on the web:
The Retroist has scans of a 6 page pamphlet that Filmation put together about their new show. The highlight of pamphlet is three pages of black and white drawings of many of the characters. This may have been the very first time anyone outside of Filmation saw most of these characters.
The Retroist also a cool mock movie poster for a She-Ra movie which unfortunately was never made. The poster was made by Sean Hartter. Sean has created a ton of mock movie posters for his website.
The awesome tumblr 80's cartoon artwork has a subsection devoted to She-Ra. One of my favorite pieces on this tumblr is this stunning artwork by Earl Norem, who unfortunately passed away last week.
My good friend Charlton Hero from The Superhero Satellite wrote a neat piece called Top 5 80s cartoons that demand to be a TV series or a Movie! which features She-Ra. Charlton's list of 80 cartoons that should be revived either on TV or in the movies includes She-Ra, Robotech, M.A.S.K., Captain N The Game Master (?), and Archie.
Last but certainly not least, James Eatock has been running The He-Man and She-Ra Blog since 2006! James is the author of The Unofficial Cartoon Guide To He-Man and The Masters of The Universe.