This wonderful Jurassic World Cake was made by Louise Jackson Cake Design. Louise made this for her son's 8th birthday.
The Velociraptor was made from modeling chocolate. If you look closely, you'll see that he is standing on a cake board not the actual cake. That was so her son could keep him afterwards.
The detail on the Velociraptor is amazing! Louise did a phenomenal job making him. I like the way she put rocks and plants with him and placed matching rocks and plants on the cake board. That is a really nice touch.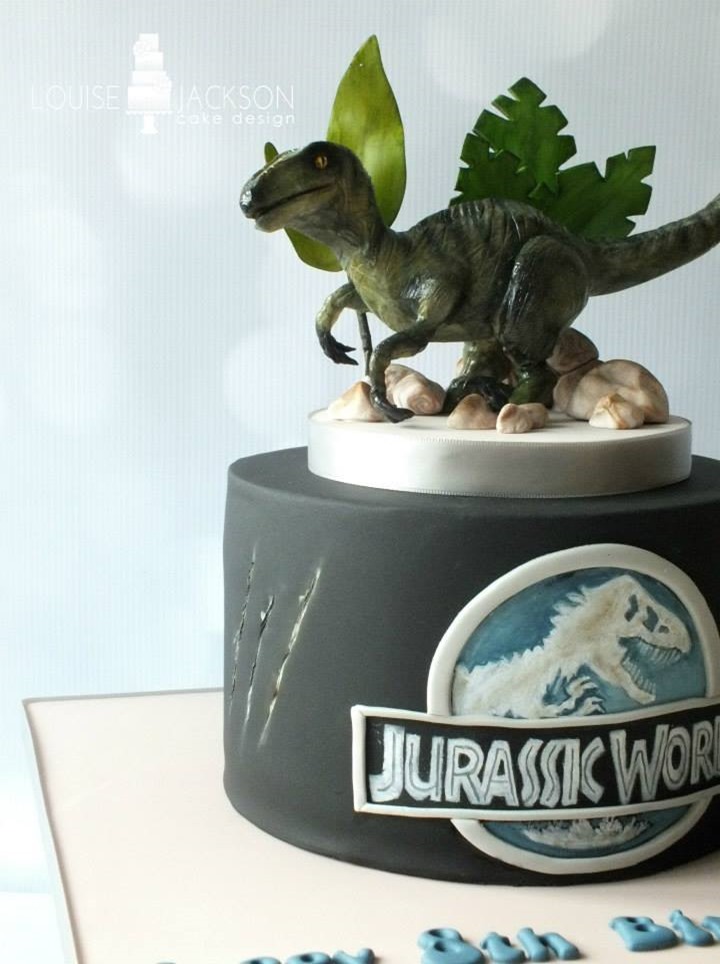 The Jurassic World Logo was hand painted. Did you notice the dinosaur claw marks on the side of the cake? I thought that was cute touch.
I finally saw Jurassic World earlier this week and really enjoyed it. I've only seen Chris Pratt in this and Guardians of the Galaxy, but I liked him in both. He reminds me of a young Harrison Ford. The CGI dinosaurs were amazing. The dinosaurs look so realistic and when they are on screen with people, it is seamless. Lastly, I really like the idea that in addition to people vs. dinosaurs that they added plots involving dinosaurs vs. dinosaurs. It gave the plot a little twist that wasn't in the original Jurassic Park (I never was the two sequels). All in all, it was a really fun film.