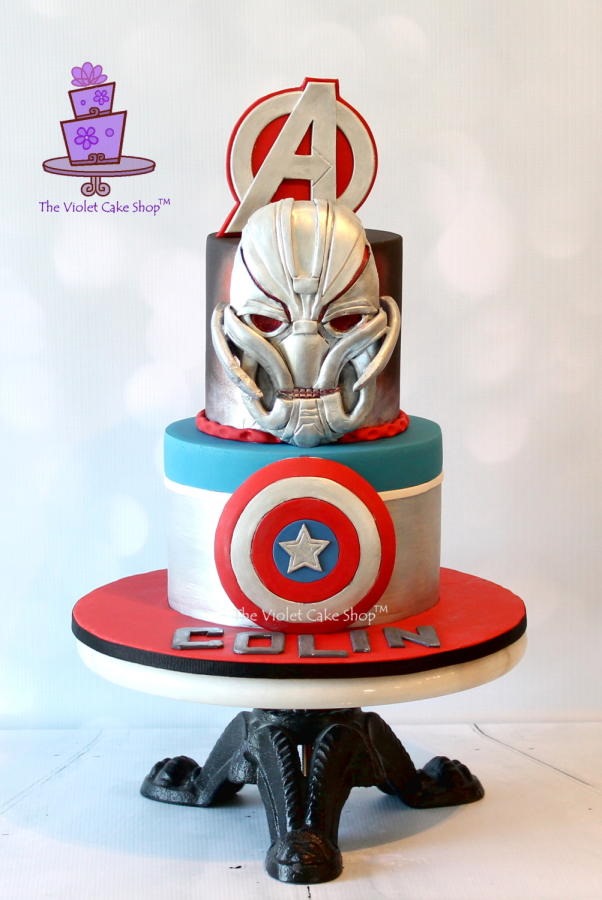 This awesome Avengers: Age of Ultron Cake was made by The Violet Cake Shop. Violet made this for her son's 10th birthday. The cake features two layers. The bottom layer is Silver and Blue and has Captain America's shield on the front. The second layer is black and has Ultron's face on the front. On top of the cake is the Avengers' stylized A.
Ultron's face was hand cut and detailed with fondant. Then it was painted with silver lustre dust. If you look closely, you'll see that Ultron's eye glow. The eyes are made out of isomalt dyed red with disposable portable LED lights behind them.
The origin of Ultron is very different in the comics than in the movies. The comic book version of the origin actually ties in a little to the newest Marvel movie Ant-Man. When the first issue of the Avengers appeared back in 1963, the roster was Iron Man, Thor, the Hulk and … Ant-Man and The Wasp. Ant-Man was Hank Pym. The Wasp was Janet Van Dyne. Scott Lang didn't become Ant-Man until 1979. By then, Hank Pym was using the superhero name Yellowjacket. While Hank Pym was a superhero, his first love was science. Ultron's origin is told in issue #58 which is also the 2nd appearance of the Vision and the issue where the Vision joins the Avengers. Hank Pym had created "a crude yet workable robot … a faltering step on the path to synthetic life!". But, Hank Pym received a surprise that forever changed the Avengers … "Wh..? It's speaking…moving! But, I haven't turned even turned it on yet…!" He'd done his job too well. Utlron had powered himself on and was beginning to evolve. In the comics, Ultron is constantly changing and improving himself. Because of this, Ultron's looks changes slightly from one appearance to the next and he becomes harder and harder for the Avengers to defeat. Ultron reforms himself after every defeat and has become the Avengers most famous opponent.