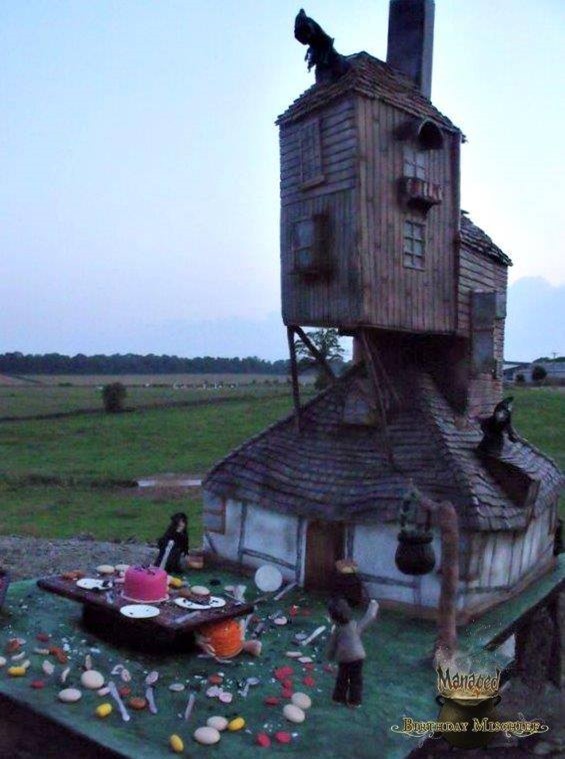 Cotswolds Finest Cakes made this wonderful cake recreating the Burrows, the Weasley's home. This cake was made for the Harry Potter Themed cake collaboration – Birthday Mischief Managed. Birthday Mischief Managed is a worldwide collaboration of food artists to celebrate J.K. Rowling's 50th Birthday. The collaboration went live on July 31st, the date of H.K. Rowling's and Harry Potter's birthdays.
The wood grain and details of the Burrows are so perfect. These pictures were take outside in Cotswolds, so the background is beautiful. The first time I saw this I was puzzled because I didn't realize it was a picture of a cake. I thought it was a photo reference from the movies.
The Harry Potter Wiki has a really good write-up of the scene this cake depicts:
The day after Harry's birthday, on 1 August, the Burrow held the wedding of Bill and Fleur. Most of the extended Weasley family were present, as well as Order members, friends, and the Delacour family. Harry attended the wedding in disguise by using Polyjuice Potion to resemble a red-headed Muggle teenager from Ottery St. Catchpole. During the reception, the wedding was disrupted when Kingsley Shacklebolt's Patronus arrived and warned the assembled guests that Lord Voldemort and his Death Eaters had taken control of the Ministry of Magic, and were heading for the Burrow. With the full strength of the Ministry behind them, the Death Eaters broke the protective enchantments protecting the Burrow, Apparating into the reception. Guests had already started to flee the scene due to Kingsley's warning, including the Death Eaters' primary target, Harry Potter, along with Hermione and Ron. The Ministry, aware of the Weasleys' ties to Harry, questioned the family and any remaining guests before releasing them.
The detail on the Burrows is terrific. I can not imagine having to place each and every shingle on the roof.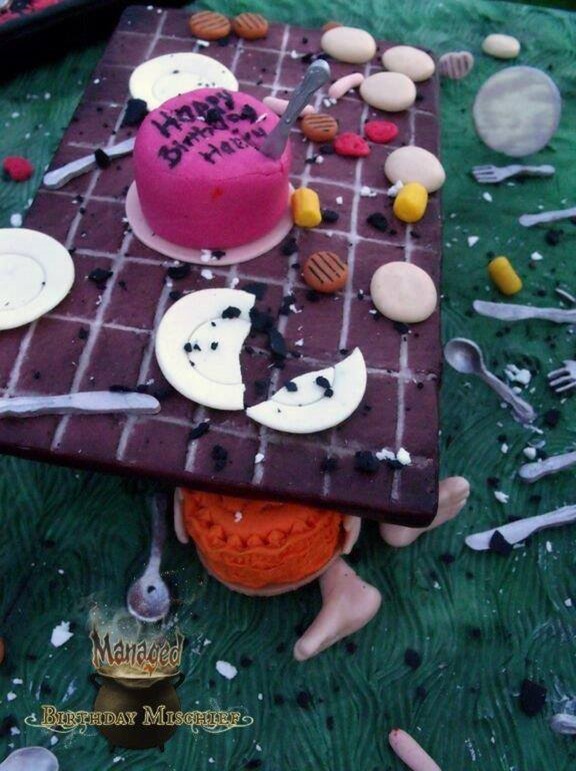 Dobby is hiding from the Death Eaters and took J. K. Rowling's birthday cake with him!