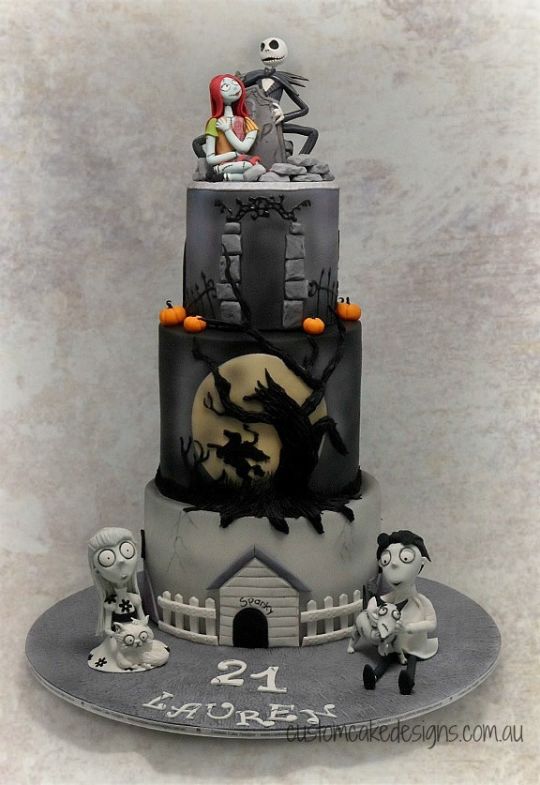 This Marvelous Tim Burton Birthday Cake was made by Custom Cake Designs. This Birthday Cake features Jack Skellington and Sally from Nightmare Before Christmas, the Headless Horseman from Sleepy Hollow, and Weird Girl, Mr. Whiskers (Frankenweenie), and Victor Frankenstein holding Sparky (Frankenweenie.)from Frankenweenie.
The Sleepy Hollow cake layer was based on the movie poster and was modeled after Mrs. Cake's Cakenweenie cake.
The entire cake is black and white with shades of gray except for Sally, orange pumpkins, and the yellow moon.
The birthday name and age were written in white letters onto the gray cake board in front of the cake.
This cake was 29 inches tall and was made using chocolate mud, white chocolate mud, and red velvet cake.
Here's a close-up of Jack Skellington and Sally. She has a smile on her face. She has red hair and a multicolored dress. There is a tombstone between her and Jack.
This cake layer represents Sleepy Hollow in cake form. It pictures a gnarled tree with a silhouette of the headless horseman against the yellow moon.
In Tim Burton's Sleepy Hollow, Johnny Depp plays Ichabod Crane. Crane goes to Sleepy hollow to practice forensics to investigates the murder of several victims that were beheaded. Sleepy Hollow has houses with closed shutters and that lean together to support each other. It is a dreary place where the Horseman murders people and takes his victims skulls with him. Eventually Crane returns the skull of the headless Horseman back to the headless Horseman and stops the murders. Crane returns to New York just in time for the new century.
A white picket fence and Sparky's dog house is between Weird Girl and Victor.
This picture shows Weird Girl petting Mr. Whiskers (Frankenweenie).
Her's a picture of Victor Frankenstein holding Sparky (Frankenweenie)
In addition check out these amazing Nightmare Before Christmas Cakes and Cookies.