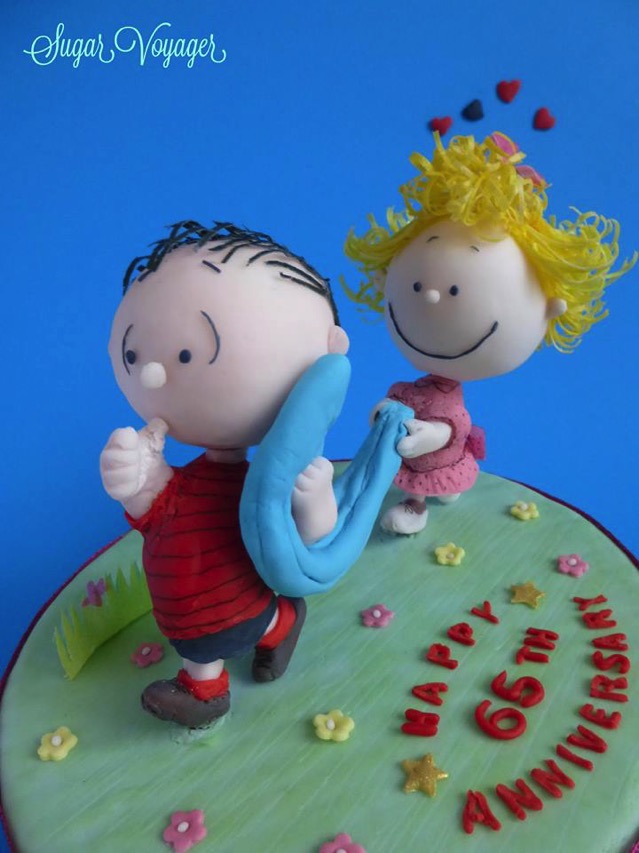 This Adorable Linus and Sally Cake was made by Sugar Voyager.
This cake is part of The Sugar Peanuts Gang, a cake Collaboration to celebrate the 65th Anniversary of Charles Schulz's Peanuts comic strip.
Linus is walking along, while sucking his thumb and holding his blue blanket in his other hand. The other end of the blanket is being held by Sally who is walking behind him. Linus often has his thumb in his mouth. He would never go anywhere without his trusty blue blanket. In the Christmas play, he make a hat out of it so he can keep it with him.
Sally has red and black hearts over her head to show that she is in love with Linus.
Linus and Sally's feet are positioned to show that they are walking. Sally's hair was made using yellow wafer paper. The cake board is green with small flowers scattered on the green grass. Happy 65th Anniversary is written in red letters in the grass of the cake board.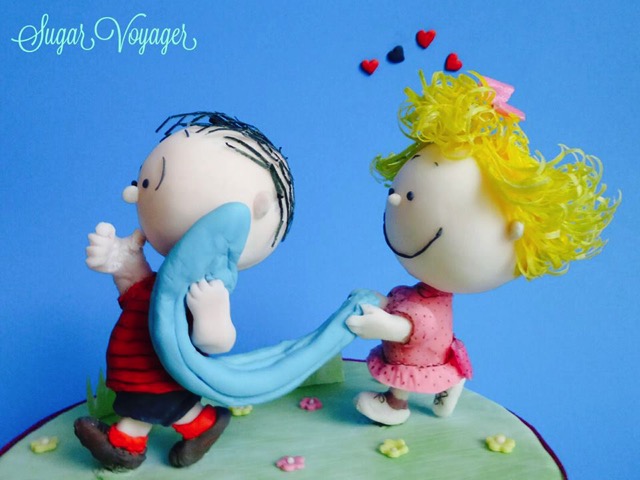 Shortly after Sally was born, for a short period of time Linus had a slight crush on her. Linus figures out how many years it will be before Sally can go out with him.
After that Linus thought of himself as a mentor to Sally. He could tutor her in New Math, show her how to use a security blanket, and teach her about the ways of the world.
Sally has a crush on Linus that started in 1960 and lasts throughout the Peanuts comic strip. She calls him her Sweet Babboo in 1977. She also calls Linus her boyfriend. Linus does not consider himself her boyfriend and he does not like being called Sweet Babboo. Sally also follows Linus around, an action which annoys Linus.
One classic story with Sally and Linus is the Charlie brown Halloween special, 'It's the Great Pumpkin, Charlie Brown'. Linus is happy that Sally has agreed to join him to wait for the Great Pumpkin. While the other kids are Trick-or-Treating, Sally waits with Linus in the pumpkin patch for the Great Pumpkin to arrive. She gets angry with Linus when the Great Pumpkin does not show up.
To see Charlie Brown treats for every season, check out Snoopy and Charlie Brown.