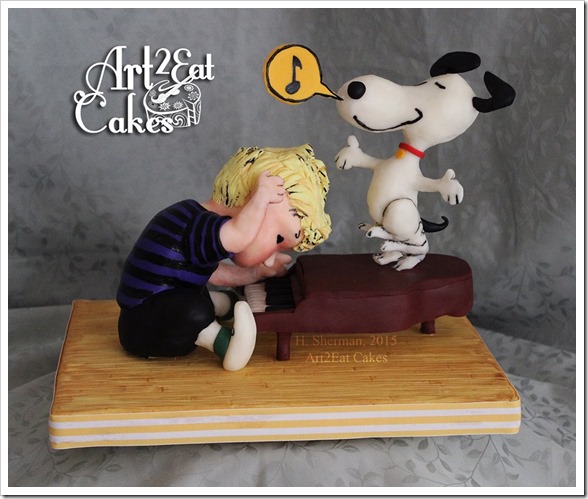 She wants to dance like Snoopy
And I can't get you out of my head
This cute Schroeder and Snoopy Cake was made by Art2Eat Cakes. Heather made this for The Sugar Peanuts Gang, a cake collaboration celebrating 65 years of Peanuts. This cute cake features Schroeder playing Beethoven on his piano while Snoopy dances and sings on the piano.
Heather captures Schroeder and Snoopy perfectly. Schroeder has his head down and hand raised. He is totally focused on the music. Snoopy is doing his classic Happy Dance. Heather even has Snoopy's legs look like they are moving. I love how the musical note in the word balloon looks like it is floating in the air in front of Snoopy.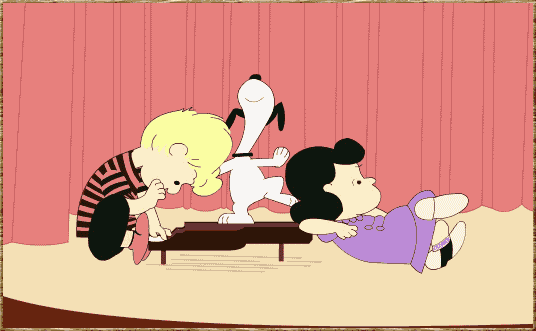 While working on this post, I realized I could count on one hand everything I knew about Schroeder
When he first appeared in Peanuts, he was a baby

He is an amazing pianist

He is obsessed with Beethoven

He is the catcher on Charlie Brown's baseball team

Lucy is in love with him, but the feelings aren't mutual.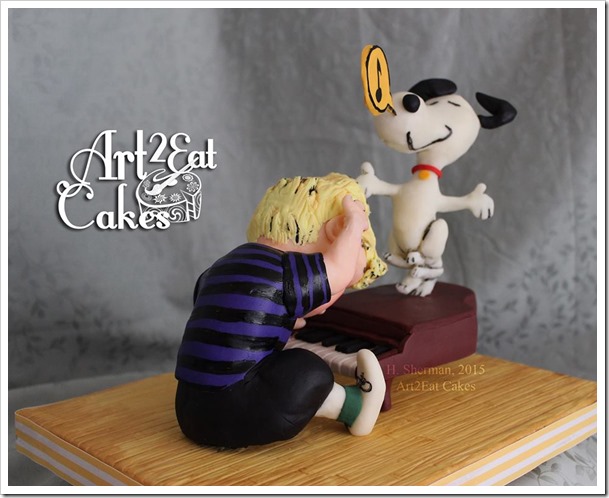 I did some reading and found that there was a lot I didn't know about Schroeder.
Charles Schulz named Schroeder after a caddy he use to work with.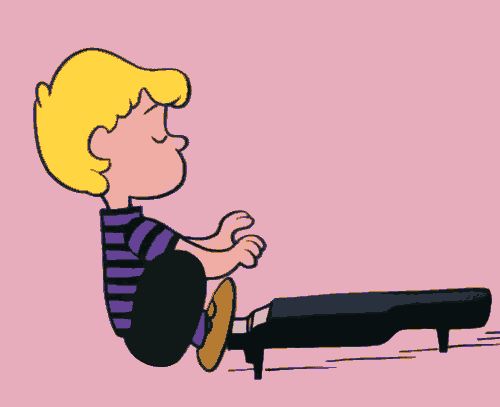 Schroeder lives at 1770 James Street. 1770 is the year Ludwig van Beethoven was born.
Schroeder plays a toy piano. There are no black keys on the piano, they're just painted on the white keys.
Charles Schulz decided to add a toy piano to the strip because his daughter Meredith had one. Since Schroeder was the newest and least developed character, Charles Schulz gave the piano to Schroeder.
Charlie Brown plays a major role in Schroeder becoming a pianist. When Schroeder is young, Charlie Brown reads to Schroeder "The Life of Beethoven". Charlie Brown is the first person to show Schroeder his toy piano. Charlie Brown even gives Schroeder the bust of Beethoven that sits on top of his piano.
While Charles Schulz couldn't read music, he used actual music for each strip. In many cases the meaning of the strip is enhanced if you know the music used.
The America Beethoven Society has a permanent digital exhibit called Schulz Beethoven: Schroeder's Muse. This gets my highest recommendation. It is a extremely detailed (156 screens long) look at how Charles Schulz used Beethoven in his comic strips. Most screens have either a narrator or play the music shown in the strip.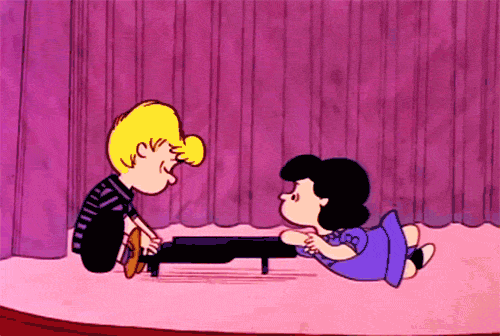 Schroeder is famous for never returning Lucy's affections. Did you know that there were two times that he did?
On of the most famous sequences in Peanuts is one where Linus and Lucy move to another own. Schroeder has difficulty playing because he misses Lucy. There is wonderful strip on May 18, 1966 where Schroeder is playing music. The notes appear above him and become a frame from Lucy's face. The last panel is Schroeder saying "Don't tell me I've grown accustom to that face!".
Schroeder actually kisses Lucy on the cheek in one Sunday strip. Lucy gives Schroeder a cupcake for Beethoven's birthday. He kisses her on the cheek in thanks. Lucy turns around startled by the kiss, but sees Snoopy standing beside her and thinks Snoopy kissed her. She runs away screaming "Dog lips! I've been kissed by dog lips!". The strip ends with a puzzled Snoopy asking "What's wrong with dog lips?".
To see Charlie Brown treats for every season, check out Snoopy and Charlie Brown.