Nagoya Ridgeway From Petit Cali Cupcakes – Petit cali Cupcakes Facebook page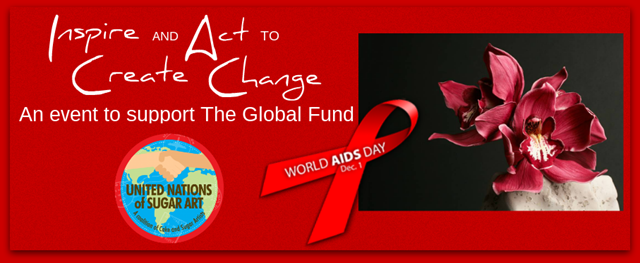 BeTeamRed – Inspire and Act to Create Change
BeTeamRed is a collaboration of 200 sugar artists from around the world focusing on World AIDS Day.  The collaboration launches on December 1st, i.e. World AIDS Day.  As part of the countdown to the launch, for the next few days I'm going to be interviewing sugar artists who are new to collaborations.  Here is my interview with Nagoya Ridgeway From Petit Cali Cupcakes – Petit cali Cupcakes Facebook page
1.Tell me about yourself. How long have you been decorating? Do you decorate professionally? 
Hmmm about myself?  Well, let's see….I'm an island girl from sunny Jamaica who later became a New York transplant who finally found her way to crazy California.
I've been baking for friends and family for several years but actually took the leap this year and created Petit Cali Cupcakes and cake studio.
It's exciting, terrifying and wonderful all at the same time.
Baking has always been my passion of mine ever since I can remember and with that passion comes the enjoyment of sharing my delicious confections with others.
2.Tell me about your piece. What was your inspiration? What is your piece made from and how did you make it?
In thinking of a piece to make I didn't want to depict a specific race creed or color as HIV/AIDS can touch us all.
I took inspiration for this peace both from a sculpture by Willow Tree titled "Peace Within" and the butterfly.
The butterflies represent the souls or each life through its journey.  It is true wonder of Nature that possesses great strength and fragility all in one body. Although it leads a rather short, yet amazingly eventful life, the transformation it undergoes is one of ultimate ascension and resurrection.
My piece depicts the transition of the delicate souls lost to their mothers warmth by a disease that does not discriminate, for the solace I hope they find in their transition and for their ultimate rebirth.
My piece is pretty simple in its components. All three tiers were covered using Satin ice White fondant.
The butterflies were made using both silicone moulds and paper craft punch of varying sizes. it was important to bring in some texture using the craft punch for a more delicate butterfly as well as by adding a touch of edible glitter and luster.
The angel is made of homemade gum paste, wafer paper with the use of floral wire for support. It was by far my favorite modeling piece to date.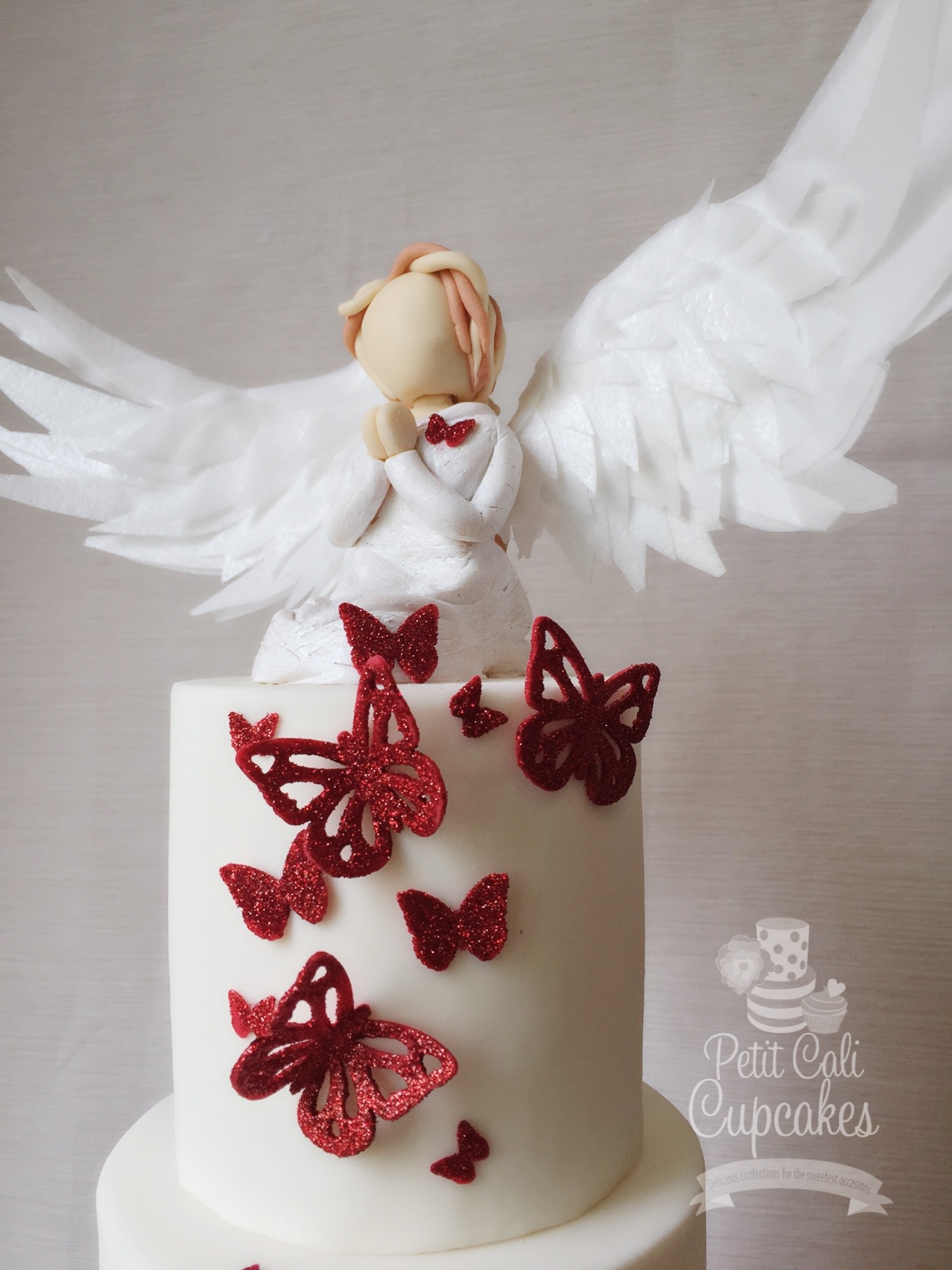 3.Tell me about being part of a collaboration for the first time. What are some of the challenges that you faced? What did you enjoy most about being in this collaboration?
This was my first ever collaboration piece, so that in itself WAS a challenge, not to mention working along so many talented cake artists out there. Talk about nerve wracking.
Taking the leap for a great cause to bring attention to finding a way to rid this world of this epidemic left me with no doubts of joining in. I knew that the end pieces would be powerful.
I received encouragement, insight and inspiration in finishing my piece when I was so doubtful. The camaraderie is amazing amongst my fellow cake artists …a truly wonderful feeling to experience. We will not accept failure in ourselves or each other, we will lift each other up should we struggle and anything is possible with a great team behind you.
Imagine if the world could only do that.
Please click on the links below to contribute to The Global Fund to support their war on HIV/AIDS , TB, and malaria in countries in need.
GoFundMe: https://www.gofundme.com/beteamred
BonfireFund T Shirts: https://www.bonfirefunds.com/unsa-beteamred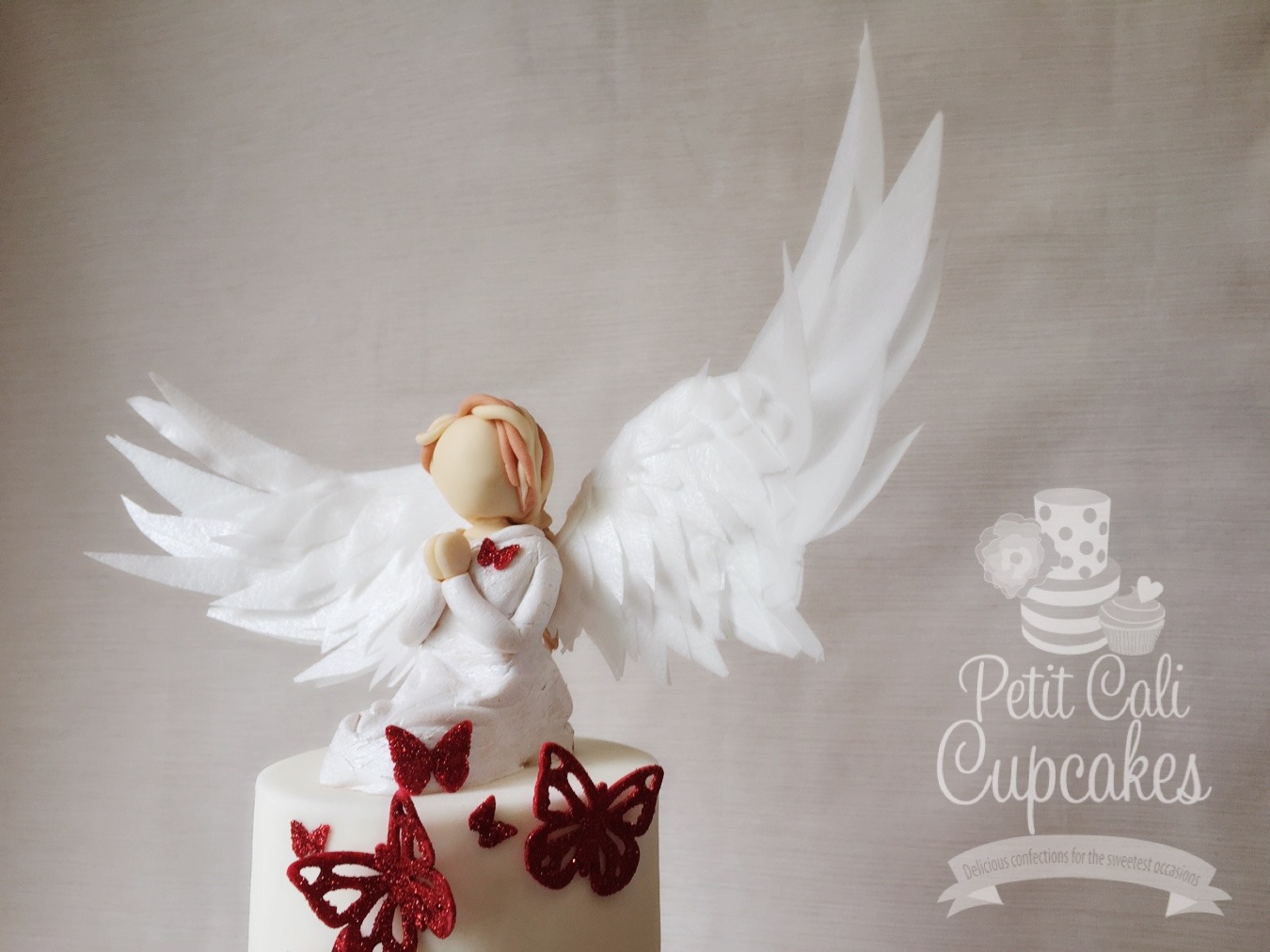 Here are some pictures showing how the lovely angel was made: