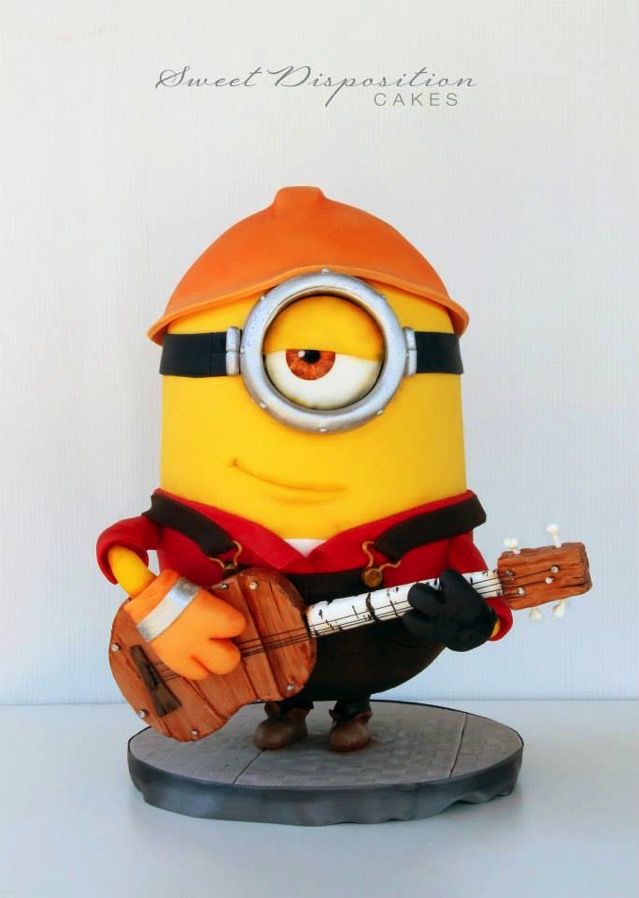 Minion Stuart is dressed as the Engineer from the video game Team Fortress 2. This Awesome Minion Cake was made by Sweet Disposition Cakes. Minion Stuart is holding a guitar just like the Engineer. He has a sideways smile on his face. This cake is a great pairing of Minions from Despicable Me and the Team Fortress 2 (TF2) video game. This was a Birthday Cake for a seven year old TF2 fan.
In the game TF2, the Engineer can use the Dischord taunt against an enemy. He takes out his guitar, plays a chord, and then smashes his guitar on the head of any enemy that is too slow to move out of the way. The head of the enemy is knocked down into their chest. This taunt can kill an enemy standing on the Engineer's head, but it will not kill an enemy under the Engineer. The Engineer first used a guitar in Meet the Engineer.
The Engineer places important devices like Sentries, Dispensers, and Tele-porters.  The Engineer always has a wrench handy to repair his gear as Spies damage it.