These Fantastic Star Trek Valentine's Day Cookies are a great way to Boldly Go Where No One Has Gone Before and give your Valentine some Fantastic Geeky Star Trek Cookies for Valentine's Day. These Wonderful Star trek Cookies were made by Semi Sweet Designs. Check out the nice tutorial on that site on how to make these cookies.
These cookies are a great play on words between traditional Valentine's Day sayings and Star Trek phrases that any Star Trek fan would recognize.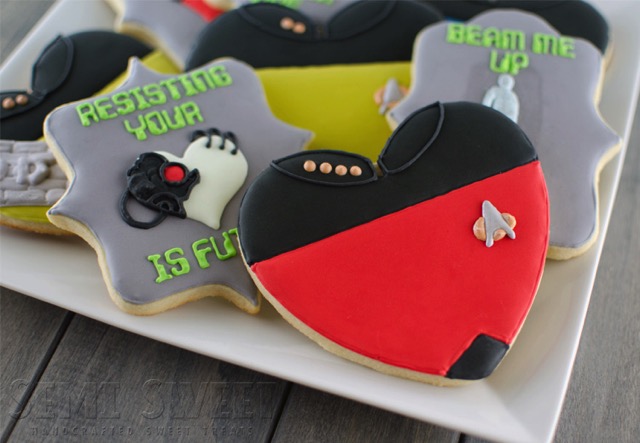 There is a Red Star Trek uniform in the shape of a heart to represent Captain Picard. A yellow Star Trek uniform heart shaped cookie has Worf's Clingon sash.
Here is a cookie that says Resisting Your heart is futile. There is a picture of a Borg heart in the middle of the cookie. The next cookie is gray with the words Beam Me Up Hottie. A gray figure is standing on an Enterprise transporter pad.
Here are blue,red,and yellow Star Trek uniform heart shaped cookies.
This cookie is a gray cookie with the picture of a phaser that says Set Phasers To Stunning. Beside it is a a gray Commander William Riker cookie that says Be My Number One. Will Riker has his beard and mustache.