This Superb Summer Wedding Cake was made by Catalina Anghel from Catalina Anghel azucar arte.
This Fabulous Summer Wedding cake was made for the Sweet Summer Collaboration which is a cake collaboration of more than 200 Cake Artists from around the world to celebrate summer in the sweetest way.
Here is Catalina's bio:
My name is Catalina Anghel, I am a professional Baker located in Vila-real, Spain. I bake since I can remember, with my grandmother and my mother but I seriously started three years ago, as a therapy for a health problem I had. At first it was just a hobby, but little by little it has turned into a real passion, addiction , and finally a essential part of my life – my work. I love to make sugar flowers- I developed a method of my own, a free form one. Now I am a sugar flower teacher and cake decorator and I make and teach sugar flowers without cutters or templates.
But sugar flowers are not the only thing I do: I also love modelling, baking and decorate cookie. I also am a mother of a 15 years boy, and a medicine student( 2º year).In 2015 I have gained the First Prize and Golden Medal in the contest of Sugar flowers at the International Fair Cakes and have received a Merit Certificate at NEC Cake International Birmingham, in the category C – floral arrangement and recently the 2º prize ( silver medal) in Expogato 2016 Marseille, France- sugar flower pro category contest. I participated in several collaborations-both national and international level, and I think this brings me the possibility to know others cake designers and inspires me. It is a extraordinary opportunity to learn and grow as an artist.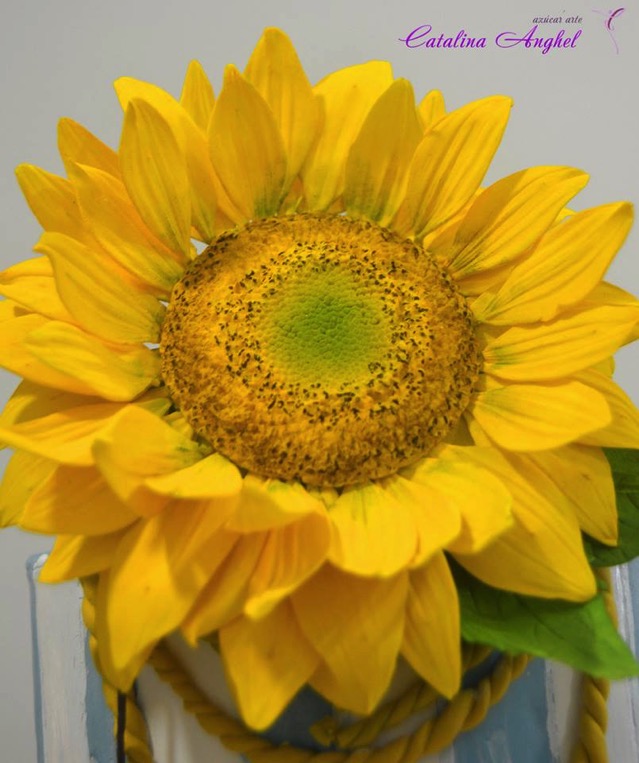 Here is Catalina's description of her Superb cake:
The piece in this collaboration is a wedding cake, with Summer as principal theme, and each part of my cake symbolize the union of two souls, as the union between sea and land:-the sunflower symbolize the sun, the light-the double barrel top tier painted as beach hut represents the happiness of summer time- the bottom tier represents the junction between the sea and the land, as the junction of two souls and the helm represents the new life whose reins have to take together.