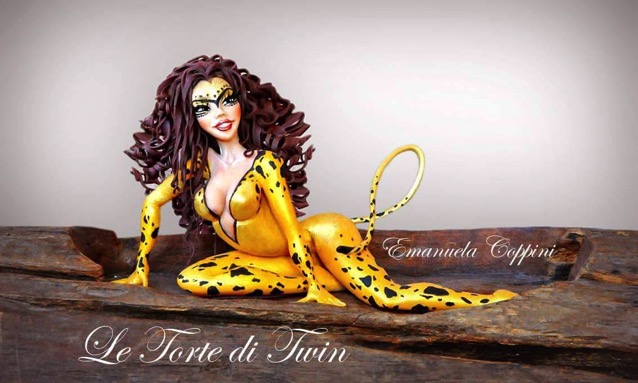 This wonderful Cheetah Cake was made by Emanuela Coppini from Le Torte di Twin.
This splendid cake topper was made for the Cake Con Cake Collaboration. Cake Con international is a collaboration featuring 22 amazing artists who have created sugar art inspired by TV series, comics & video game characters.
Here is Emanuela's bio:
Emanuela Coppini, also known as Twin, was born in Rome where she studied art since she was a young girl. During her school years, she stands out for her remarkable talent for the figurative arts, mainly focusing on ceramics and oil painting on canvas. Since 2012 she has been working in the sweet world of sugar paste standing out for her realistic and sensual style that gives her works a unique and unmistakable character and sex appeal. Twin has worked as a tutor for the cake designer section of the "Detto fatto" show on RAI 2 and is now working on several creative projects in Italy and abroad.
This cake topper was inspired by Mike Mahle's wonderful sketch of Cheetah.
Cheetah is one of Wonder Woman's best known enemies. She has appeared in many comics featuring Wonder Woman. She also appeared in the television shows Superfriends and Justice League. In Justice League, she was as a member of the Injustice Gang run by Lex Luthor and later a member of Gorilla Grodd's Secret Society.