This Marvelous Dory Swimming with Pink Jellyfish Cake was made by Kimberly Chapman from Eat the Evidence.
This Marvelous Dory Swimming with Pink Jellyfish Cake was made for the Lets Find Dory! Sugar Collaboration which is a cake collaboration of Cake Artists from around the world to celebrate Disney's Finding Dory animated movie and remind each other to "just keep swimming"
Here is Kimberly's bio:
Kimberly Chapman is a cake nerd. She is known internationally for her experiments that push the boundaries of sugar arts to create new techniques. She has won numerous awards including Best Show Cake and Best in Division as well as multiple medals at the Austin cake show, plus several awards at British cake shows including Gold and Trophy from the British Sugarcraft Guild. She was the first and is currently the only multiple recipient of the Innovator of the year Award from the Austin show. Kimberly blogs her experiments and tutorials at Eat the Evidence.com where sho encourages decorators of all ages and skill levels to have fun and learn without fear. She lives with her partner and two daughters in Cambridge, UK.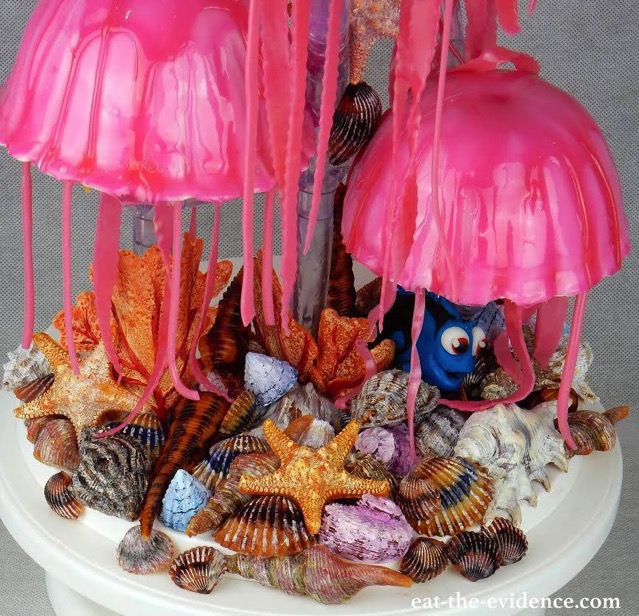 Here is Kimberly's description of this Fabulous cake:
My Finding Dory cake is inspired by early promo posters featuring the jellyfish from the first movie, because that scene really showed us all for the first time just what a fabulous little hero Dory really is. In this version, she's peeking out from underneath some jellyfish between some shells.
The jellyfish are chocolate cakes covered with white fondant and drizzled with my Clear Gummy recipe tinted pink and flavored with bubblegum flavoring. The shells were made using my Flexible Chocolate recipe. In Marvelous Molds' ocean line, hand-painted with food gels.
The tendrils are a mixture of the pink gummy and the flexible chocolate to make a semi-translucent medium. Some are piped, some are moulded, somme are cut with a pastry cutter.
There will be a full 'how it was made post' later this summer at eat-the-evidence.com.