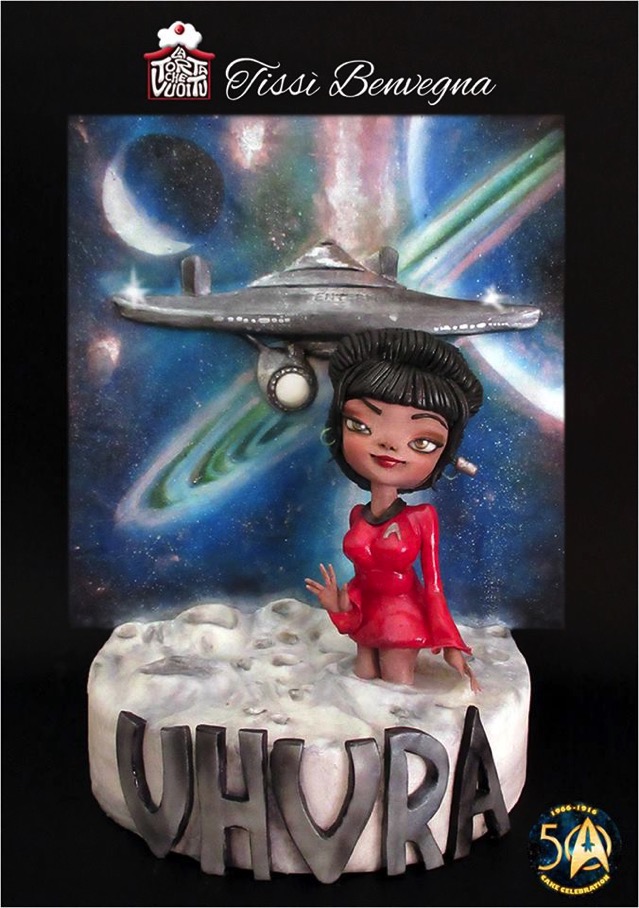 Marvelous Uhura Cake was made by Tissi Benvegna from La Torta che Vuoi Tu.
This Marvelous Uhura Cake is part of Star Trek Cake Celebration. A group of 35 cake designers and sugar artists from all over the world joined together to celebrate the 50th anniversary of Star Trek. These cakes are associated with the Cake: The Final Frontier – A Celebration of 50 Years of Star Trek Collaboration.
Here's Tissi's bio:
Tiziana Benvegna, was born in 1973 in Palermo (Sicily), she lives in Rome since 1999. For friends she's Tissì. After studying art she dedicates to woodcraft; she dedicates too scenic design for events related to the cinema, she follows some ceramic craft classes to produce jewels. After she concentrates on graphic design and web design. In 2010 the first marshmallow paste cake. From that moment the passion for cake design was born. Passion and love for sugar craft become soon a job opportunity. She thinks that profession is a form of art, where every opportunity could become a great achievement.. the important thing is to believe.
Uhura is standing in front of the Enterprise. She is doing a Vulcan salute with her right hand.