These Marvelous Chibi Star Wars Cake and Cupcake Toppers were made by Sues Sugar Creations.

All of these Chibi Star Wars Cupcake toppers remind a little of bowling pins. It would be interesting to have an edible Death Star Bowling ball beside them.
The Chibi Stormtrooper Cupcake Topper is wearing a black belt and a helmet with black mouth and eyes.
The Chibi Darth Vader Cupcake Topper is a silver and red chest plate control panel.
The Chibi Darth Maul Cupcake Topper is red and black.
The Chibi Han Solo Cupcake Topper is wearing a black vest.
The Chibi Princes Leia Cupcake Topper has a white dress with her hair in buns on the side.
The Chibi Luke Skywalker Cupcake Topper
The Chibi Chewbacca Cupcake Topper is wearing an ammo belt over his shoulder.
The Chibi Wicket Cupcake Topper is wearing a hood.
The Chibi C-3PO Cupcake Topper is behind Yoda.
The Chibi R2-D2 Cupcake Topper is in front of C-3PO.
The Chibi Yoda Cupcake Topper is wearing a light brown robe.
In front is a Cupcake topper with two Light sabers.
Luke, Leia, and Han Solo Cake Toppers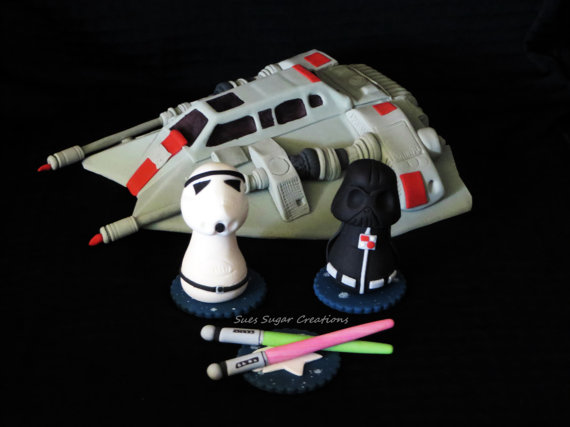 A Star Wars Fighter ship Cake Topper with a Stormtrooper Cake Topper and a Darth Vader Cake Topper and Light Saber Cake Topper in front of it.
Chibi Yoda, Luke Skywalker, Princess Leia, C-3PO, and R2-D2 Cake Toppers
Chibi Yoda Cake Topper with Light Saber Cake Topper